Yanaka
The Preserved Old Tokyo
Add to my favorite places
Yanaka is a popular district located close to Nippori station, bordering Arakawa, Taito and Bunkyo wards in the northeastern Tokyo, the capital city of Japan. Spared from 20th century's major disasters, these small streets of "old Tokyo", with their local craft stores, coffee shops, Buddhist temples and Shinto shrines, remind visitors of the charming atmosphere of days of yore.
In the north-east on the Yamanote line, Nippori station serves Yanaka district, characterized by pre-war buildings, old paved alleys and small temples. The perfect embodiment of what many people call "old Tokyo," Yanaka is one of the rare neighborhoods that survived the bombings of the last world war, 1923 Great Kanto earthquake and even 1657 Great Meireki Fire 🔥.
In most places in the city, skyscrapers and non-typical architecture dominate, offering only a "nice" view of the high-rise building next door, but Yanaka provides a picturesque, human-sized alternative landscape in the capital. It is a key neighborhood in the larger area called Yanesen (an acronym to designate the area encompassing Yanaka, Nezu and Sendagi districts) that evokes the attractiveness of the former Edo.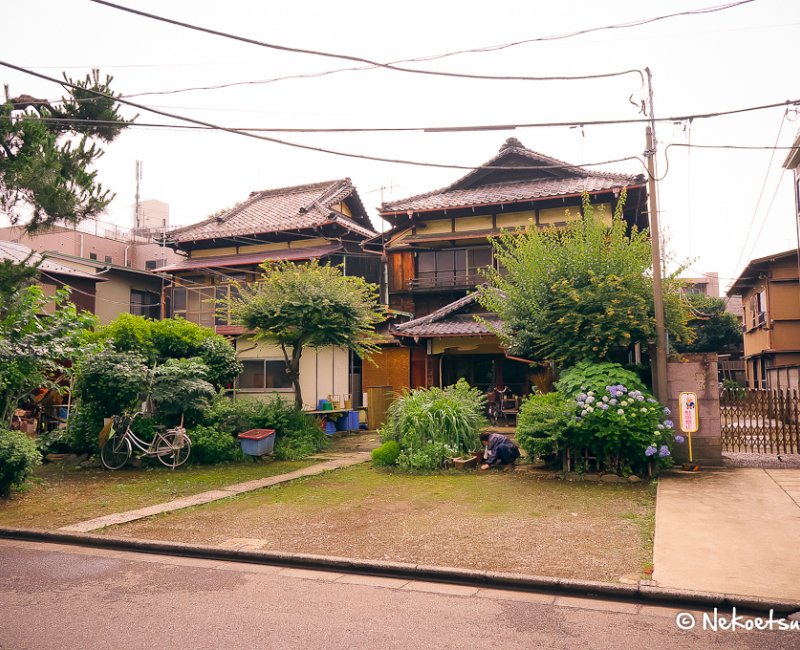 Temple district on the city's heights
During the Edo period (1603 – 1868), Kanei-ji temple was designated by the Tokugawa shogunate its main place of worship. It therefore attracted in its vicinity multiple spiritual sites, many of which settled in what is today the large Ueno Park.
Spared from the following centuries' biggest disasters, Yanaka's hills are now home to one of the highest density of temples and shrines in Tokyo. At a turn of a narrow street, or up a winding stairway, you'll find charming small Buddhist enclosures that are still in use today, some of which displaying:
Remarkable sculptures, such as a sitting Buddha in bronze at Tenno-ji temple (天台宗 護国山 天王寺); or,
Spectacular views, especially on trains and Shinkansen 

🚅

in Nishi-Nippori station from Suwa-jinja shrine (諏方神社).
The area is also famous for Yanaka Cemetery, thriving with blooming cherry trees 🌸 at the beginning of spring.
Beside temples, and not far from the iconic Yanaka Himalayan Cedar Tree (谷中のヒマラヤ杉), we highly recommend Art Sanctuary, an art gallery by Allan West. This America-born artist creates wonderful painted screen panels covered in gold leaves in the Japanese tradition.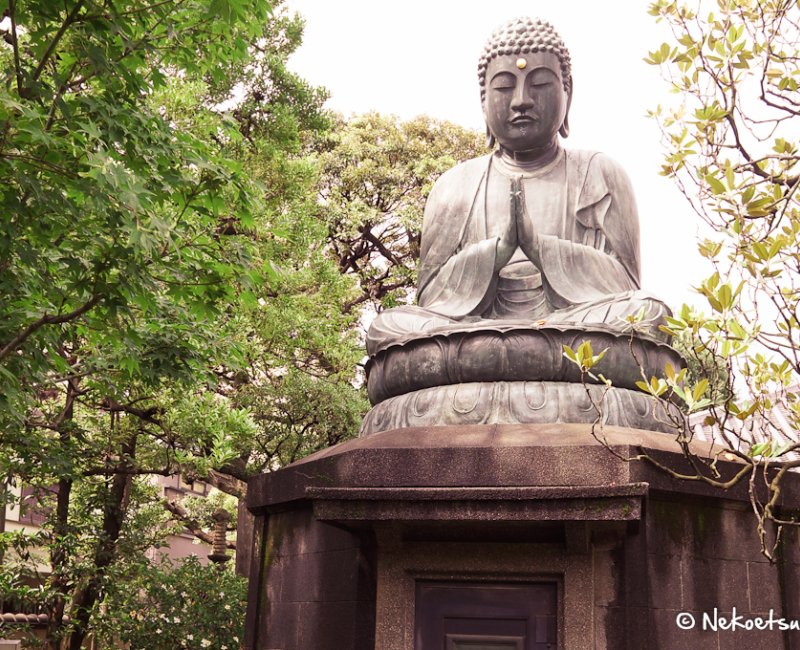 Merchants in the lower city
Walking down towards Sendagi station, the merchant street Yanaka Ginza (谷中銀座) looks like it was frozen in the post-war period. Nestled in a quiet residential neighborhood, this small shopping area has every kind of shops, from grocery stores to local cafes.
In the past, this area of the lower city was irrigated by a river and used for agriculture, especially rice farming. The number of dwellings gradually increased, leading to the apparition of an urban neighborhood.
In a more subdued and slightly retro atmosphere, Yanaka and overall the Yanesen area allow to explore another facet of Japan's capital city, in a sightseeing tour to do on the daytime on a nice weather day.