Ameyoko
Ueno's Popular Market
Add to my favorite places
Ameyoko is a commercial and popular street that links the south exit of Ueno Station to Okachimachi Station on the JR Yamanote Line in the heart of Tokyo. Its name is actually a contracted version of Ameya Yokocho, which literally means "candy stores' street." Today, we can find food stalls, as well as a variety of stores selling clothing and daily life products.
The street's history also indicates that the "Ame" part of the name refers to the American's presence in post-ward Japan, a period during which black market practices were commonn.
Ueno's Ameyoko delightfully resembles a shitamachi, a popular kind of neighborhood that embraces an older way of life and maintains a commercial, crowded, and perhaps not so clean atmosphere in a country that does not like to display those lively and slighty dirty streets. For about 500 meters in this street, several hundreds sellers call for the attention of popeyed wanderers.
Travelers can find numerous food items (e.g., fish, pickles, fruits), as well as clothing and accessories, overall a big tote at cheap prices — sometimes too cheap to be true. Add in the open possibility for negotiation and one can understand the reputation of some stores using counterfeits.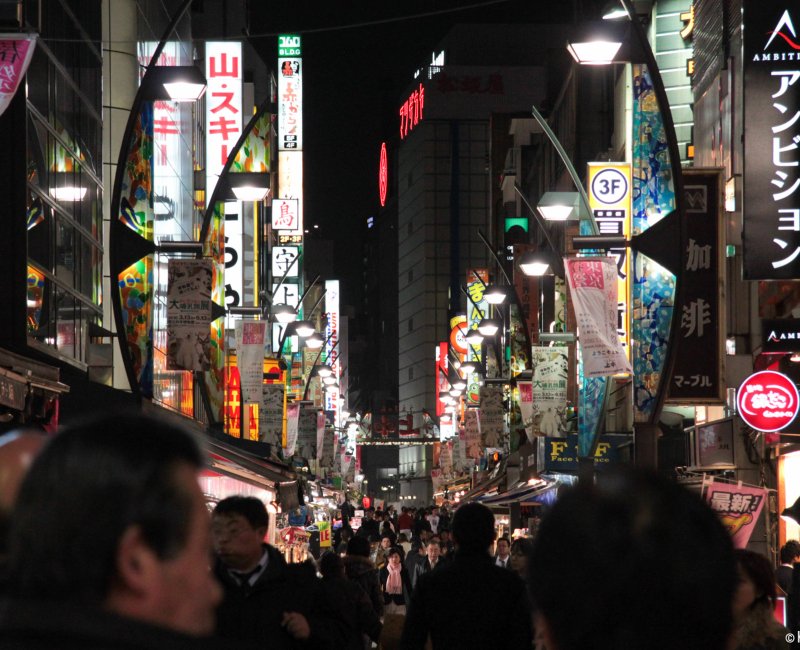 Street food stalls offering affordable and popular menu items are prominent, and visitors can sit at outside terraces, a rare concept in the Japanese capital. One particularity of the street remains on its situation; it lies just under the railways of Yamanote Line until Okachimachi. Eating in one of the restaurants located under the rails offers an unusual experience for visitors.
Reachable only a few steps from the south entrance of Ueno Park, Ameya Yokocho is very touristy but is also loved by foreigners. A few days before New Year's Eve, the market fills with clients coming to buy items for osechi-ryori, the last meal of the year.
Underlying the contemporary bustle of this neighborhood, historical anecdotes surrounding Ameyoko suggest its resistance to events. For instance, visitors can find Marishiten Tokudai-ji, a temple that has withstood both the Great Kanto earthquake in 1923 and air bombings during the Second World War.