Oedo Onsen Monogatari
Onsen theme park in Japan's capital city
Add to my favorite places
Oedo Onsen Monogatari is a theme park based on onsen, the natural Japanese hot springs, located on the artificial island of Odaiba, southeast of Tokyo. Immersed in the reproduction of an Edo Town, the old and popular Tokyo, visitors enjoy relaxing in public baths and the friendliness of games and restaurants all around.
Tokyo is not the main spot coming up when we think about the best destination for onsen ♨️, Japan's famous thermal waters. And yet, the capital city is home to several spas and beauty institutes, some of which with traditional areas. Hot springs are for sure natural as they are drawn from more than one kilometer underground.
Oedo Onsen Monogatari has the same concept with the specificity of being surrounded by a theme park 🎡, fully built in a typical old-style of Tokyo, during the Edo era (1603-1868). Therefore, in order to enter, visitors are invited to drop their casual clothes to dress themselves in a yukata 👘, borrowed at the park's front desk.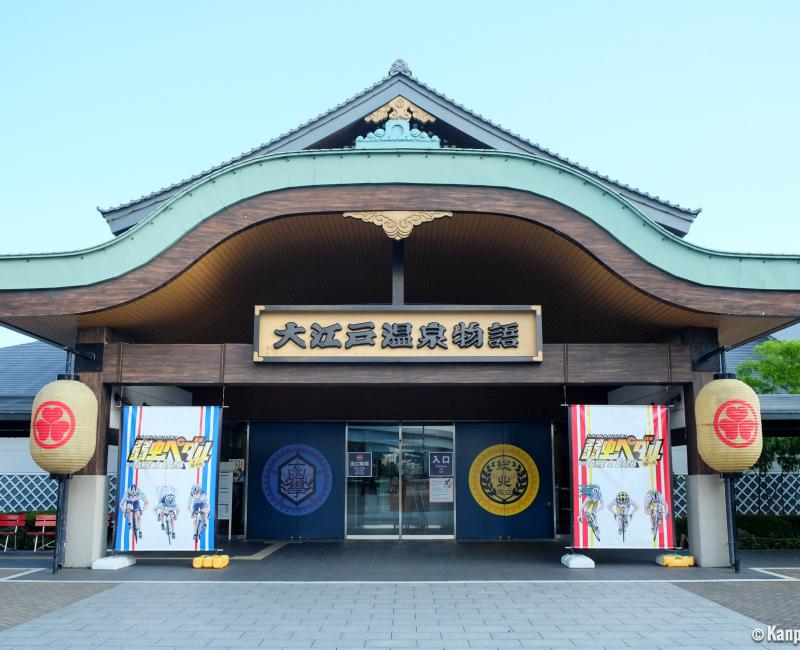 Baths
The whole complex perfectly illustrates a frequent definition of Japan, quoted by media: "torn between tradition and modernity". In this bathing temple, Japanese rituals of well behaving have to be respected: separated, women and men bath fully naked. Before that, each bather has to wash himself in order to soak all cleaned into the big common bath, divided into different indoor baths and an open-air one.
Some rules are important to know to limit oddness:
Tattoos are strictly forbidden: it is advised to hide even the smallest one under a bandage, yet the final appreciation of the staff controls the entries that will define your possibility to try onsen or not.
You have to stay in your underwear under the yukata and then go fully naked inside the bathing pools.
You can walk around barefoot or with clean socks (also available at the font desk).
It is advised to bring a changing outfit as you end up very clean.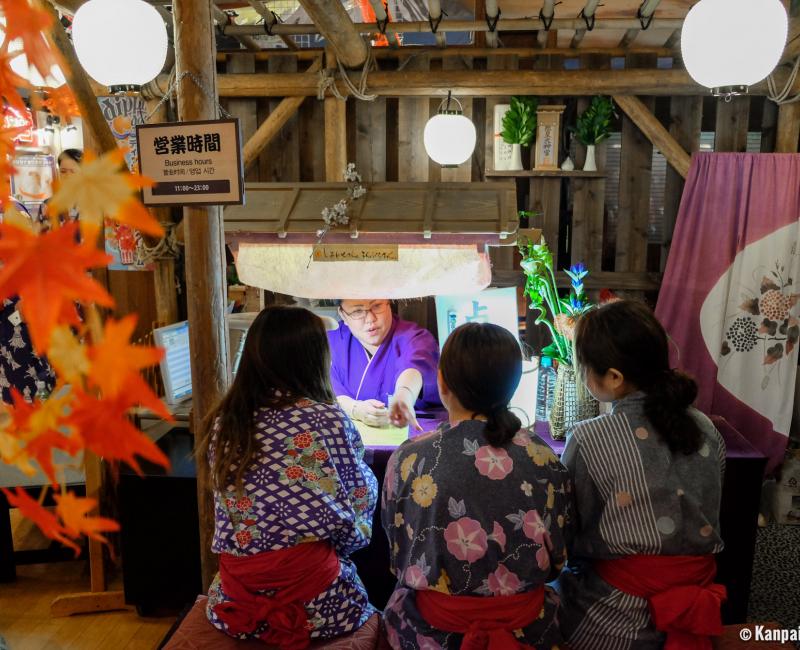 Entertainment
The novelty here is brought by the park's structure, which offers in the same place some interesting complementary services: game stands, restaurants, relaxation rooms, massages as well as an outdoor stroll with foot bath. Also, those who are not willing to experience onsen can enjoy the popular atmosphere of the interior arcades, nicely highlighted by many lanterns 🏮 reminding of matsuri, or by taking some fresh air in the nearby Japanese garden. Yet, their interests remain quite limited.
The place is opened 24/7 with the possibility to book a private room to spend a night on site. Population evolves depending of the hours. Fine amateurs can be found at sunrise, around 5am, enjoying quiet baths. Families arrive later during the day, in the morning and the afternoon. In the evening, you can find out salary men and tourists relaxing after a long day. Very cheerful, Oedo Onsen is mostly organized for groups and less for solo persons.
The establishment is very well-maintained and famous both among expatriates and young Tokyo inhabitants, coming with friends especially during weekends which can get quite crowded. However, the cost of this outing can easily get expensive as the base fee only includes the admission to the onsen area, excluding attractions and restaurants which have to be paid extra. Management foresaw everything to facilitate consumption: a pass with a personal barecode acting like a virtual wallet, the total receipt being paid only upon leaving the park.
For people who never tested thermal baths in Japan, Oedo Onsen Monogatari happens to be a great alternative to try this cultural aspect of Japan (customs 🛂 and rules are written in English) and it is a possible manner to beat the fear of nudity. Yet, it is not as authentic as a traditional onsen experience in nature.
For your information, the Urasayu Mangekyo Hotel 🏨 (of the same group, also located at Odaiba, next to Disney parks) offers mix-gendered open-air baths with mandatory swimwear.