Fuji TV
The Odaiba Observatory
Add to my favorite places
The headquarters of Japanese television network Fuji TV are located in Odaiba, in Minato ward in Tokyo. The characteristic building features an aerial sphere, actually an observatory view on the capital. Part of the floors also display various shops and restaurants.
The extraordinary construction undoubtedly struck all Odaiba's visitors even if they were not aware of its use. This great architectural ensemble is actually Fuji 🗻 TV headquarters, which have been broadcasting from here since March 1997. Founded in 1957, Fuji TV has become one of the most prominent national private television channel.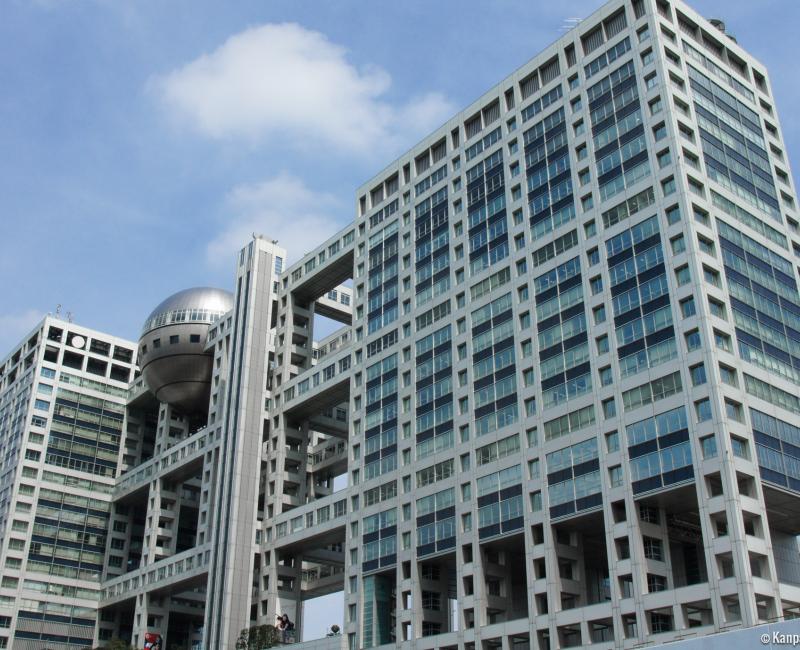 An architectural landmark
The building was designed by architect and urbanist Kenzo Tange (1913-2005), who among other things, also created the famous Tokyo Metropolitan Government Building in Shinjuku and Hiroshima Peace Memorial Park. The building was achieved in 1996, after six years of works from the conception to the edification, with a total budget of 185 billion yens (~1.4 billions dollars), more than two third of this amount being used for the construction works only. The building covers a 143,000m² superficies, is 123 meters high and earthquake-resistant.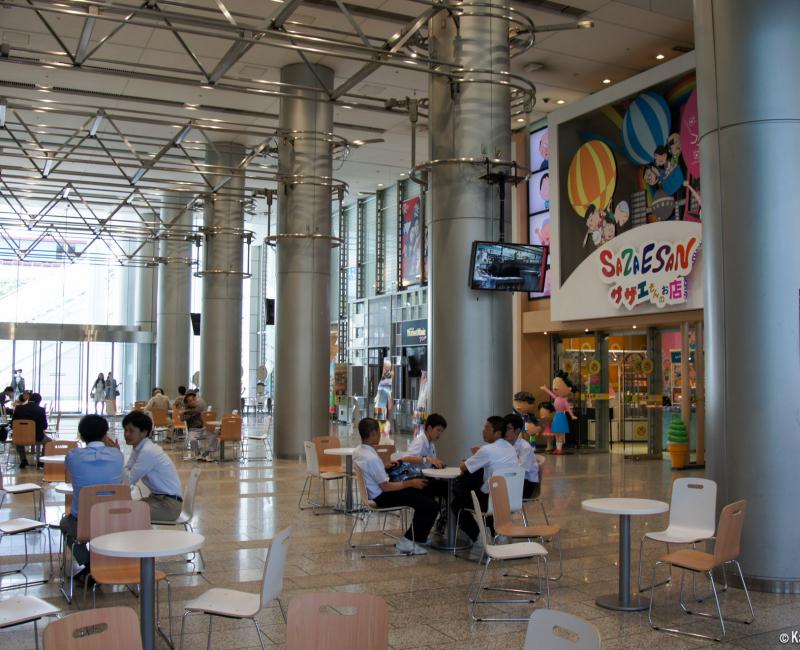 A course themed on Fuji TV
Several spaces are open to visitors: an information desk on the ground floor marks the entrance and sells tickets for the observatory, before a direct access to the sixth floor (7F) sheltering one of the main attraction. There is, among other things, an outdoor terrace where it is possible to observe the massive spherical observatory from below. As for shopping, a range of stores are dedicated to Fuji TV's famous series and characters:
First Dragon Ball and One Piece, the latter even had a themed restaurant Baratie (now definitively closed),
Sazae-san and a temporary shop for Chibi Maruko-chan,
And Fuji TV's mascot, a blue dog named Laugh-kun (Rafu-kun)
The observatory is accessible from the 24th floor (25F). It was named Hachitama, and it is a 32 meters diameter gigantic sphere, weighing about 1,300 tons. It was built on a lower level during construction and it took more than 10 hours for a crane to lift it to its current altitude, 100 meters above ground. The inside of the observatory is comparatively small, but it offers a spectacular view day and night on Tokyo Bay, Rainbow Bridge and the capital's skyline.
Fuji TV's building shelters about ten television studios, and one of them is accessible to visitors who got an entrance ticket for the observatory.