Tsukiji Fish Market
🐟 The Former World Largest Fish Market
Add to my favorite places
Tsukiji is a district of Tokyo that is home to the world's largest fish market, founded in 1935. Visiting the inner and outer markets is done according to certain rules. Tsukiji's inner market closed to tourists on September 29, 2018. Its reopening as Toyosu Market took place on October 11, 2018. The outer part still remains in business.
🚧 Limited Access
The Inner Fish Market was relocated in Toyosu in Tokyo Bay in 2018. The Outer Food Market called Tsukiji Uogashi is still operating and opens to the public mainly on the morning.
Tsukiji Market in Tokyo, which dealt two thousand tons of fish every day, is ruled by a number of codes in order not to interfere with merchants and professional customers in a hurry, at the point that it was closed to visitors for some time.
Tsukiji Market is divided into three main hubs:
the tuna auction, star of the show with its crazy prices;
the inner market, dedicated to fish of all kinds, whose sale is restricted to professionals;
the outer part, quieter and dedicated to condiments, accessories and restaurants.
Tuna auctions
In Japanese, tuna auctions are called マグロの競り maguro no seri.
The tuna auctions are accessible only to a hundred and twenty guests per day (divided in two groups). The first subways 🚇 and trains arrive too late so you will have to either take a taxi or wait several hours on site at night, after the last train 🚅 around midnight. It is highly recommended however to arrive before 5 a.m. as visitors, especially foreigners, are many.
Tuna are sold at very expensive prices on a regular basis. In 2013, a new historical record was established: a giant red tuna weighing more than 200kg was bought ¥155,4 millions (~1 million dollars) by the famous restaurant Sushi 🍣 Zanmai.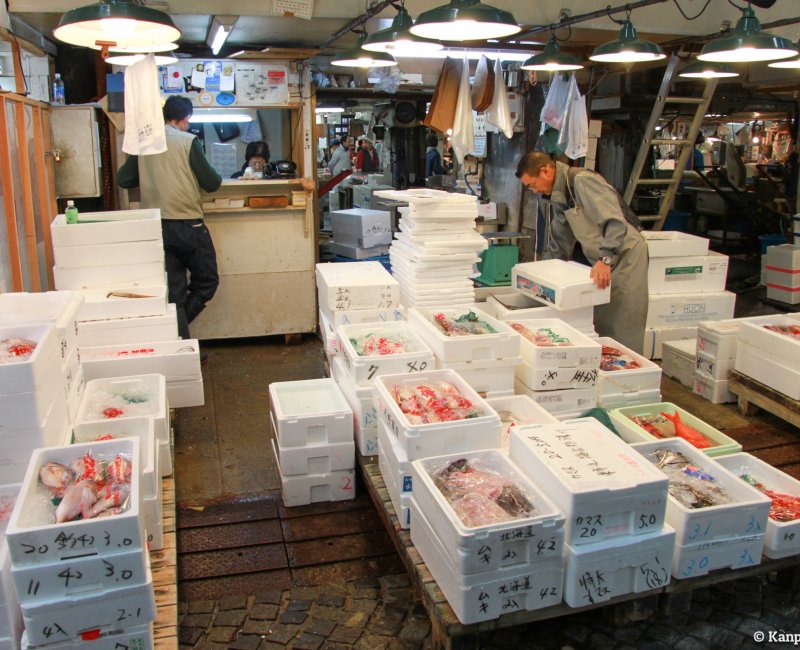 Indoor visit
A little bit later, the discovery begins with the inner market and its dozens of different fish, for some of them quite fantastic and original. For those of you who are worried about the smell of raw fish, it's far from unbearable even that early!
The visit is pleasant, provided you abide to specific rules. For example, it is strictly forbidden to:
walk in high heels or sandals in the alleys (due to the constantly wet floor);
come with a luggage or a bag too big;
come in groups of 6 persons or more;
come with small children or animals;
smoke;
block the movement of professionals;
take picture with a flash (since 2016 all pictures are forbidden at the inner market!); and,
of course touch anything.
Moreover, the opening of the inner market to the public was moved to 11 a.m. instead of 10 a.m. since June 15, 2018.
Outer Market tour
Upon leaving, the tour continues with the external market and its countless shops open to the public. It is possible to discover many local products or to eat in one of the sushi restaurants to taste the freshest fish at breakfast! The great advantage of the Outer Market is that one can visit without bothering the busy professionals.
Walking around the fish market is an occasion to discover a world of astonishing shapes and colors, we tried to capture in the pictures illustrating this post.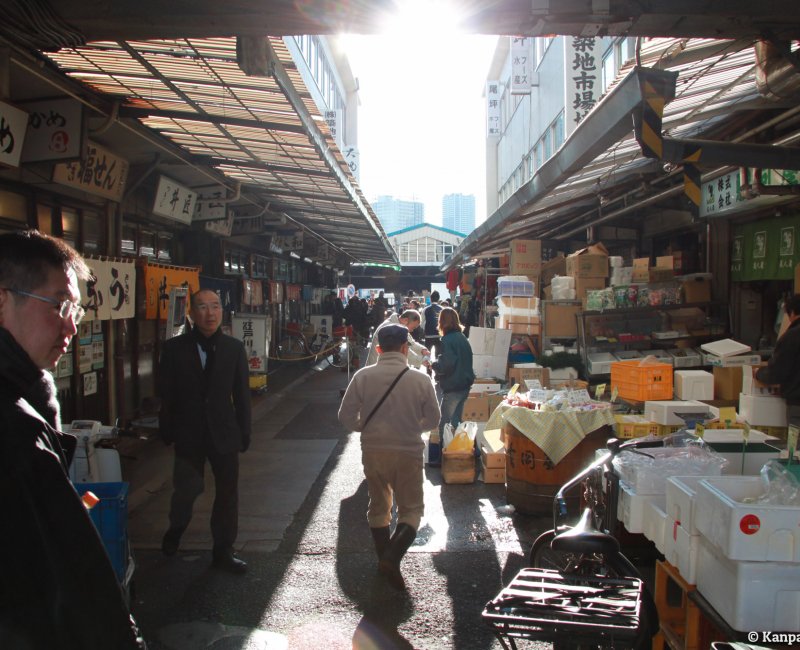 Transfer from Tsukiji to Toyosu
Tsukiji Inner Market was relocated in Toyosu at the end of 2018, about 3km further down south (main entrance on Harumi-Dori). The vacated space may be later used for building a stadium or a theme park 🎡. The transfer involved 61 traders, for an estimated cost of ¥600 billions (~4 billions dollars).
While there is no officially confirmed connection, Tsukiji was known to be plagued by 25cm long rats. In 2015, the city estimated their number to 500 (but the figure is though to be much higher). They were usually seen at the times when the market was quiet. Prior to the market's closing, it was assumed that thousands could escape to the neighboring districts (such as Ginza) during the relocation.
The transfer (announced as soon as 2001!) was initially planned on early November 2016, to give way to new infrastructures in view of the Tokyo 2020 Olympics 🏅, and especially to a new road: the Kanko Nigosen freeway. However, the then newly elected Tokyo governor Yuriko Koike decided on August 31, 2016 to postpone the project without giving any deadline. Toyosu used to be a gasworks site, and tests results on the underground waters were expected in 2017 (and they were not reassuring). In October 2017, the new relocation period is announced: between September and October in 2018. Toyosu Fish Market finally opened on October 11, 2018 for professionals and on October 13 at 10 a.m. for tourists. The relocation took place from October 7 to 10, from the day after the closing of Tsukiji on October 6 (as soon as September 29 for sightseers, and September 15 for the auctions).
Tsukiji Outer Market is still open and operating.
Over the fiscal year 2012, Tsukiji's overall revenue amounted to ¥414 billions (~2.7 billions dollars) so it was important to preserve its trade mark. Therefore, the new market is called 築地魚河岸 Tsukiji Uogashi.
The new market is sheltered under a contemporary architecture building on two levels, a sight radically different from the traditional market visitors were used to.