Fruit Picking in Japan
The Popular Family Outing
Add to my favorite places
Fruit picking is a rural activity widely spread throughout Japan, in farms and orchards open to the public. This experience combines the currents trends of tourism such as an outdoor activity, healthy or even organic food and meeting with a local population considered more authentic.
Japanese food is as much represented by the sophisticated dishes of the kaiseki traditional cuisine than the simple tasting of delicious fresh fruits directly harvested in the orchard. Japan is keen on cultivating its own "Made in Japan" fruits and vegetables, which are therefore good and especially beautiful.
The Japanese mainly eat local; consequently, it is often difficult for a foreign business in food importation to be admitted in this closed market. This national exclusivity result in rather high production prices, which naturally shows on the tags of large cities' supermarkets and greengrocers. Eating your "5 A Day" in Japan may prove to be difficult and many people with average revenues cannot necessarily afford it. Thus, it is not unusual to offer a fruit basket to someone one cares about.
However, it is also possible and quite easy to go directly to a farm to harvest the fruits and get a better cost-effectiveness and value for a greater quantity. Japanese couples or families often partake in this activity throughout the seasons. They take a one-day gateway from the city to enjoy the countryside and its seasonal fruits.
The fruit picking seasons unfold as follow for the main fruits cultivated in Japan:
In the same way as the visit of a temple or a museum, fruit picking follows the codes of the Japanese style entertainment: the fruits are appetizing and nicely staged, the most delicate being pre-wrapped, with a very caring farm staff, and specific rules for eating and harvesting are to be strictly followed.
Classical all-you-can-eat formula: tabehodai
The most common formula includes eating on the spot the fruits harvested within a limited time period, usually 30 minutes to one hour. The admission fee vary according to the type of fruit to pick, with an average price of ¥2,000 (~US$13.54) per adult and per hour.
Sometimes, farmers offer to take away a full crate or to pick various types of fruits: cherries and peaches or grapes and pears for example. It is often forbidden to bring one's own bag, some farms even request to leave all personal belongings at the entrance.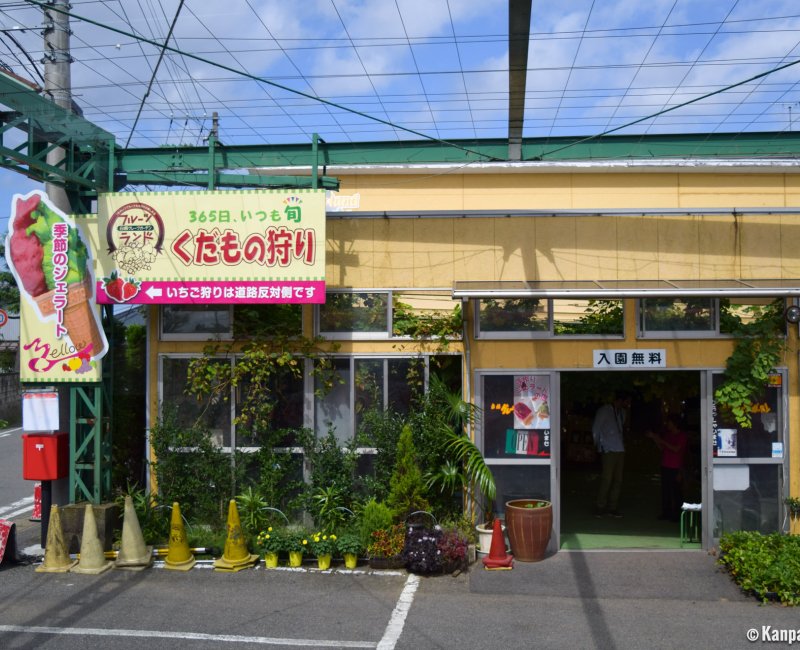 Booking in advance is generally necessary, whether being an individual tourist or part of a guided tour. The most difficult part for tourists is the accessibility by public transport. Due to their locations in rural areas, farms are not often easy to reach by train 🚅 or by bus. Therefore, we recommend this type of visit to travelers who can rent a car 🚙.
Regional tourism offices also try to facilitate the spread of information: thus, several prefectures, such as Yamanashi, Nagano and Kochi promote the direct visit of walk-in travelers by providing on their websites the farms' addresses, and the languages supported, usually Japanese, Chinese and English. Another way to (re-)discover the Japanese' gentleness.