Tofuku-ji
The Large Zen Buddhism Complex in Kyoto
Add to my favorite places
Tofuku-ji is a Buddhist temple of the Rinzai School located to the south-east of Kyoto Station. The site is particularly renowned for its beautiful fall colors, however visiting its numerous pavilions and gardens is pleasant in all seasons.
🚧 Renovation in Progress
Renovation works in progress in the Kaisan-do area: Fumon-in buildings are closed until October 2025
Tofuku-ji temple's name was devised as a tribute to two great temples in Nara, from which its kanji characters derive: 東 from Todai-ji and 福 from Kofuku-ji. It was founded in 1236 and preserved several pavilions constructed during the Muromachi period (1336 – 1573), including the majestic Sanmon Gate, of an impressive 22 meters high and that is currently the oldest preserved gate of its kind.
Although the temple's grounds considerably shrank over time, Tofuku-ji still displays testimonies of each periods, thanks to multiple restorations and arrangement of new gardens. The large complex remains a Zen Buddhism reference in Japan and is rightly ranked among the Gozan, the five great Zen Buddhism temples of Kyoto.
It is also a famous spot for viewing the momiji 🍁 (Japanese maple trees) in autumn, especially from Tsutenkyô, a long covered corridor built in the 14th century.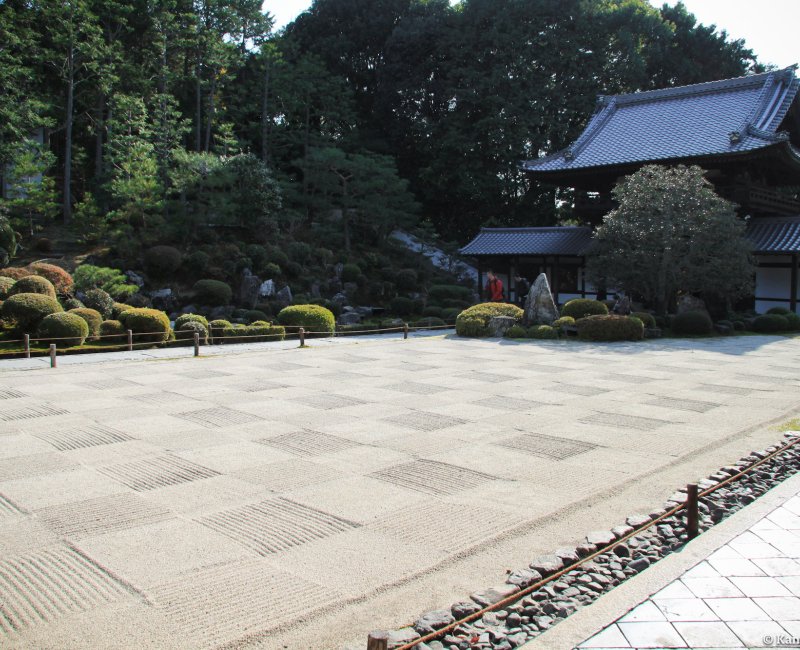 Remarkable Zen gardens
We recommend continuing the visit in the heart of the Tofuku-ji, in the Hojo and the head-priest's gardens, a group of 4 karesansui dry gardens and moss gardens designed by Shigemori Mirei in 1939, following Zen principles and the Japanese tradition of gardening. They are placed at each cardinal point around the most quiet pavilion which is an ideal place to rest before continuing the visit of other temples of the former capital.
The discovery of Tofuku-ji is ideally planned with Fushimi Inari Taisha's as these two complexes are almost neighbors in the south of Kyoto. The walk between the two offers a relaxing time, far from the tourists crowds.
Note that during the koyo period (approximately in the second half of November) and since 2016, taking pictures of the maple trees is forbidden is the main areas of the temple.