Atsumi Onsen Bankokuya (Review)
A Traditional Ryokan Inn in the Outskirts of Tsuruoka
Add to my favorite places
Atsumi Onsen Bankokuya is a hotel and thermal resort close to Tsuruoka City, in Yamagata prefecture in the north of Japan. This traditional accommodation provides a peaceful halt in the heart of the rural Shonai area's steep wilderness.
Some travelers enjoy visiting several places over a limited time, while other prefer taking their time. For the later, Atsumi Onsen ♨️ Bankokuya ryokan inn is a dream-like place to rest before endeavoring, for example, a journey in the heart of the 3 Dewa Sanzan sacred mountains located nearby.
Surrounded by mountains and sided by several dozens of cherry trees 🌸 along a river, the Japanese bath house is surrounded by a spectacular nature, which is majestic in spring. Moreover, a typical market opens on the morning on the other side of the bridge and hides surprising culinary discoveries.
The inn's lobby is immense, with a gentle light highlighting the very high ceiling. As in most of ryokan inns, just entering the premises is soothing for the sight. The rooms, about a hundred in total, are more or less similar: a coffee table, a TV broadcasting the local channels and a large closet where are stored the bath amenities and the yukata, a light cotton kimono 👘. Once you have donned it, go to the main attraction of the place: the onsen baths.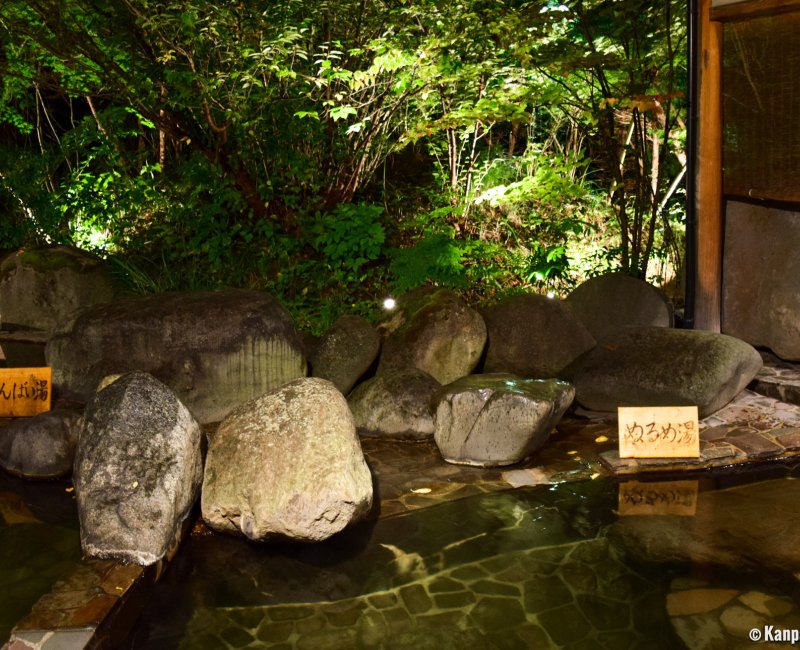 Outdoor landscapes of a bewitching beauty
Men and women use separate baths, but all pools can be enjoyed by everyone as they are assigned to each gender depending on the time of the day. The indoor baths are classical and interesting for resting. However, the highlights naturally are the outdoor baths opening on a lovely natural decor, surrounded by trees and rocks, with the luxury of admiring the stars shining in the night while quietly sitting in the hot water. Beware however of not staying too long if you don't want to risk the heat stroke!
Vegetables from the region (that can boast a good reputation regarding its local agriculture) make for a large part of the dinner's ingredients, especially mushrooms, bamboo shoots and delicately cooked seafood.
The last bath, recommended after dinner, is so relaxing that when going back to the tatami room, one cannot help falling into a deep, serene and restful sleep.
This article was written after a tour sponsored and organized by Niigata and Tsuruoka cities. Kanpai has been invited and guided but keeps a total freedom of editorial content.