Machiya Inase Otsu (Review)
The Bed and Breakfast by Lake Biwa
Add to my favorite places
Machiya Inase is a guest house located in Otsu city downtown, near Mii-dera temple. This distinctive lodging in Shiga area displays a unique particularity: it is a former rice warehouse dating back to 1933 and transformed into a traditional Japanese guest house.
The old-fashioned setting and the bucolic ambiance surrounding this unique accommodation contribute to the charm of the townhouse Inase. Registered Tangible Cultural Property since 2017, the historical construction makes for a large part of the place's attractiveness. The former rice warehouse was carefully restored with natural materials and following the construction methods of the time it was built. The impressive height under the ceilings has been preserved in several rooms of the house.
The culture of hospitality
This machiya townhouse, carefully tended, has five rooms that can accommodate one to six guests each. The modest number of rooms is a guarantee to receive a warm and customized welcome by the owners, who are inclined to go the extra mile and offer small gifts at check-in, such as tea and biscuits. Therefore, it can be a good idea to also bring a small souvenir from your country of origin (a temiyage in Japanese).
Each room is fitted with toilets 🚽 but no bathroom 🛁. Indeed, as all traditional hotels 🏨 the bathroom is shared and at Inase's, it includes two showers and one ofuro Japanese bath to share between the guests. There are also a shared kitchen and a living-room opening on a private garden where a Japanese breakfast is served every morning. Tea, coffee as well as books on the regions are available at any time of the day.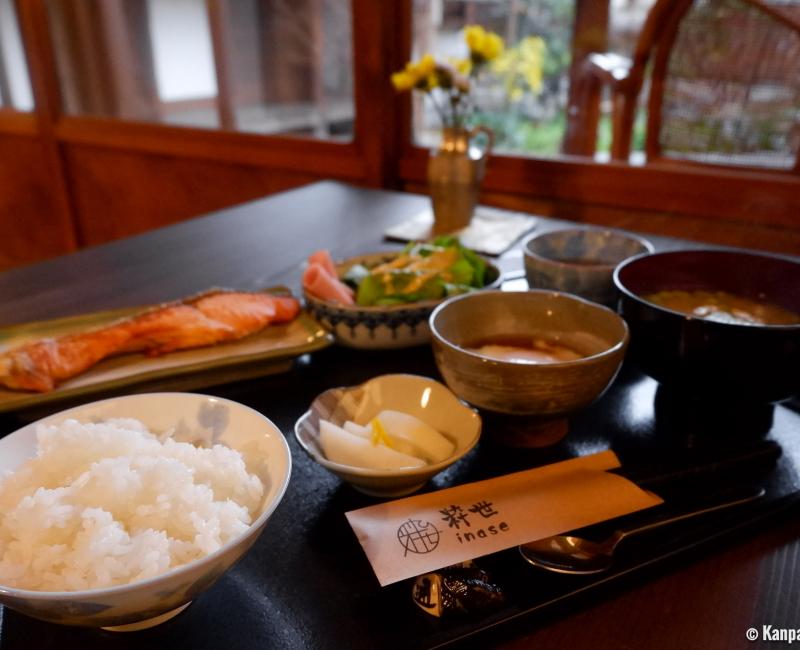 Traditional yet modern rooms
With a tasteful decoration, the rooms provide a timeless relaxation and wellness. In the Bosetsu and Seiran rooms, live an authentic experience on a tatami floor, and a view on the garden for one of the rooms. In a more modern style, Shugetsu and Sekisho have Western style bedding. We recommend choosing the most comfortable suite of the machiya: Bansho. It is located in an annex and includes a Western style room, a lounge on tatami flooring with a nice view on the garden as well as a private bathtub.
Inase is a good choice for those looking for an unusual lodging in the heart of classical Japan. Located in a walking distance to Mii-dera temple and near Otsu JR station, this Bed and Breakfast can be used as a base to visit Lake Biwa, discovering Omi area (nowadays Shiga prefecture), but also to hop to Kyoto, just a dozen minutes by train 🚅.
Moreover, discovery workshops are frequently staged at Inase, such as: origami art of folding paper, ikebana Japanese flower arranging, initiations to tea ceremony or the making of traditional sweets. Everything in Inase was thoroughly designed to help guests spend the best time at the inn.
This article was written after a tour sponsored and organized by
Otsu City's Tourist Association
. Kanpai has been invited and guided but keeps a total freedom of editorial content.