Lake Biwa Yamashina Canal
Cherry Blossoms and Rapeseed Flowers in Kyoto
Add to my favorite places
Yamashina Canal is a part of the Lake Biwa waterway located on the easternmost side of Kyoto in Japan. Its 4-kilometers long banks provide a pleasant green walk by the water, highlighted by seasonal flowerings, especially the sakura in the beginning of spring.
Build during the Meiji Era (1868 - 1912) for freight transport, the Lake Biwa Canal is a waterway corridor connecting Otsu and Kyoto, between Mii-dera and Nanzen-ji temples respectively. The stream crosses residential areas and through mountains thanks to 3 historical tunnels dug in the rock.
Sightseers can board a small boat of about a dozen seats to cruise on the Lake Biwa Canal in the same manners as the merchants at the olden times. This tourist attraction is particularly popular in spring and in autumn for watching the changing colors of the trees growing on the waterside.
Yamashina Canal is the central section of Lake Biwa Canal, located between the two first tunnels. Its banks are arranged in a walkway offering pleasant walks or space for running on beautiful days. From late March to early April, about 660 soft pink cherry trees and yellow rapeseed flowers bloom at the same time in a beautiful show for the delight of amateur botanist and photographs. Lesser known by tourists, this sakura 🌸 spot is a complement to the popular Keage Incline located nearby, that is overcrowded with people and petals in the early spring.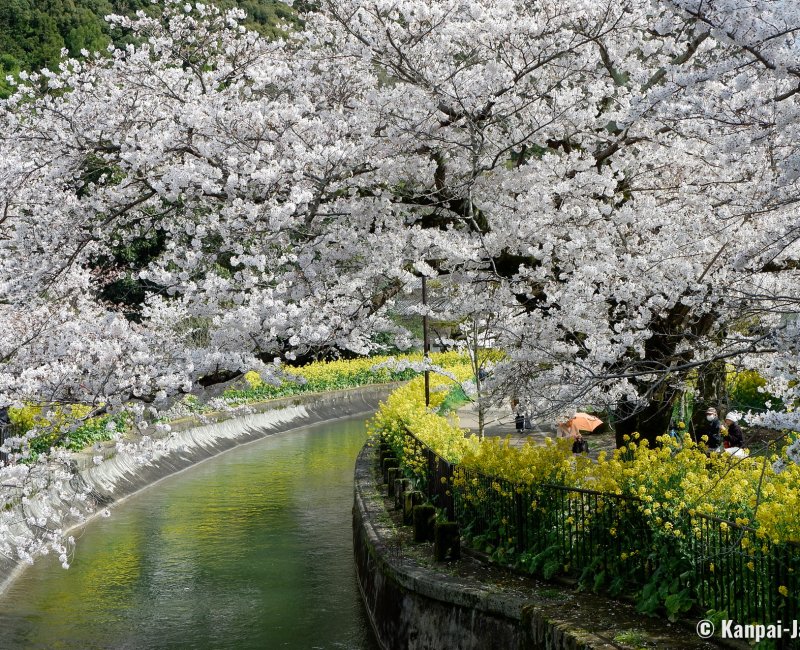 Bridges and neighborhood temples by the water
From Yamashina JR station, walk in the narrow and typical residential streets embellished by the cherry blossoms. It is particularly recommended to walk along the Ansho-ji river crossing the area north to south and traversing the canal between the Rakuto-bashi (洛東橋) and Anshu-bashi (安朱橋) bridges. These bridges offer beautiful viewpoints and locations to greet the people cruising toward Lake Biwa.
The bucolic walk continues to the surroundings' temples and shrines such as:
Honkoku-ji (本圀寺);
Ansho-ji (安祥寺);
Moroha-jinja (諸羽神社); and specifically,
Bishamon-do (毘沙門堂) located a little bit further up in the mountain.
Yamashina Canal is a beautiful excursion for those looking for an urban yet more confidential outing. You will enjoy the landscape in a quiet setting, along with the local inhabitants, only a stone's throw away from downtown Kyoto. From late November to early December, the site also offers a wonderful koyo 🍁 spot.