The Royal Park Hotel Haneda (Review)
The Convenient Hotel at the Airport
Add to my favorite places
The Royal Park Hotel Haneda is a four stars hotel accessible from Haneda airport's Terminal 3 (formerly International terminal) in the south of Tokyo. A rather high-end accommodation, the place offers to travelers in transit a comfortable and convenient halt, with a view on the airport's runways.
Hotels located in airports generally have two main functions:
In case of early take-off, they help avoid waking up too early and / or if there is no public transportation available at this time and over-expensive taxi fares;
As a consequence, these specific accommodations need to be functional, affordable, and especially located near the terminals. The Royal Park Hotel 🏨 Haneda easily complies with these three necessities, starting from its ideal location inside Haneda airport's Terminal 3, the closest airport to Tokyo.
The quiet and comfortable lobby is accessible via an escalator located at the terminal's north-western end, and after walking by the hotel's restaurant Tailwind, that serves a breakfast buffet in the morning. A nice bilingual Japanese-English staff welcomes clients for check-ins and check-outs behind a long counter at the reception. Given its localization, the Royal Park Hotel Haneda is shaped in a long rectangle: two elevators connect endless corridors dispatching rooms on each side in the different levels. Rooms have a superficies of 15 to 30m² (except for the 70m² suite), and are divided between five standard levels, and Premium from which it is even possible to see Mount Fuji 🗻 when the weather is clear.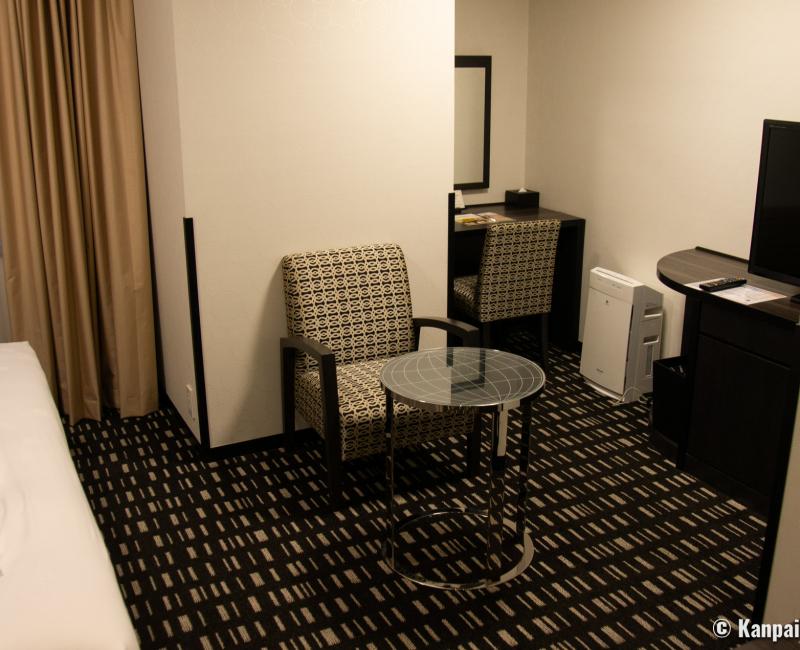 Simple and functional hotel rooms
The hotel is convenient as well, as the expected comfort can be found in the rooms:
A very big size Western-style bed;
A television with access to Japanese channels and international information channels;
A free Wi-Fi access;
A reversible air conditioning;
A desk with an armchair and a small fridge;
Numerous bathroom 

🛁

accessories;
Several power outlets;
And a safe secured by a pin code.
The floor is carpeted, except in the bathroom, making the decoration relatively dark but clean. We only noticed that it was difficult to regulate heat with air conditioning and shower (may be because the room we tried was located at the end of a corridor?). On the other hand, there is no need to worry about the planes ✈️' noise, as the building is adequately soundproof.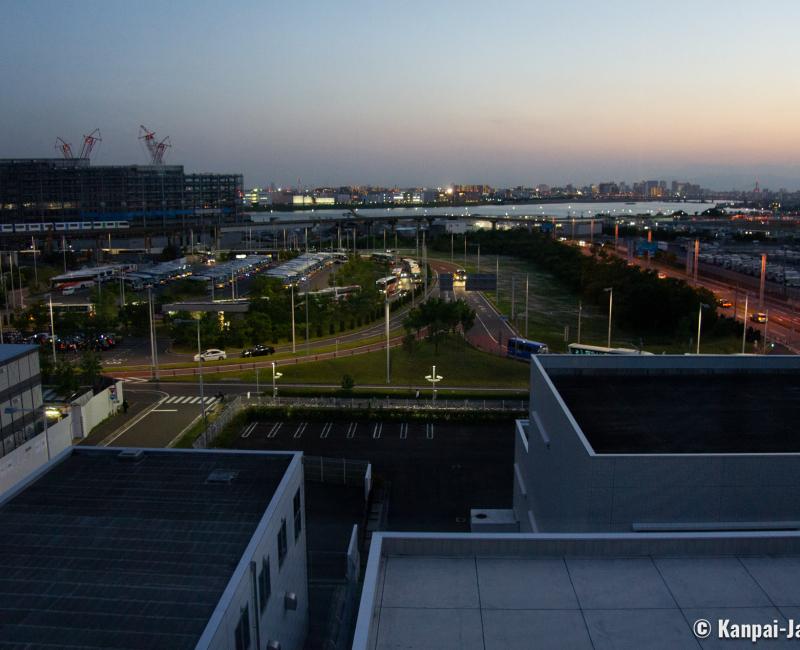 An easy access to Haneda Terminal 3's leisure area.
Those who will choose to spend the evening and the night at The Royal Park Hotel Haneda will enjoy a much quieter International Terminal than in the busy daytime. It is a good opportunity for a last shopping spree in the airport's shops. Gathered in a typical Edo-like village, they are the perfect place for a last-minute souvenir shopping. Its access is a partial but nonetheless impressive reproduction of Tokyo's Nihonbashi bridge.
Just stroll under the light of the red lanterns 🏮 in this small labyrinth and have fun spending your last Yens 💴 before coming back home. Gourmets will have the pleasure of a last meal as Japanese restaurants open late. Note however that prices are noticeably higher than in the same type of place in the city.
We also recommend dropping by the outdoor observation platform located at the 5F, from which it is possible to observe planes landing and taking-off, in a noisy ambiance as a matter of fact.
For all these reasons, and despite a slightly higher budget than its counterpart in Domestic Terminal Excel Tokyu, we recommend without hesitation The Royal Park Hotel Haneda to travelers in transit who may need to use it.