Shiki Properties (Review)
Rent a Traditional Townhouse in Kyoto
Add to my favorite places
Shiki Properties is a hospitality brand in Kansai area offering holiday rentals of traditional Japanese wooden homes (machiya) located in downtown Kyoto. The houses are private residencies tastefully renovated by their owners and offer ideal places to stay in the former imperial capital. Houses to rent in Osaka are also available in Shiki Properties' roster.
Thanks to its traditional postcard-like downtown, Kyoto is one of the travelers' favorite destinations, but nonetheless a city where people live in dynamic residential neighborhoods. With a strict policy regarding holiday home rental, the city tries to find a balance between the preservation of its inhabitants' lifestyle and maintaining touristic attractiveness.
Shiki Properties, a brand specialized in rental management, perfectly blends in this environment. The company was founded by an Australia-born Japanese entrepreneur, and is run by an international team whose members have various origins (Japan, France, Sweden, United States, China and Taiwan). As it is a real estate company holding the required licenses to rent its property portfolio, renting an accommodation in Kyoto can safely be made through Shiki Properties. Booking on line and in English is easy, a free cancellation option is available and reservations are open a very long time in advance.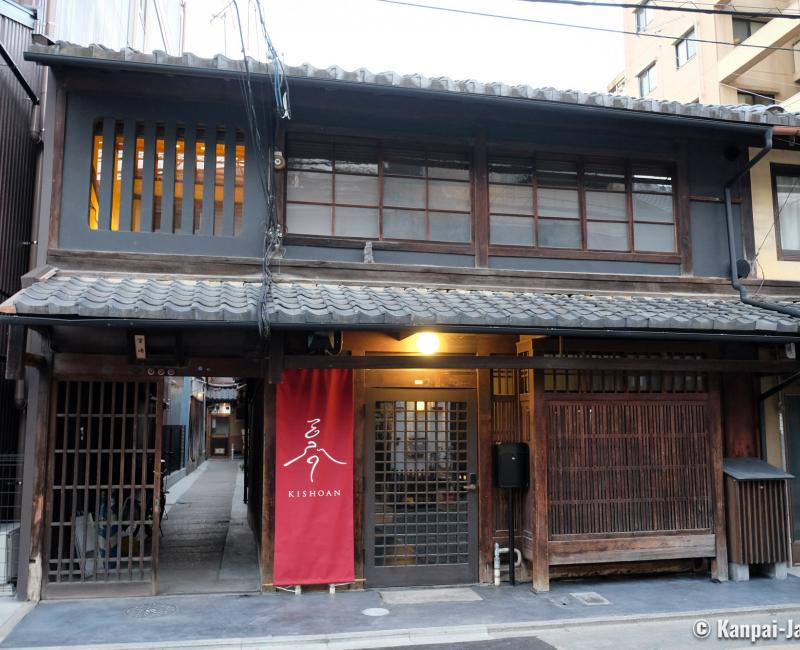 The choice of a private housing
Shiki's offer is based on a network of traditional Japanese wooden townhouses (machiya) renovated and available for holiday rental or long-term rental. To be part of the network, the owners, who are mainly locals, must adhere to a common charter defining comfort and security standards, but the design of the house is up to them. Therefore, each house has a specific decoration and layout showcasing its owner's taste. However, the Japanese refinement and a tendency to uncluttered and Zen spaces characterize the attractiveness of these homes.
Shiki houses are gathered in Kyoto's downtown and benefit from a good location and an easy access:
In the station's surroundings,
In Higashiyama ward,
Or near important touristic sites such as the Imperial Palace Kyoto Gosho or Nijo Castle.
At the time of writing, the house list in Kyoto includes about thirty homes divided in 3 categories: Luxury, Premium and Standard. Shiki Properties' portfolio is still growing. With rather vast superficies, these fully serviced houses have 1 to 3 rooms and can cater to families, groups of friends or couples who are looking for a form of autonomy.
A hotel 🏨-style formula is also offered through Shiki Suites, with 28m² rooms fitted with a living-room space, a kitchenette, and even with a private outdoor Jacuzzi for some of them.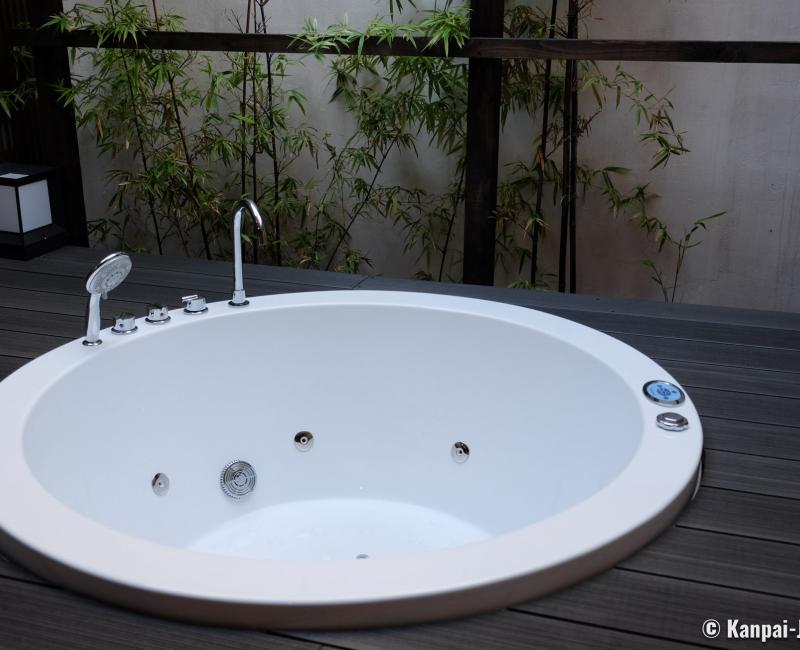 Living in a typical townhouse of Kyoto
We could visit and stay in several houses managed by Shiki Properties. We particularly recommend:
Kishoan, a large 113m² traditional villa, with great renovation works. It is as functional as it is elegant and it is one of the most luxurious houses to rent on Shiki's list. Each room benefits from a specific lighting to enhance the beauty of the space. We particularly appreciated the outdoor bath and the living room with a rare black tatami flooring (front picture).
Maana Kyoto is a beautiful luxury machiya of about 90m² superficies. The ground floor distributes the living rooms, including a Japanese-style living room with a space to slip the legs underneath the table. The bathrooms displays high-end finishing touches such as a round bathtub made in Shigaraki style ceramic, with a view on a small Japanese garden and its maple trees.
Bisho, a 81m² superficies machiya is located close to Karasuma station, on Shijo-dori Avenue. The volumes are perfectly exploited and the house includes a pleasant kitchen, a living-room area with 2 types of seating and a tatami room at the ground floor that can be used as a bedroom when spreading futon mattresses. The originality is the access to the wonderfully sober bathroom 

🛁

through a little garden. The renovation works on the wall kept their natural and authentic aspect.
Zen Fuyacho is a 76m² house with both modern and classical features and a lengthwise layout. The interior design makes the best of the housing, especially the room upstairs under sloping ceilings. Wood is a prominent feature of the house, up to the hinoki-buro bathtub made from Japanese cypress, and enlightens the rooms with its clear hues.
Asuka's advantage lies in its convenience rather than its aesthetics. Although it is only 56m², it can still easily accommodate 5 guests dispatched in two rooms, one of which is a 3 single beds room. Its location in the surroundings of Kiyomizu-dera is also an asset.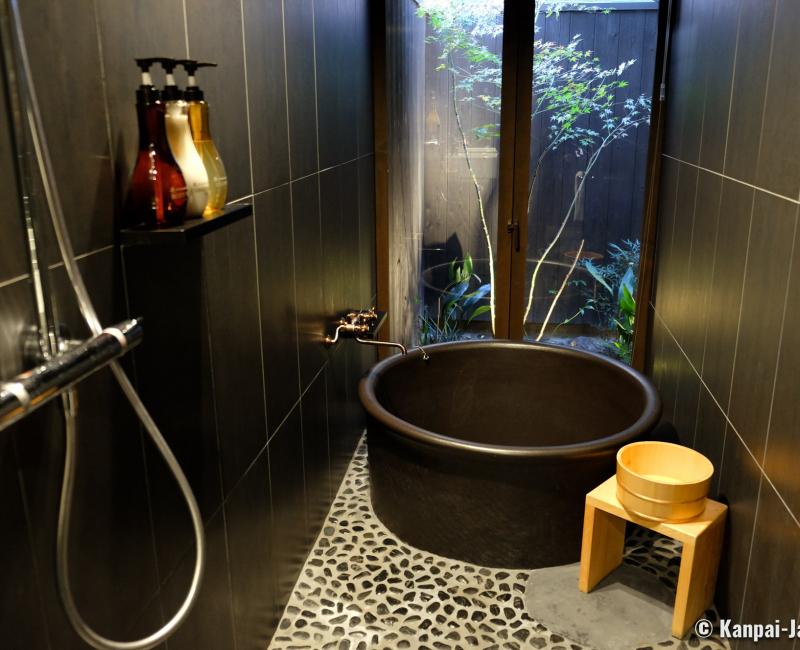 Regarding amenities and services for foreign customers, each house includes:
A reversible air conditioning,
A Wi-Fi Internet 

📶

access,
A TV set with Netflix subscription,
A large washing machine,
Tableware and cooking ustensils,
Bathroom amenities (soap, towels and hair dryer),
An English translation of all the house's appliances,
An assistance in English (all the staff is English-proficient).
Other services are available for an additional fee such as: janitorial services, bento 🍱-style breakfast delivery, booking of day activities (in-house chef, massage, kimono 👘 rental, guided tour of the city, etc.).
Note that in the Coronavirus 🦠 pandemic context, Shiki Properties is implementing stepped-up cleaning procedures after each stay.
We strongly recommend Shiki Properties services to rent a house in Kyoto and make the most of your stay in the traditional capital.
This article was written after nights offered by Shiki Properties. Kanpai has been invited and guided but keeps a total freedom of editorial content.