Hakone-jinja
The Great Shrine Wrapped in Forest on the Shores of Lake Ashi
Add to my favorite places
Hakone-jinja is a shinto shrine located in Hakone city, in Kanagawa prefecture in Japan. Its main pavilion, built in 757, is nestled in a beautiful cedar forest. The place is mainly renowned for its great red gates, and especially its floating torii on Lake Ashi, with Mount Fuji in the background.
A tour in Hakone definitely starts from Hakone-jinja. It is indeed a must-see, and it is part of a remarkable landscape that can be observed from the other side of the lake: the great torii ⛩️ gate floating on Lake Ashinoko with Mount Fuji 🗻 in the background.
Aside from this postcard-like scenery, the shrine stretches out in a large forest on the shores of Lake Ashi, and offers even more astounding landscapes. As if frozen in the past, the shrine's atmosphere is hued by a strong spiritual presence, coming from the tale of the nine-heads dragon, Kuzuryu, as well as the three spirits (Hakone Okami) that are enshrined here.
The modern road by which visitors arrive quickly adopts more traditional features. Hiking through the tall trees, vermillion color lanterns 🏮 and torii gates of various sizes can be spotted and reveal the entrance to the Shinto grounds founded in the middle of the 8th century.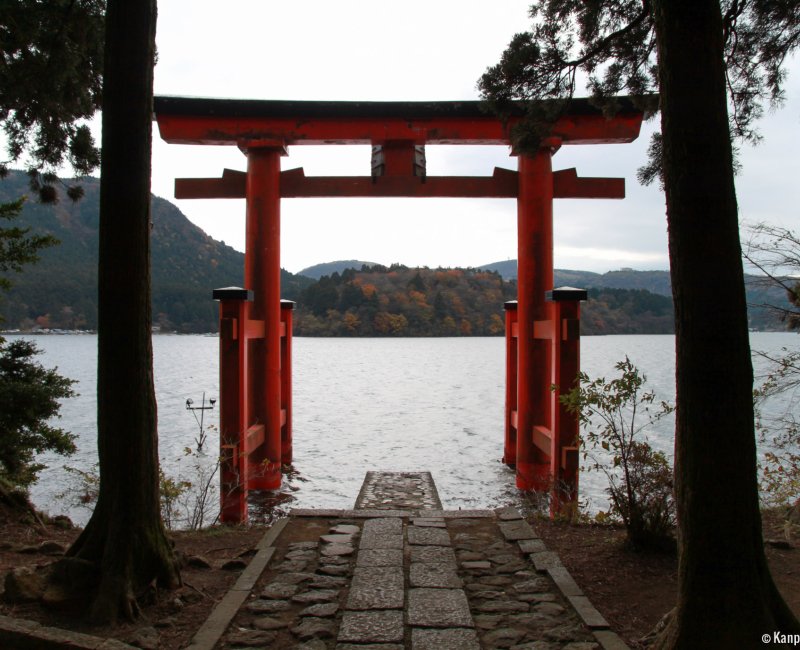 A series of long flight ✈️ of stairs and a little bit of efforts lead to the platform where stand the main buildings of Hakone-jinja. Amaterasu, the sun goddess of Japanese mythology is worshipped here. It is also the first step to climb Mount Komagatake, home to another shrine, Mototsumiya.
Down the hill, the landscape offers more variety. The famous floating torii is indeed sheltered under the shadow of centuries-old conifers, as a proud counterpart of Miyajima's. It is however more recent as it was built in 1951 to mark the WWII Peace Treaty and named Heiwa torii ("The Great Gate of Peace").
Relax a couple of minutes near the torii and admire Lake Ashi's vastness, before continuing the walk to other places in Hakone.