Hakone Open-Air Museum
Contemporary art in nature
Add to my favorite places
Hakone Open-Air Museum is a unique exhibition area opened in 1969, located in the heart of Hakone area's mountains. It displays a collection of sculptures and interactive artworks created by Japanese and international artists. A vast park arranged as an outdoor gallery is open to visitors' wandering, and more conventional indoor exhibition buildings are also to be discovered.
Hakone Open-Air Museum was the first outdoor museum to open in Japan. Nestled in a verdant environment, the establishment aims to promote sculpture as an environmental art. It proved to be successful with artworks harmoniously displayed in beautiful landscapes.
The entrance of the museum makes way to a corridor leading to a first large esplanade, a space combining nicely culture and environment. More than 120 artworks from the 19th and 20th centuries are displayed outdoor and are accessible by narrow winding paths. To help visitors find their way, footsteps designed by Akiko Arita were imprinted on the ground.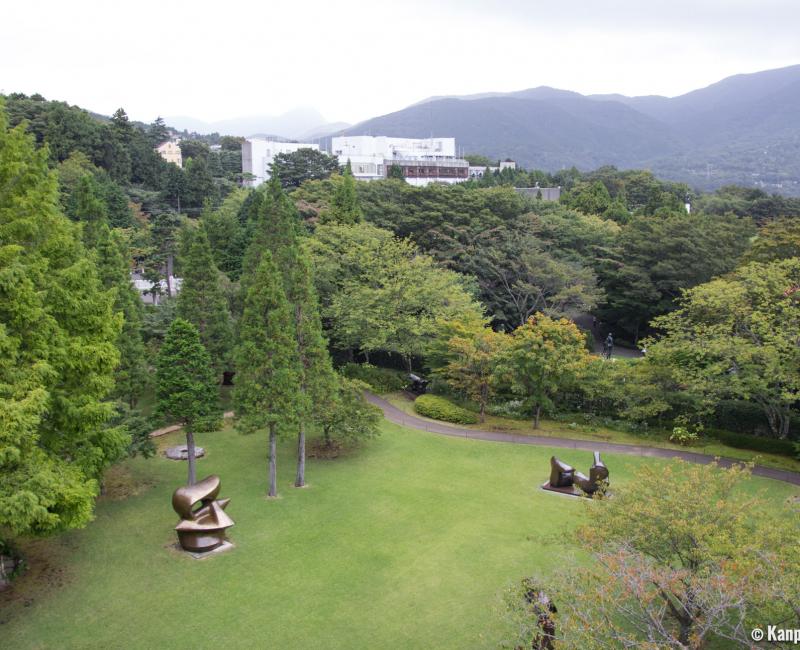 A collection of international artworks
One of the first impressive sculptures is François-Xavier and Claude Lalanne's La Pleureuse ("The crying woman"), featuring a large woman's head set on a basin filled with water. Taro Okamoto's L'homme végétal ("The plant man") is displayed nearby. Further in the park, visitors can admire Niki de Saint Phalle's Miss Black Power. The Symphonic Sculpture, by Gabriel Loire, is a big tower covered in stained glass, into which stairs allow to climb.
Other artists, such as Marino Marini (Il Guerriero), Rainer Kriester (Big Hand) and Arnaldo Pomodoro (Sfera con sfera) are to be discovered along the walk. On a side note, the eastern part of the park shelters the second biggest collection in the world of Henry Moore's sculptures.
Picasso has a whole indoor gallery dedicated to his works, where amateurs will find numerous drawings, paintings, sculptures and ceramics. Explanations are available in English. The huge building on the right side of the Museum entrance, facing the great esplanade is a temporary exhibition gallery.
As for Japanese artists whose works are displayed, we can mention:
Bukichi Inoue, who mixes architecture and sculpture (My sky Hole);
Masayuki Nagare (Wind's impression);
Genichiro Inokuma (The World of the Sounds); or,
Kotaro Takamura (Michinoku).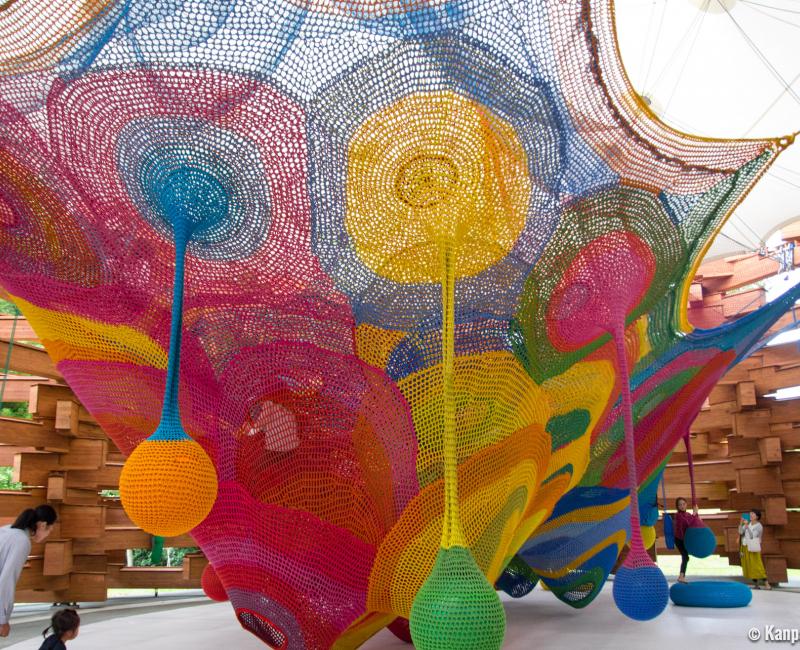 For the whole family
Moreover, children are sure to enjoy the place: several interactive artworks are especially designed for them. Some adults might even regret not to be able to play as well! For example, Toshiko Horiuchi MacAdam created Woods of Net where younger visitors can play in a huge net of multicolored threads. Peter Pearce conceived Curved-Space Diamond Structure, a labyrinth structure from polycarbonate plastic cubes, in which younger children can climb and snuggle.
Among the pleasant aspects of the museum is also a part dedicated to relaxation. The café, from which several artworks are visible, is perfect to rest and enjoy the place. Just behind the facility, a long hot water basin, the hot-spring 🌸 footbath, allows for resting one's feet after a walk in the park's alleys.