Hakone Free Pass
Odakyu's essential transportation pass
⏱ 3 minutes
The Hakone Free Pass is an excursion ticket sold at a reduced fare from Odakyu Electric Railway Company to travel toward Kanagawa Prefecture. The most common package consists of a round-trip ticket from Tokyo with unlimited use of Odakyu transportation in Hakone during the validity dates.
Hakone (pronunciation: ha-ko-ney) might be a small thermal city nested in the mountains of Fuji 🗻-Hakone Izu National Park, yet it is one of the main destinations for all travelers discovering Japan for the first time. The reasons explaining this love are easily understandable:
Less than a hundred kilometers away from the capital city and on the route toward Kyoto, in the southwest part of Japan, travelers can choose to arrive in Hakone using a train/bus combination or a private car 🚙. Most choose public transportation to reach the destination as it is covered by the JR Pass. This is the case but only up to the closest JR station of Hakone: Odawara, on the Tokaido Shinkansen 🚅 Line. To discover the mountain itself, we have to rely on the Odakyu private railway network. Therefore, the famous JR Pass covers only part of the travel, and we have to plan for an additional package to move within Hakone.
A comfortable, all-inclusive pass from Tokyo
For those willing to have a pass covering the whole excursion, a transportation solution exists, logically called the Hakone Free Pass. Created by the Odakyu private railway company, which manages the railway between Shinjuku and Odawara, this train ticket guarantees (for the most purchased package):
A round trip from Tokyo to Hakone (about two hours);
Unlimited usage of eight transportation means: the Kanko Shigetsu Meguri, Tozan, Tokai and Hakone Highway buses (specific zones), cruise ship, cable car, funicular, and the local Tozan train; and
Discount prices for about 50 places, from museums to stores and accommodations.
This key opens up many doors for foreign tourists going to Hakone to wander around freely. Knowing the number of diverse transportation options, an all-inclusive package becomes essential if we do not speak Japanese, in order to gain some time at each ride. To reassure travelers, all services included in this voucher are identified with the logo "Hakone FreePass Welcome."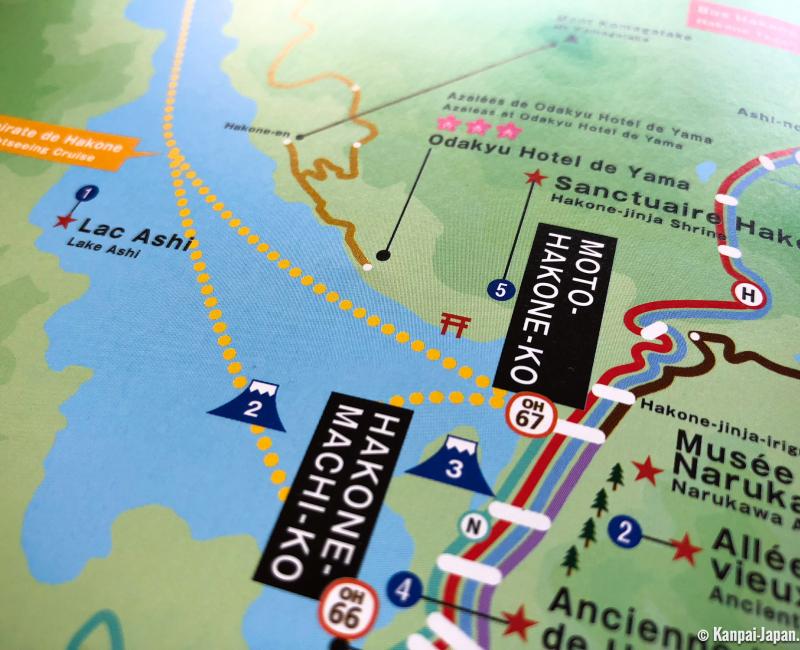 A less expensive ticket?
This ticket does not exist in a 24-hour version. Questions regarding its cost-efficiency naturally come to mind, such as when planning only a one-day excursion from Tokyo.
Besides the time spent in Hakone, we should also count the number of sites we want to visit. Therefore, for a classical tour of the town and its main attractions—Hakone Jinja, the former Tokaido checkpoint, Ashi Lake, Owakudani Valley and Gora Park—the two-day pass is worth it since it saves around ¥1,000 to ¥1,400 (~US$6.77 to ~US$9.47) per adult. The most precautionary people can find here the total transportation fees for each form of transportation. However, is it really worthwhile to take that much time to compute all of the fees for your itinerary?
One can purchase the ticket directly in Japan at any Odakyu station. By the way, some options with additional fees can increase the pass's final price. In this way, travelers who choose the direct Limited Express Romance Car between Shinjuku and Hakone-Yumoto must spend an additional ¥1,110 (~US$7.51) per ticket.
You can use this pass along with the JR Pass (a smaller package starting at Odawara and not Shinjuku) or use it alone and activate your JR Pass later, to save travel days on Shinkansen or local JR lines.
More than the discount offered, this Odakyu FreePass is very convenient to use. You just have to show it to each checkpoint in order to enjoy discovering Hakone.