Heirin-ji
A Maple Tree Forest at Tokyo's Doorstep
Add to my favorite places
Heirin-ji is the biggest temple of the Zen Buddhism Rinzai school in the Kanto area, located in Niiza city in the south of Saitama prefecture near Tokyo. With a surface area of 43 hectares, including the forest estate, the temple precincts are an extremely beautiful spot in fall and make a memorable visit.
Heirin-ji temple is built on the Musashino Plain, where a vast primary forest of resinous and deciduous trees once stretched out. Built in 1375 by the monk Sekishitsu Zenkyu, the temple thus helped to protect a part of the forest from urbanization.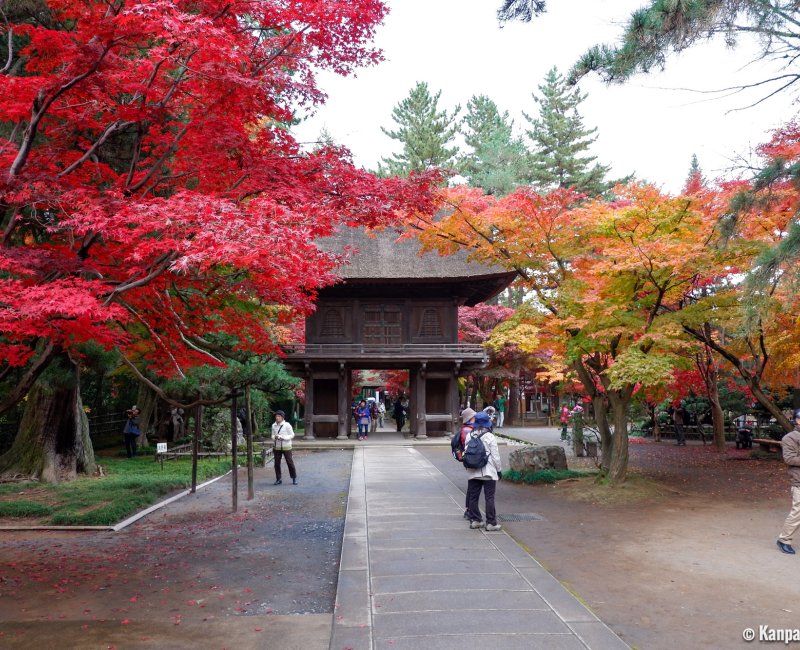 Authentic wooden pavilions and thatched roofs
The wonderful lines of the Japanese maple trees (momiji 🍁) alongside the entrance are the first pleasant view. Then, visitors arrive in front of the great main gate, the two-story Sanmon Gate, built in 1664. One can only fall under the spell of the harmony between the raw wooden architecture of the pavilions, the thatched roofs covered in moss and the red flare of the beautiful maple trees.
As in many Zen facilities, the perfectly straight and lined-up alleyways successively lead to the complex's various parts. From the Butsuden, the pavilion dedicated to Buddha, turning right allows one to contemplate a splendid little bell-tower built in 1750; Or on the left, you can walk along a small pond where a dozen of koi carps swim, under a quiet and relaxing canopy. There is also a small island where stands the Bentendo, a small monument dedicated to Benzaiten, the goddess of knowledge, beauty, arts, and music. Most of the buildings are not open to visit, but contemplation of their lavishly sculpted facades offers plenty of satisfaction.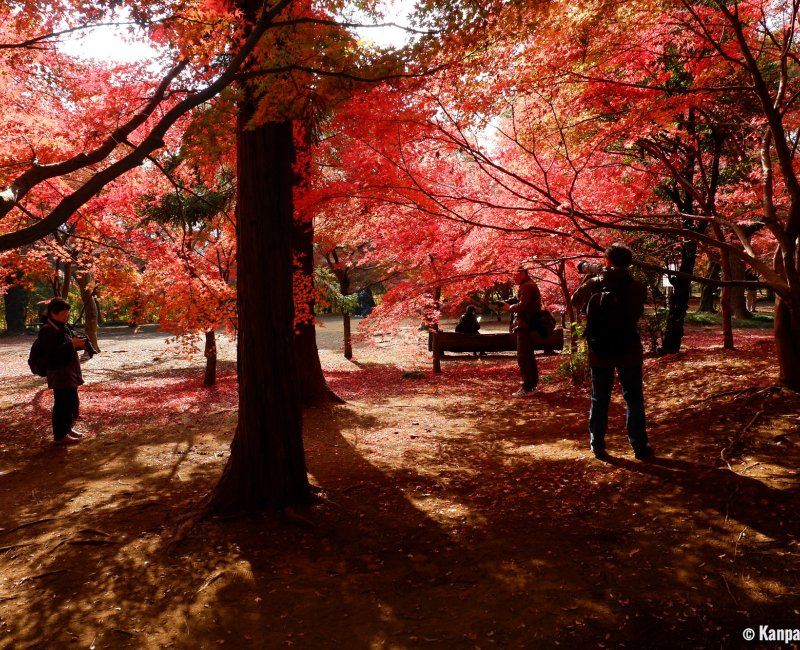 An endless momiji maple forest
The Buddhist pavilions are inaccessible, but it is possible and strongly recommended to enter the temple's adjoining private forest. You will find first quite a large graveyard, divided between a space dedicated to the important monks of Heirin-ji's history and another space dedicated to the Matsudaira clan, one of the most powerful families during the Edo Period (1603–1868). Isolated from the main place, visitors like to immerse themselves in the mystical atmosphere among the tombs, which can display surprising shapes.
Upon continuing the walk under the trees, the deeper you go into the forest, the fewer tourists you will encounter. The trail is well marked, smooth and well maintained, so you won't feel lost. Huge wooden logs have been crafted into benches and allow for a rest or a snack, if you brought something to eat. The best time to enjoy this marvelous place is around the end of November, when the autumn colors are at their peak. Forest-bathing (shinrin-yoku in Japanese) aficionados will then be pleased to immerse themselves among the maple trees during koyo period.
Fall is definitely the best season to discover Heirin-ji temple, even though the visit is also quite interesting in February, when the plum trees are blooming.