Inokashira
The Great Park in Kichijoji
Add to my favorite places
Inokashira is a public park located between Mitaka and Musashino, in Tokyo's western suburb. Served by the small Kichijoji station, it offers a nice walk to Ghibli Museum. Its 38 hectares superficies surround a vast pond nicely adorned by flowers blooming in spring.
Many tourists who walk through Inokashira did not come here for the park but crossed it from Musashino to reach Ghibli Museum in a couple of minutes'walk, when they did not choose to ride the Neko-bus. On their way, they will see many signs decorated with Totoro's grinning face.
Inokashira Park opened to the public in May 1918, five years after the Emperor offered it to Tokyo prefecture. The park now spreads on more than 38 hectares. Among its approximatively 11,000 trees, cherry trees 🌸 and cypress are certainly the most numerous.
The park surrounds a vast pond, home to various species such as ducks, carps, and turtles, that feeds the Kanda River, an affluent of Sumida River in the east of the capital. The pond was initially Edo's main water supply. Many visitors rent raw boats or swan-shaped paddle boats to gently cruise the water.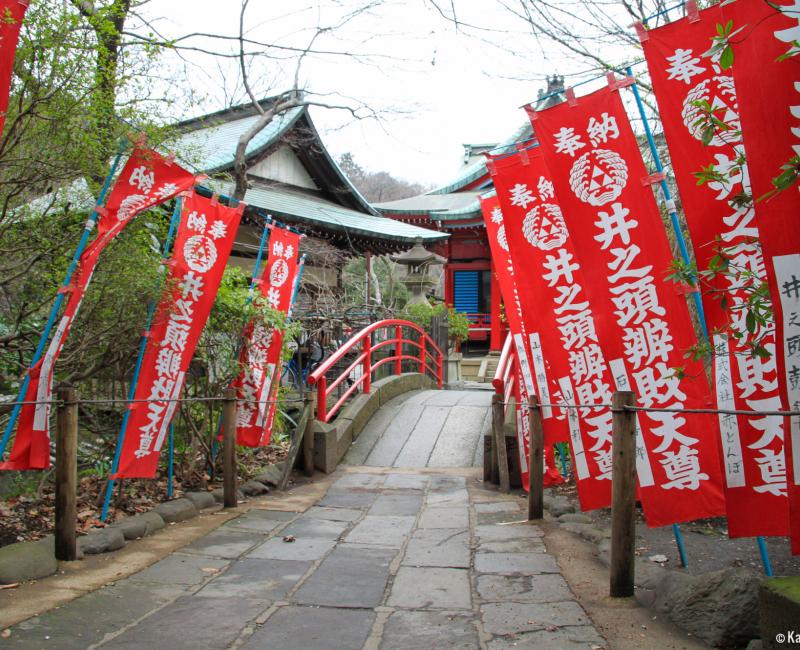 There are of course many other attractions in Inokashira Park:
A lovely little temple dedicated to Benzaiten, the goddess of love (among other things);
A (small) zoo, not unforgettable, but with monkeys, squirrels and tropical birds, as well as the first elephant imported in Japan after WWII;
The museum dedicated to Japanese sculptor Seibo Kitamura (1884-1987) and a monument to poet Ujo Noguchi's (1882-1945);
Consequently, families flock in Inokashira Park especially on the weekend, for these attractions, a simple stroll or to watch street performers: musicians, magicians, and other artists.