Kichijoji
A pleasant suburb of Tokyo
Add to my favorite places
Kichijoji is a district of Musashino City, on the western part of Tokyo. With its relaxed and urban atmosphere, this suburban area appeals to numerous Tokyo inhabitants, whether to walk around on the weekends or to settle there. The area has numerous appealing locations such as bars, boutiques and the big green Inokashira Park.
The district's name comes from Kichijoji temple, burned in 1657 at the beginning of Edo period (1603-1868). Loved by its inhabitants, they kept its name to baptize the surrounding streets. Kichijoji might also have origins from hippies, if we believe the inhabitants' sayings. Also, at the end of the 1990s, this urban area inspired mangaka Toru Fujisawa, who published Great Teacher Onizuka (GTO), a cult classic and a major piece criticizing Japanese national education. Today, we can qualify this district as bohemian and middle-class, which appeals to young Tokyoite families with comfortable incomes.
The surroundings of the train 🚅 station harmoniously match small boutiques and big-brand shopping. To the northwest, at the corner of the Uniqlo store, visitors wander down a long commercial avenue, home of several local craftsmen's stores a few meters away. We also advise stopping by Bondo, a nursery of several workshop studios, including jeweled creations. Moreover, shops such as Markus and Kahahori offer pretty objects for daily life or for the kitchen. We can also find along this street a coffee place, Kichijoji Petit Mura, decorated with Studio Ghibli's universe.
On the other side of the railway, in the southeast part of the district, we can stop to discover Mahika Mano Hammock Cafe. Nested in a hammock, we relax among friends with a warm drink. Very cozy and with a unique concept, there are usually a lot of people during weekdays. In addition to these original brands, Kichijoji also offers all the convenience of a classical shopping district of Tokyo, with the big Yodobashi Camera 📷, Loft and Muji, to name a few.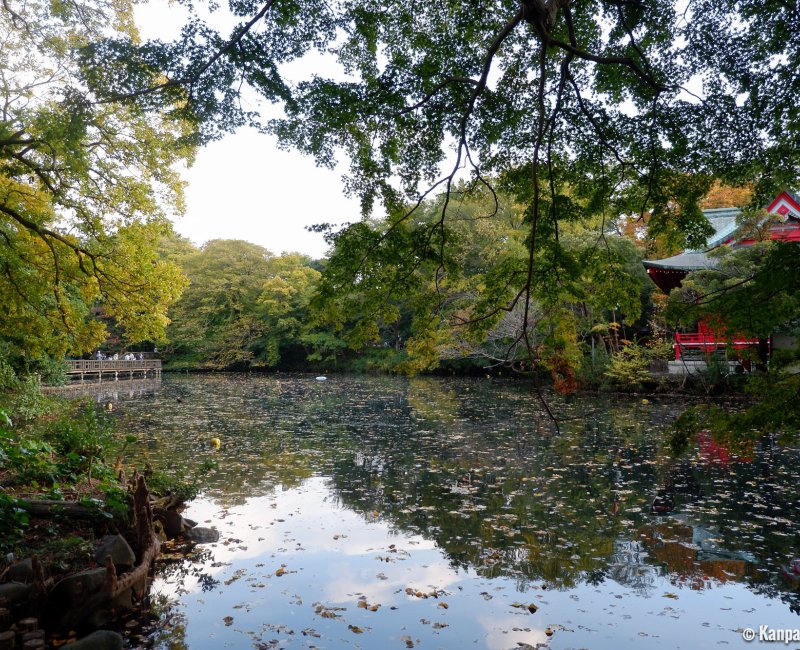 More popular and spacious is the lively anthill located underground, and the station's exits lead to several food locations:
The classic walking covered galleria, called Sun Road, where locals do their daily grocery shopping. Tourists can find whatever they desire among traditional sellers of teas, kimonos or local food specialties such as the delicious meatballs from Kichijoji Sato
The part called Harmonica Yokocho, on the northern part of the station and running parallel to Sun Road, is home to typical Japanese bars. It is especially nice to stop there for a drink or to dine there with the lights of traditional lanterns in front of each restaurant.
For takeaway amateurs, the delicatessen area underground is a food paradise. We can find various Japanese plates: sushi, tempura, gyoza, tonkatsu, ragu, tossed salad, tsukemono, mochi and other sticky pastries. Each brand is of a really good, if not excellent, quality.
Inokashira Park, less than a kilometer away, is an ideal place to go picnicking. Inokashira Koen is another strong point of Kichijoji, sometimes so well-known by foreign travelers that it obscures the discovery of the district. Indeed, its extremity crosses the neighboring city of Mitaka, the park giving access to the famous Ghibli museum, moving the crowds.
Colorful during spring 🌸 and fall 🍁, we walk around Kichijoji in a nice setting, along the main lake's banks and then by taking forest paths, searching, for example, for the vermilion temple of Benzaiten. Long a recreational spot for families and teenagers, the park becomes very lively during weekends when activities are at their peak: a nice way to witness the everyday life of Japanese people.
Behind the park, we can find a residential area made of spacious houses of atypical architecture. It is always a good idea to lose yourself in these quiet streets, to admire the tendency of Japanese families to accumulate plants and flowers in front of their homes, creating tiny forests.