Hozugawa kudari
The Cruise on Hozu River
Add to my favorite places
Hozugawa Kudari is the Japanese name of the boat ride down the Hozu River, between Kameoka City and Kyoto in Japan. The cruise is operated on a safe course among the rapids and is a popular nature activity all year long, providing another point of view on the wildlife of this mountainous region.
Kameoka City is about half an hour from Kyoto station, in the north-west of the former imperial capital. Located 640m from the train 🚅 station, a small port is awaiting the passengers of the day, while boats are gently floating on the water, below on Hozu River.
The history of Kameoka City began when the capital was still in Nagaokakyo, long before Kyoto became the imperial capital. At the times, the river was a transportation route for building materials from "Tanba", the mountain range from which the river originates. Over time, the type of products varied thanks to the "lord of the river" Ryoi Suminokura, a wealthy merchant who specialized in ship transportation of rice, wheat, firewood, and coal from 1606.
However, competition arose with the opening of the JR railway in 1895 and the development of roads. At the end of World War II, river freight was stopped, and the ship operators shifted their activity to cruising boats. Nowadays, the 16 kilometers boat ride welcomes more than 300,000 tourists per year.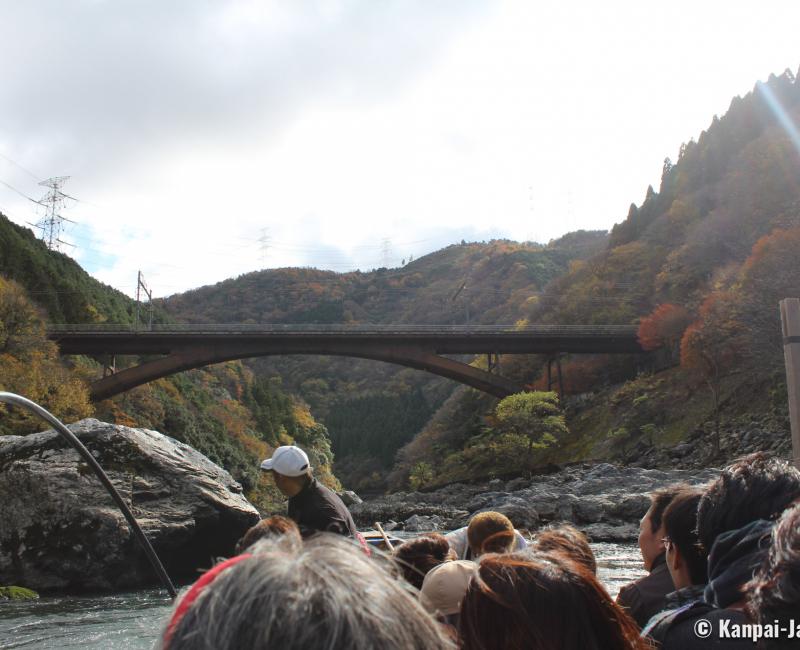 Boat ride from Kameoka down to Kyoto
Boatsmen welcome their sightseers' groups in small wooden boats. Passengers may be puzzled by the guides' average age, who look as old as the surrounding mountains, but these rivers pirates are not to be underestimated as they have been riding these waters for decades. They will joke and tell fun anecdotes, however only in Japanese, during an entertaining ride that can last one to two hours depending on the conditions. The cruise takes the travelers through the gorges and along the sides of the mountains colored in white and pink in spring 🌸, or orange and red in autumn 🍁. The scenery appears as a larger-than-life painting showing nature's timelessness wonders.
Many prominent personalities, such as United Kingdom's Princess Margaret and Emperor Showa, have enjoyed the ride on Hozugawa River. It was however famous writer Natsume Soseki who best described in his novel "Gubijinso" this picturesque getaway amidst the touristic turmoil and fresh winds reminding of history.
The cruise ends in front of Togetsukyo bridge in Arashiyama, an ideal landing place to easily continue the exploration of Kyoto's western suburb.