Jojakko-ji
The Hilly Walk in Arashiyama
Add to my favorite places
Jojakko-ji is a temple of the Nichiren Japanese Zen Buddhism founded in 1596, and located at the foot of Mount Ogura, in Ukyo ward in western Kyoto. Several pavilions are scattered on the hillside and are to be discovered following narrow paths and stone stairways. It is a quiet place all year long, except in autumn, when the wonderful red maples attract crowds eager to admire koyo foliage.
Turning right after Arashiyama Bamboo Grove, cross Torokko Sagano touristic train 🚅's railways, then walk along Ogura Pond, up to Jojakko-ji's main entrance, renovated at the end of Edo period (1603 - 1868), standing after a hundred meters on the left.
A thatched roof structure, Niomon Gate, marks the entrance to the temple and is the oldest building of this place of worship, dating back to the 14th century. It is surrounded by a Japanese maple tree forest, a foretaste of the rest of the visit. The temple's pavilions are dispersed among the trees on the mountainside.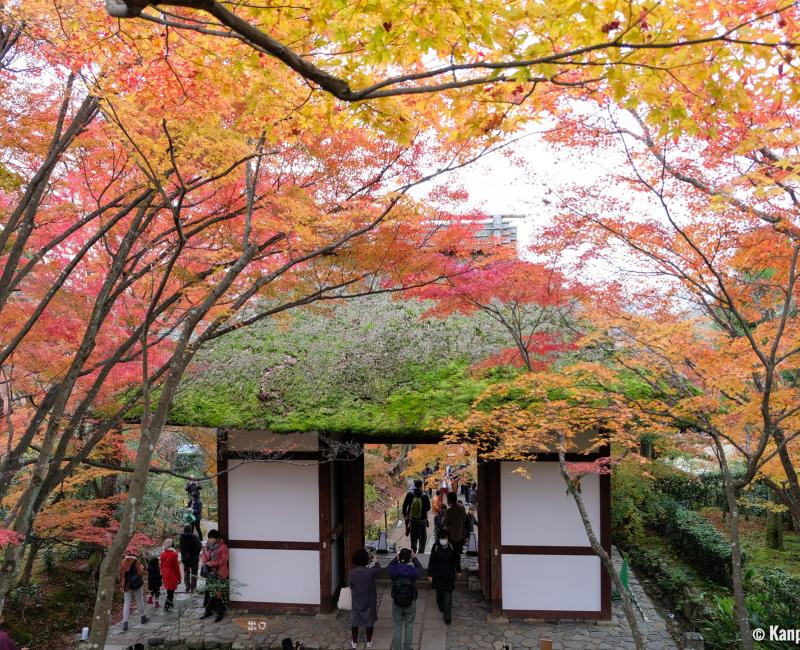 A peaceful hike on the hillside
A first stairway leads to Hondo, the main hall. Then on the left, a concrete torii ⛩️ serves as an introduction to Myokendo, a hall dedicated to Myoken, the Bodhisattva of the North Star. While on the winding path, take the time to enjoy the lush vegetation and to stop from time to time to contemplate the height of the bamboos, listen to the wind in the leaves, watch the quiet waters of a pond or admire the beautiful green moss covering the soil. The highest point of Jojakko-ji, the two-story Tahoto pagoda, hides deeper in the mountain. From there again, it is possible to contemplate marvelous red momiji 🍁 in autumn, as well as an unobstructed view on Kyoto in the distance.
After a long contemplation of this serenity-imbued landscape, it is time to go back to the main hall to pay a last visit to the building dedicated to the monks. Then take Sueyoshi path downward to Niomon Gate. The trail, bordered by moss and maple trees, offers a couple more minutes of peaceful disconnecting from the world.
We highly recommend continuing strolling in Arashiyama, a less crowded area unaffected by the passing of time. In addition to Jojakko-ji, Gio-ji and Otagi Nenbutsu-ji temples also display wonderful colors in November.