Adashino Nenbutsu-ji
The 8.000 Buddhist Statues Temple in Arashiyama
Add to my favorite places
Adashino Nenbutsuji is a Buddhist temple located on a hill is Sagano district, the north-western suburb of Kyoto. It is mainly known for its cemetery with an ancient section, home to 8,000 Buddhist statuettes and stupa erected in homage to the souls of the deceased since Antiquity.
Many travelers organize their visit of Arashiyama around Togetsukyo Bridge, and to its south with Iwatayama (the monkey 🐒 mountain) or north into the shopping area and the Bamboo Grove. Going up further in Sagano in just half an hour walk, you finally arrive in less touristy areas that hide the superb Adashino Nenbutsuji temple.
If Kyoto and its surroundings have hundreds of temples and shrines to offer, the Nenbutsu-ji has a small special feature: its 8,000 Buddhist statues, each arranged as a representation of the dead, since the Japanese Antiquity.
The story of Adashino Nenbutsu-ji began in 811, when Kukai (Kobo Daishi, 774 – 835) buried on the grounds that would be its future location 1,000 bodies abandoned to the elements and built as many stone Buddha. Archaeological studies in the end of the 19th century proved that the place was indeed used as a graveyard at least since the Heian period (794 – 1185).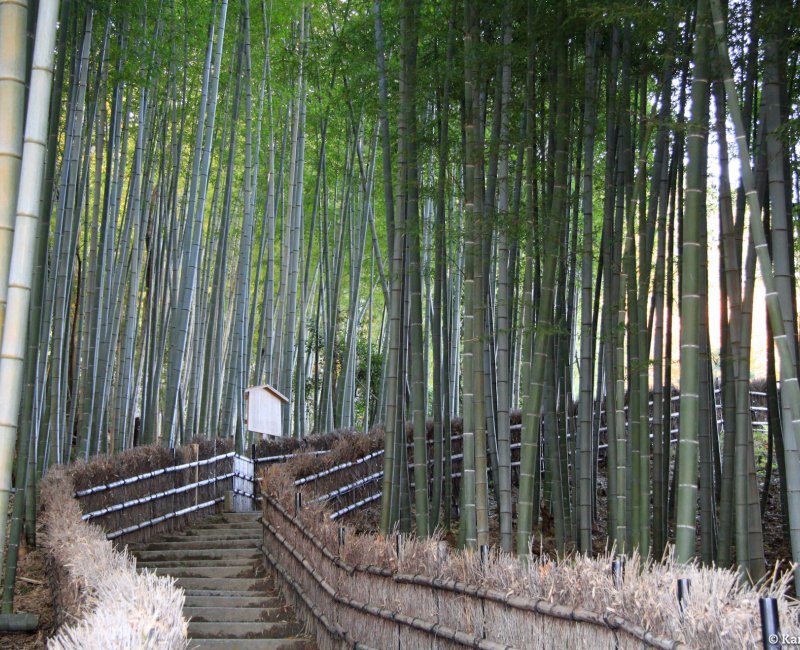 Place of eternal rest since the Japanese Antiquity
Ever since, the forsaken spirits who don't have relatives to visit during the Obon period anymore are honored every year in the end of August (last week-end) with thousands of candles lit up in the Sai'in no Kawara (西院の河原) cemetery grounds, creating an eerie atmosphere at nightfall. Almost all the area is a tribute to dead souls.
The stroll is serene and calm, decorated with beautiful natural colors that you can enjoy through our pictures.
Note that since December 2014, taking pictures inside Sai'in no Kawara's enclosure is forbidden, to respect the holiness of the place. It is however still possible to take pictures of the surroundings, and especially of the reddening Japanese maple trees in autumn 🍁 or of the wonderful bamboo forest.