Otagi Nenbutsu-ji
The Strange 1,200 Rakan Statues Army
Add to my favorite places
Otagi-Nenbutsu-ji is a temple of the Tendai branch of Japanese Buddhism, located at the foot of Mount Atago, in Arashiyama moutains in the west of Kyoto. Its notoriety is due to the 1,200 Buddha's disciples' statues crafted by amateurs from all over Japan during the temple's renovation in the 1980s, under the supervision of monk and sculptor Kocho Nishimura.
The original Otagi-Nenbutsu-ji was founded in 766 by empress Shotoku in the eastern part of Higashiyama, closer to Kyoto's center. The temple was later damaged by a flood of Kamogawa river, and rebuilt in the 10th century on the initiative of Buddhist priest Senkan Naigu. It was moved to its current location in 1922 to preserve its main hall dedicated to Bodhisattva Senju-Kannon (Thousand-armed Kannon).
A wonderful autumn foliage spot
Located about 20 minutes' walk from Arashiyama's historical center and its famous bamboo grove, Otagi-Nenbutsu-ji is still preserved from mass tourism.
When leaving Adashino-Nenbutsu-ji, another temple sheltering thousands of statues, walk in the typical townhouse district and discover a timeless landscape. Saga-Toriimoto street is indeed lined with traditional architecture houses, some even covered with a thatched roof. The quaint atmosphere is highlighted in autumn, from mid-November, by the koyo 🍁, the various shades of red from the majestic maple trees growing in number in the area. There is so many beautiful sceneries along the road that Japanese photography amateurs might be at a loss to decide on a shooting spot.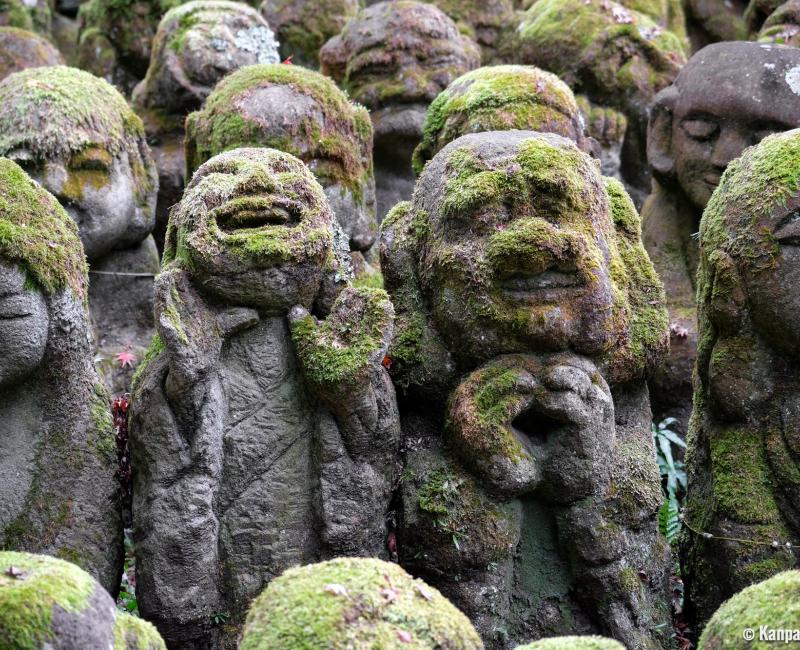 The smiling peaceful army of Rakan
In front of a great red torii ⛩️ gate, turn on the right to find the temple's entrance, protected by two nyo guardians. The statues are facsimile, and the originals are preserved and exhibited in Kyoto National Museum.
Cross through the first building to see the two first rows of smiling Rakan. The moss and lichens covering the stone statues make them look older than they really are. However, when spotting a character holding a guitar or another proudly donning aviator sunglasses, it becomes clear that all these sculptures were carved recently.
The visit continues by climbing up a short slope to three bells of distinct tones. They are located up a stairway and it is possible to ring them to enjoy their mystical sounds. The main hall is also surrounded by its own harmless army. That is where most of the Buddhist statuettes are gathered by the way. Further on the left, another small pavilion is dedicated to Fureai-Kannon, the Bodhisattva of love.
The place is peaceful and welcomes dillydallying visitors in their attempt to get acquainted with their new friends of stone. Some recreates everyday life scenes, such as a group that seems to drink together, others greet passersby. In the Rakan's crowd, one melomane can be spotted listening to a good old Walkman. Otagi-Nenbutsu-ji temple is without a doubt a place back to the future for the 1980's nostalgics.