Ikaho
The Hot Springs Town on Mount Haruna
Add to my favorite places
Ikaho is a Japanese thermal resort located on the slopes of extinct volcano Mount Haruna, in Shibukawa city, in Gunma prefecture, a hundreds of kilometers to the north-west of Tokyo. This lovely town's main attractions are the historical onsen (hot baths), Mizusawa temple and the view on Lake Haruna.
Ikaho is one of these small Japanese resort towns that offer a typically Japanese change of scenery, but also caters to hikers and busy city dwellers' relaxation needs. On the eastern side of Mount Haruna, the quaint city boasts and is crossed by an impressive 300 meters long and 360 steps stone stairways Ishidan Gai. The remarkable stairs are lined with ashiyu foot baths, ryokan traditional inns, old-fashioned arcades and of course with shops for souvenirs and local crafts.
Ikaho's natural hot springs are particularly rich in iron, which gives the water its characteristic brownish color. Ikaho's water is drinkable and is said to treat efficiently diseases due to fatigue, bad blood circulation, and is also renowned for its beneficial effects on women's fertility. The initial source was named "the golden hot spring 🌸" Kogane no yu, and is distinct from another more recent source, with clearer waters, named "silver hot spring" Shirogane no yu.
Ikaho onsen ♨️'s one-day visitors can enjoy private baths, but also two public baths with Kogane no yu type of water:
Ikaho Rotenburo, the largest outdoor bath of the town, that directly taps from the source,
Ishidan no Yu, a smaller bath, located at the foot of the stairway.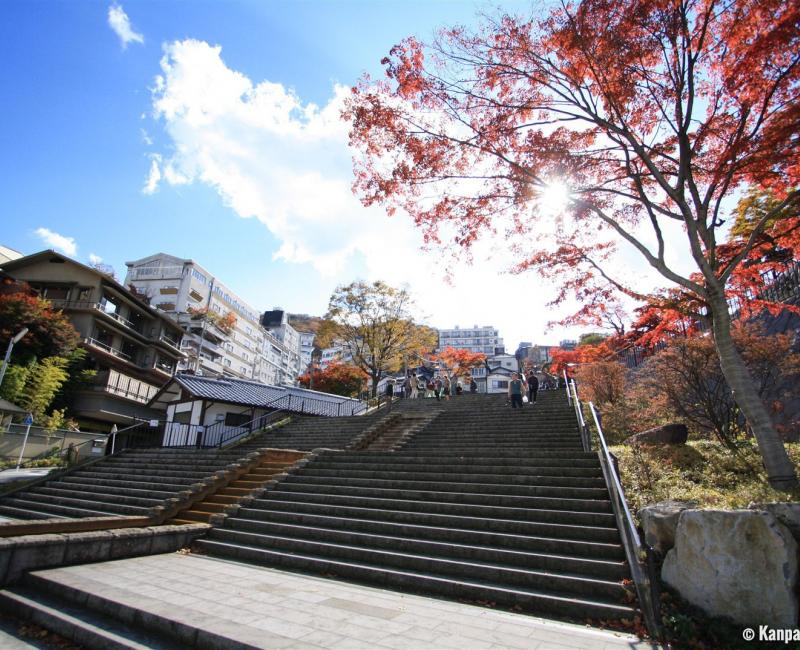 Onsen are not the only things to enjoy in Ikaho, which also provides nature and spiritual outings. Mizusawa-dera is a temple built 1,300 years ago, in the south-west of the town. It is one of the 33 temples of the Bando Sanjusankasho pilgrimage in Kanto, dedicated to Bodhisattva Kannon. It is also famous for its surrounding restaurants serving delicious cold udon noodles.
At the top of Ishidan Gai, Ikaho shrine is of an easy access and offers one of the city's most beautiful viewing spot in autumn: The beautiful little red bridge Kajika, whose arches are illuminated at nightfall.
Ikaho onsen is also the departure point to go to Mount Haruna, and especially on the shore of its lake, where campsites flourish in summer. The refreshing view on the quiet waters with the ancient volcano 🌋 covered in forest in the background is even more enjoyable in autumn, during koyo 🍁 red foliage season.
Ikaho is the perfect place for a timeless relaxing break and is an ideal one-day trip from Tokyo. In the same vein, Kusatsu and Manzen are also popular thermal and ski resorts, also located in Gunma prefecture on the slopes of Mount Shirane.