Sainokawara Park
The Steaming Outdoor Waters of Kusatsu
Add to my favorite places
Sainokawara Park is located to the west of Kusatsu's center, in Gunma prefecture in Japan. It provides a short and pleasant walk along a stream of water welling from a natural hot spring. Hikers can take a break at a footbath amidst hot steam merging with the colder atmosphere. The back of the park shelters one of the largest rotenburo (outdoor bath) in Japan.
Sainokawara Park's entrance slowly emerges when walking from the center of Kusatsu. A small local souvenirs boutique, a river and a tiny water mill delineate the path. Soon, the first ashiyu footbath appear as an invitation to dip tired feet and legs in its reinvigorating hot water.
Follow the beautiful clear blue stream of water to find the large bath offering a nice view on the park. In winter, the steam combined with the generous snowfalls create an eerie scenery that charmed hikers enjoy walking.
The walk is nicely adorned with several small typically Japanese aedicula, such as:
Kusatsu Anamori Inari Shinto shrine and its stairway bordered by vermillion torii 

⛩️

gates,
Stone lanterns scattered here and there on the riverside,
And images of oni demons, usual in onsen 

♨️

villages.
Two foreign physicians, Dr Bälz and Dr Scriba, have their busts exhibited in the park as a tribute to their research work and promotion of the benefits of Kusatsu hot springs during Meiji Era (1868 - 1912).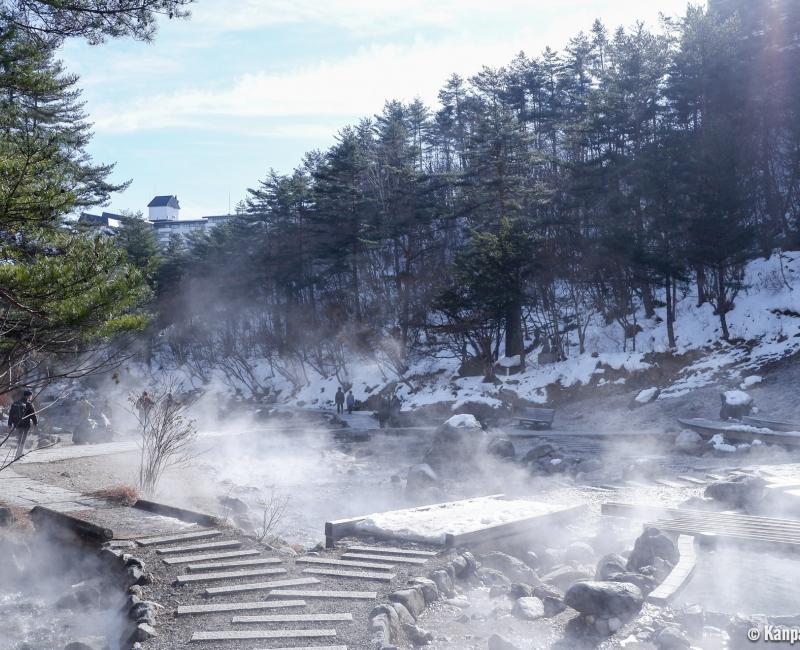 A wide outdoor onsen bath
In the back end of the park, the outdoor public bath, Sainokawara Rotenburo, is the highlight of the visit and probably one of the best onsen in Kusatsu. Men and women, each on their respective side of the large 500m² hot water pool, enjoy the surrounding pine forest in the open air. The magic is overwhelming in winter when snow covers the entire place.
The bathing space is considered very large even by Japanese standards. The pool is shallow and the water level does not exceed mid-tights when crossing the rotenburo from one end to another. Several facilities help enjoy the bath in any circumstances: a small wooden island allows to rest outside the water when too hot, and a long shelter protects the pool when the weather is bad.
At the entrance, the wooden changing rooms offer the bare minimum equipment: there are no sink, no mirror nor hairdryer. The place is voluntarily kept simple in the nature.
Sainokawara Park is one of the favorite places of Kusatsu's visitors. As it is relatively small, we recommend arriving either early or late in the day to enjoy the place without too many people.