Kosen-ji
Small Temple in the Heights of Kusatsu
Add to my favorite places
Kosen-ji is a temple of the Shingon school of Buddhism located in the heights of Kusatsu, in Gunma prefecture in Japan. Its little pavilions, overlooking the famous Yubatake hot spring sources, have been visited by several classical Japanese poets. The sacred grounds offers a pleasant and quiet walk amidst onsen-hopping.
Kosen-ji was founded in 1200, in the early Japanese Middle Age, and is the most important temple of Kusatsu Onsen ♨️. It is sitting on a hill, facing the impressive Yubatake cooling facility at the center of the village, and seems to be peacefully watching over the thermal resort whose hot springs and beautiful snow landscapes are very popular in winter. The site's charm is further enhanced when snow is delicately covering the temple's thatched roofs. While it may seem impressive from the foot of the hill, once on its main esplanade it is just a small, lovely temple.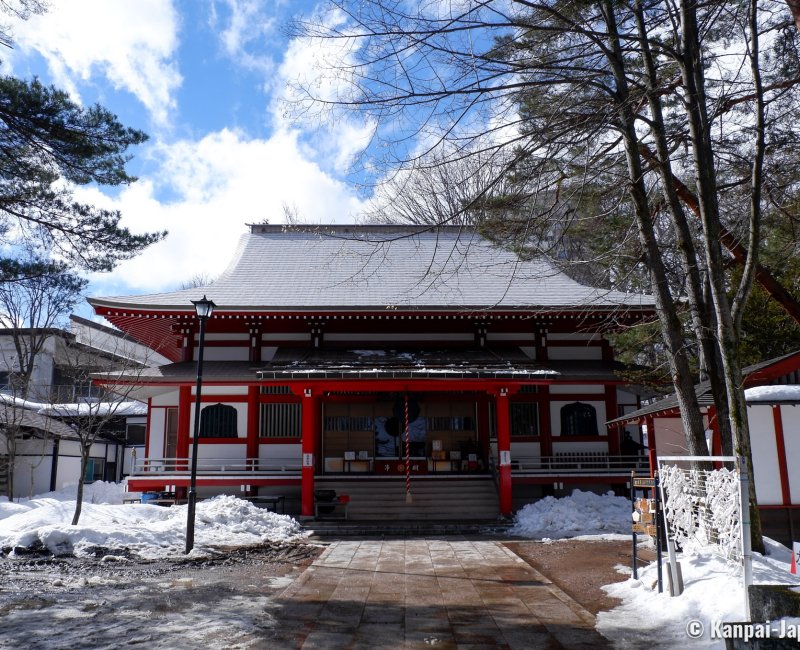 Ascension facing the Yubatake
A tall stone stairway lined with lampposts leads up to the sacred site and offers an interesting viewpoint on Kusatsu's central plaza. On the way up, visitors encounter a statue of the Bodhisattva Kannon, before arriving at the foot of Kosen-ji's tower bell.
The architecture of the temple's various buildings is both authentic (using carved raw wood and thatch) and modern, displaying bright, vermilion red paintings. On the right hand of the main hall, the small Shaka-do pavilion outshines any other construction thanks to its large and thick thatched roof. Nearby, statues of Bodhisattva Jizo, the protector of deceased children and travelers, crowned with red beanies and covered in moss, the feet in the snow in winter, are smoothly aligned, and bring a "cuteness" contrasting with the otherwise rather conventional atmosphere of the temple.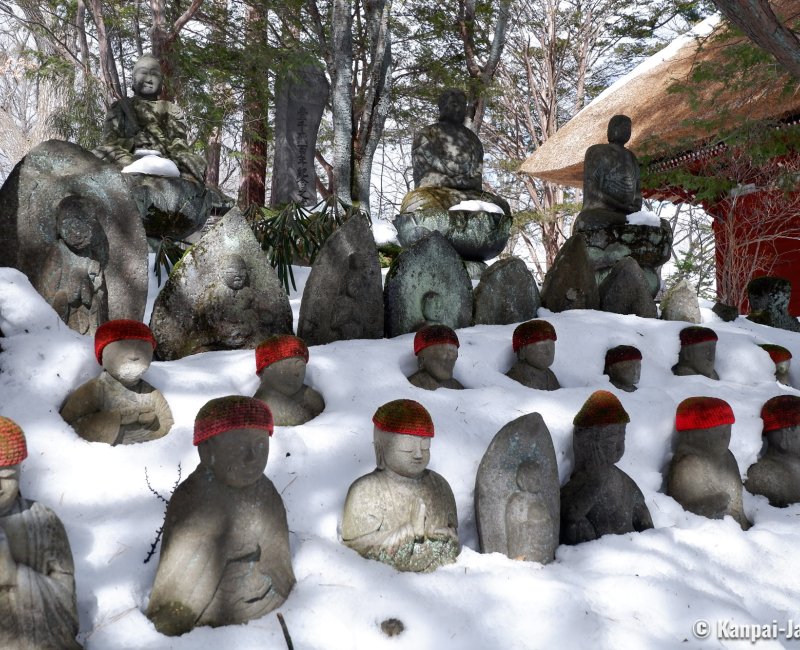 Walking in the footsteps of Japanese poets
Kosen-ji's bucolic setting, away from the bath facilities and surrounded by a small pine tree forest, has attracted several Japanese poets who came to explore the vicinity during their stay in Kusatsu. The temple's grounds are therefore interspersed with steles that are testimony of these men of letters' visits, such as:
A stone engraved with a haiku Japanese poem by Kobayashi Issa (1763 – 1828), which reads in English "Through the steam, Clearly seen, The shape of the moon"; and,
Another monument dedicated to famous poet Matsuo Basho (1644 - 1694) who traveled to Kusatsu and enjoyed the quality of its onsen.
Thanks to its location in the center of Kusatsu, walking Kosen-ji's grounds is pleasant and easy, especially on a sunny day after a snowfall. The visit whets the appetite and makes the immersion in the hot baths once back at the hotel 🏨 or the inn even greater.