Shirane-jinja
Kusatsu Onsen Guardian Shrine
Add to my favorite places
Shirane-jinja is a small Shinto shrine on the heights of Kusatsu thermal resort, in Gunma prefecture in Japan. Located in the heart of a wooded park in a residential area, it offers a quiet walk with reminders of classical Japanese literature.
Move away from the touristic bustling around the steaming Yubatake to discover Kusatsu's residential streets and visit the neighborhood's small shrines and temples. Shirane-jinja is there, perched at the top of a wooded hill, to the north of the central plaza of Kusatsu Onsen ♨️. One can reach it by climbing a rather steep stairway overlooked by a torii ⛩️ gate, located just next to the soba noodles restaurant Matsumi (松美), on Yutaki-dori street.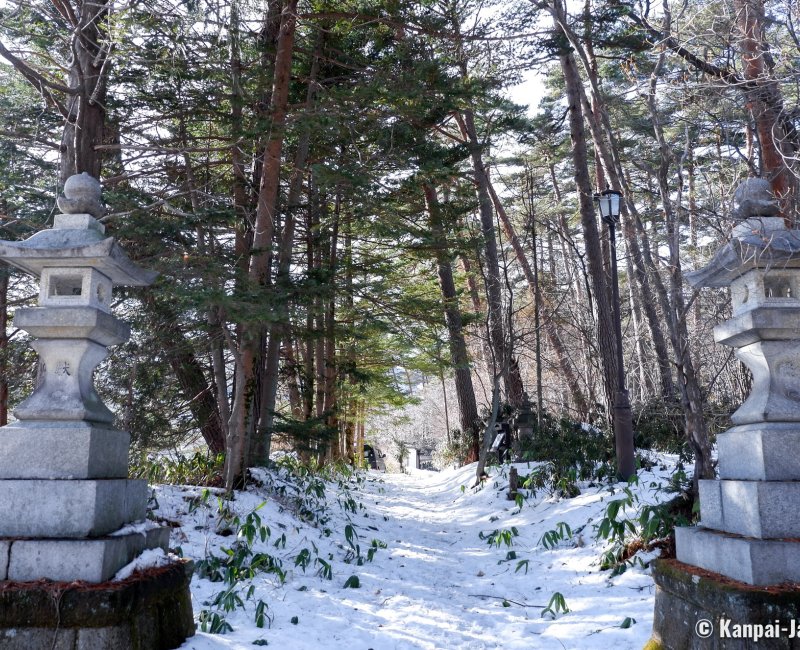 Inspirational place for Japanese literature
Lanterns 🏮 side a paved path leading to the various Shinto pavilions. Shirane shrine is dedicated to Yamato Takeru no Mikoto, a legendary prince son of emperor Keiko, whose adventures and war feats were extensively told in the famous classic chronicles Kojiki and Nihon Shoki. Considered the protector of Kusatsu, according to the local legend he was the first to discover the hot springs surging from the sacred Mount Shirane.
The shrine's grounds also features several steles dedicated to famous Japanese men of letters, such as writer Jippensha Ikku (1765 - 1831), or poets Matsuo Basho (1644 - 1694) and Kotaro Takamura (1883 - 1956). Kusatsu Onsen's picturesque landscape has long inspired many artists who enjoyed here a few days of rest and bathing in the soothing hot water.
A particular monument catch the attention, engraved with a haiku poem by Basho, about the thermal resort and its attractiveness:
夏の夜や木魂に明る下駄の音

Natsu no yo ya kodama ni akuru geta no oto
Translated in English: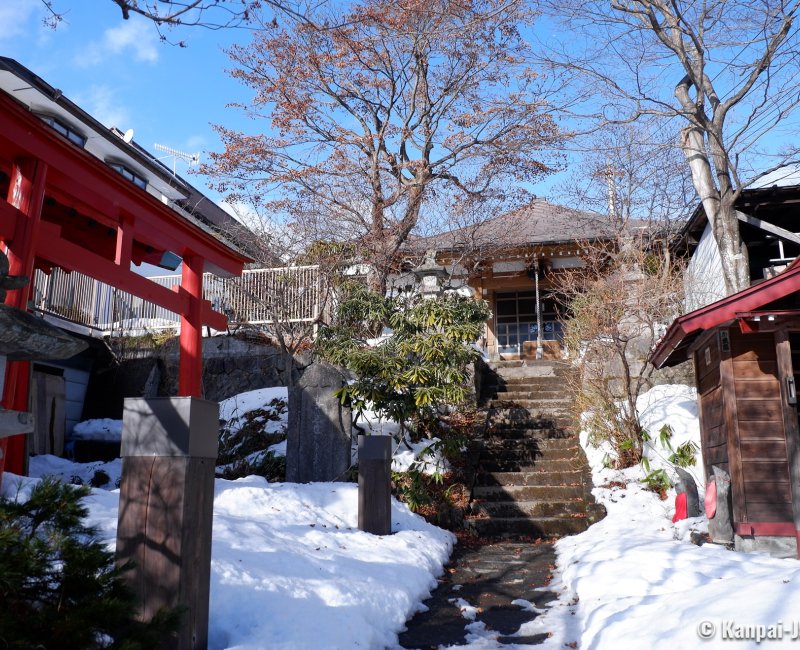 Digestive walk away from the crowd
The exploration of the surroundings continues with the small vermilion Nikko-ji temple affiliated to the Nichiren Buddhist sect and whose grounds seem to merge with the gardens of the surrounding houses. The walk offers an authentic glimpse on the locals' daily life. Lastly, slowly go back towards the Yubatake, passing by a few beautiful hotels 🏨 and bath facilities.
The visit of Shirane-jinja is always pleasant, be it in winter under the snow or in spring 🌸 when the rhododendrons are in bloom, providing the feeling of being alone in nature, yet only a few minutes away from Kusatsu's touristic center.