Jigokudani
The Snow Monkey Park
Add to my favorite places
The Jigokudani Snow Monkey Park is nestled 850 meters above sea level in the Yokoyu river valley near the small city of Yamanouchi, which lies in the northern part of Nagano Prefecture. Opened in 1964 and belonging to the Joshin'etsu-Kogen National Park, it is famous for its close-up contemplation of Japanese snow monkeys living and bathing in one of the region's numerous onsen (natural hot springs).
For animal lovers, Jigokudani is an opportunity to dive into the monkeys 🐒' natural habitat during a walk across the Japanese Alps. The highlight of this unique show, especially in winter, is set around a pool of hot spring 🌸 waters within which families of monkeys relax to stay warm.
Here, monkeys rule the territory! Although they are fed three times a day by the local park staff, they remain wild and live in total freedom. Nicknamed "Snow Monkeys," members of this colony have lived their lives for decades without paying attention to visitors, who can observe all their natural behaviors. It is obviously forbidden to touch or feed them.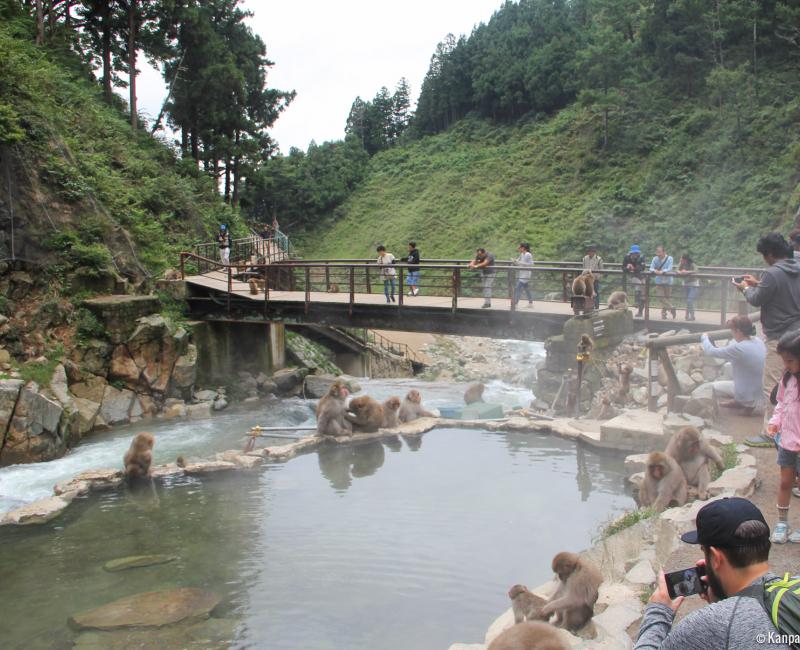 Access to the park by public transportation starts at Yudanaka Station with a 10-minute bus ride. Then, the ascent reveals a small Shinto shrine, a pleasant coffee restaurant called Enza with fair prices and good food, and the inescapable souvenir stores. Entering the forest comes a little farther, via a hiking trail of 1.6 kilometers on the Yumichi promenade.
The first monkeys can be seen in the trees. However, the experience becomes interesting when we stop on the place around the onsen ♨️, from which we can contemplate the monkeys' bathing and other occupations. We can take gorgeous photographs of this species with almost-human expressions. However, the interest of this excursion stops here: the decor around them is made up of buildings and big pipes running across the site.
The best time to visit the park is during winter, from January to March, when the snowy landscape encourages the monkeys to bathe. On the other hand, the dense attendance during this period makes the visit less pleasant. One should pay careful attention to the perfect photo shooted by playing with the frame, so as not to show the surroundings. It is wise to arrive as early as the opening hour after spending a night in a ryokan or in Nagano, located less than an hour away.