Yumomi
The Ritual to Cool Down Water in Kusatsu
Add to my favorite places
Yumomi is a traditional ceremony performed in Netsu no yu, near Kusatsu's central Yubatake in Gunma prefecture, in the north-west of the Kanto area. This short show is paced on an old Japanese song and consists in cooling down the piping hot spring water to a temperature suitable for bathing.
The practice of Yumomi to cool down thermal water is said to date back to the Edo period (1603 – 1868). The temperature of the hot spring 🌸 can rise from 51° to 94°C (123°F to 201°F) in Kusatsu, so water is stirred with wide 1,80-meter-long wooden paddles, a process devised to preserve its properties that would be diminished if cold water was simply added.
Water with healing properties
As a matter of fact, Kusatsu's onsen ♨️ are renowned for their specific qualities, such as:
Relieving muscle or joint pain;
Relieving fatigue.
Their properties are appreciated in the treatment of many diseases. Their efficiency was even acknowledged by the Imperial family's physician during the Meiji Era (1868 – 1912), a German doctor who participated in the development of Western medicine in Japan.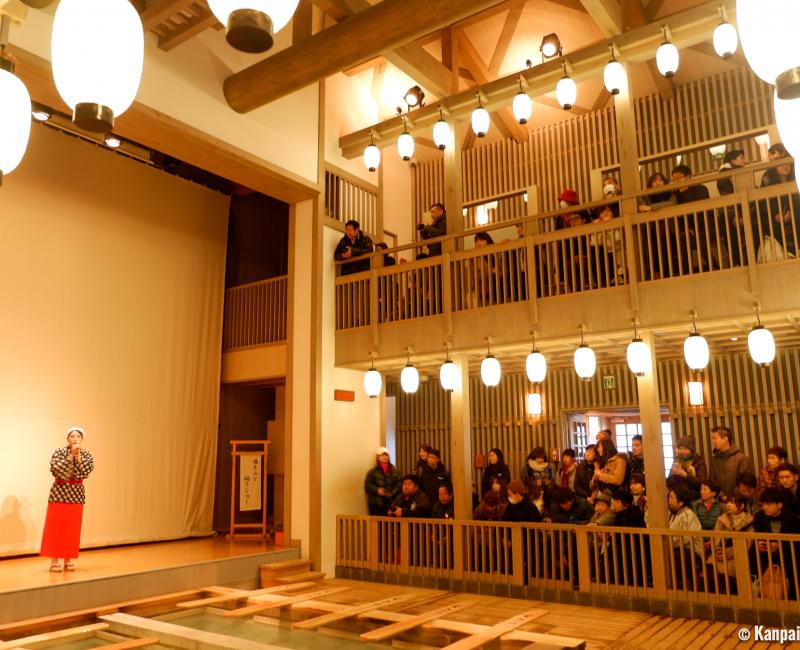 Preparation for the ceremony
The Yumomi ceremony takes place in one of the most beautiful buildings in the city, Netsu no yu. The wooden construction, in the Taisho roman style inspired by Western architecture, is made of two levels with large windows and surmounted by a small polygonal tower. It is even more charming when surrounded by the Yubatake's steam.
In the morning and the afternoon, before each performance, the crowd gathers along the building to buy a ticket. It is recommended to arrive at least fifteen minutes before the beginning of the ceremony to secure a good seat.
The crowd, and the short introduction movie played while spectators are waiting may look like a tourist trap, but the traditional aspect does appear and provides a very pleasant moment.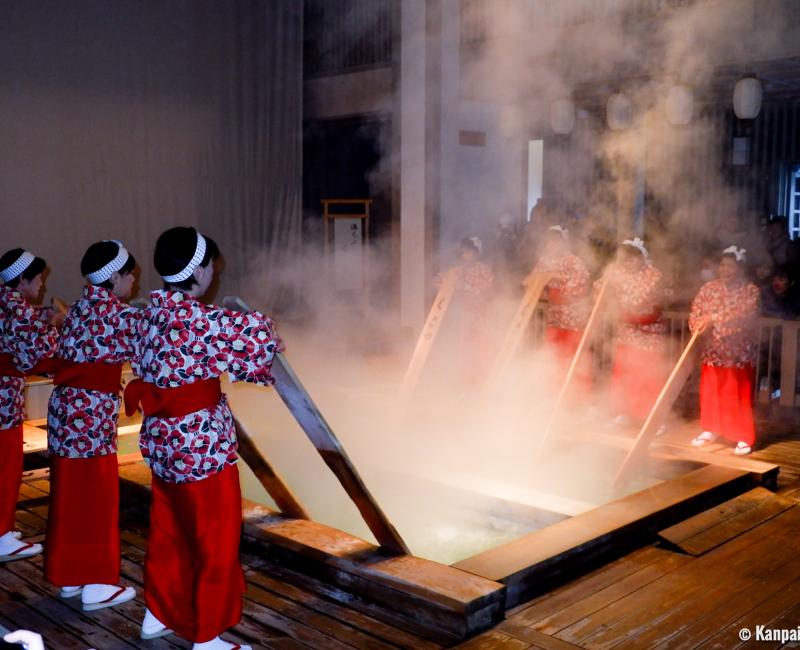 Yumomi ritual
Large planks are ready to use, placed on the sides of the scalding water basin in the middle of the room. The women in charge of the ceremony, clad in elegant traditional costumes, come in smiling and dancing to the place where they will be stirring.
They sing a traditional folk song to pace the water churning, sometimes slowly, sometimes very energetically. The choreography is simple but pleasant to watch and contributes to the immersion in the atmosphere of Kusatsu. At the end of the show, the public can try their hand at stirring for themselves.
On a side note, other small events are staged in Netsu no yu, on the stage behind the hot water basin, such as music or dance shows. Netsu no yu is recommended to those who would like to live a typical experience in Kusatsu to complete the traditional bathing sessions.