Yunomine Onsen
The Historical Thermal Village on the Kumano Kodo
Add to my favorite places
Yunomine Onsen is a small mountain thermal village affiliated to Tanabe City in Wakayama area. The resort is a stopover on the Kumano Kodo Route for hiking pilgrims who stay at one of the traditional ryokan inns or minshuku guest-houses and enjoy their bathing facilities along the hot river, that have been established here for more than a millennium.
Yunomine Village is about 1,800 years old and renowned for its thermal waters that are among the most ancient hot springs in Japan, along with Arima Onsen ♨️ and Dogo Onsen. Kumano Kodo's pilgrims have always bathed in Yunomine's onsen, as an integral part of the ritual visit of the 3 Kumano Sanzan shrines.
Dainichi-goe walk on Nakahechi trail connects Kumano Hongu Taisha shrine to Yunomine Onsen in less than 2 hours. The village encompasses several traditional buildings hugging the side of a small river over about a few hundred meters. The village's rural, soothing and intimate aspects are perfectly in line with a spiritual journey in Wakayama and no intention is shown to develop into a popular and loud entertainment destination.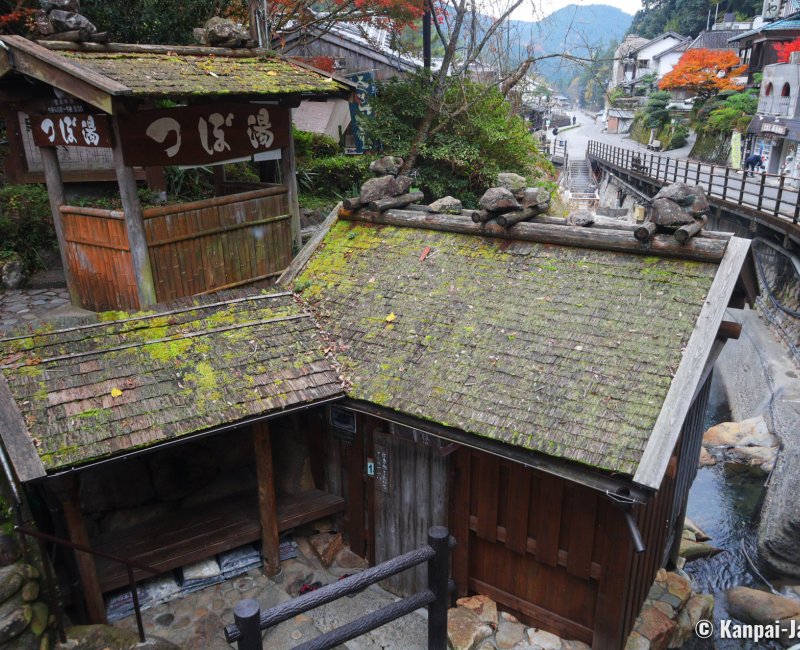 Tsuboyu Bath, a registered UNESCO World Heritage
From the main vantage point on the village, a wooden cabin is clearly standing out, perched above the river. This is Tsuboyu Bath, a UNESCO World Heritage property open to everyone. Its water, renowned for its healing properties, is very hot and its mineral content so high that a thin white layer forms at its surface, called Yu-no-Hana, that is to say "bath flowers."
The tiny private bath is to be used according to the following rules:
Secure a paid booking at the nearby dedicated counter (温泉チケット売場);
Bring a towel or buy one on site (about ¥300 (~US$2.01);
Wait for your turn and when inside place the admission ticket in sight at the entrance;
Take off shoes outside, take off clothes inside and place belongings in the baskets provided;
Before entering the bathtub clean without soap or shampoo;
Adjust the temperature with cold water if necessary; and, lastly,
Don't stay longer than 30 minutes, and 1 to 2 persons at the same time (ideal for couples of tattooed visitors).
The village has 2 other public baths, including one medicinal named Kusuri, that we recommend trying during your local spa treatment.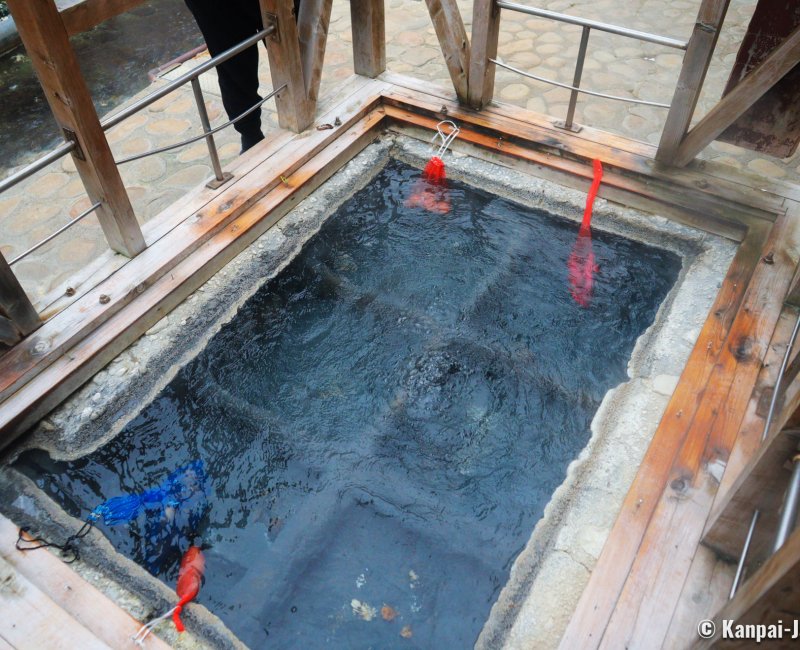 Cooking with onsen hot water
Another attraction at the center of Yunomine village consists in the cooking of food with the heat from the hot springs. To do that, go to the Yuzutsu hot basin, which is a "cooking onsen." The ingredients are immersed in the natural spring 🌸's hot water and they cook in a few minutes at a 90°C temperature. As they soaked in the water's minerals, they are said to be even better for the health.
Yuzutsu Bath is also a friendly gathering place for inhabitants and pilgrims. People gather around the spring to chat and share the cooking of Tamago Onsen eggs and other seasonal vegetables.
Yunomine Onsen is a tiny village with an incredible charm. Note that only 3 venues welcome one-day trip visitors for eating. For example, Yunomune-chaya (湯の胸茶屋 東光寺) next to Toko-ji temple serves breakfast courses as well as ramen 🍜 bowls. Otherwise, it is preferable to book a night in one of the village's lodgings, as it is nonetheless remotely located and sparsely served by only a few local bus lines.