Kuroshio
🐟 Fish Market in Wakayama
Add to my favorite places
Kuroshio is the fish and seafood market of Wakayama, located on the artificial island of Marina City in Wakaura Bay, in the south of the city. The market specializes in red tuna, and offers the possibility to watch professional fishmongers cut maguro tuna.
An ideal spot for lunch, Kuroshio Market offers to taste various fresh fish and seafood, caught on the morning in the area. All fishmongers shops sell their products as "eat in" and "take away". Therefore you can both shop ingredients to cook later at home and order ready to eat bento 🍱 packed lunches.
If you choose to eat in, you can sit at the entrance of the market at a terrace where many tables were arranged for the customers. It is quite nice to enjoy sushi 🍣, sashimi or other delicacies with noodles or rice on the side with a view on the sea. Barbecues are also available to cook the various ingredients you may have purchased.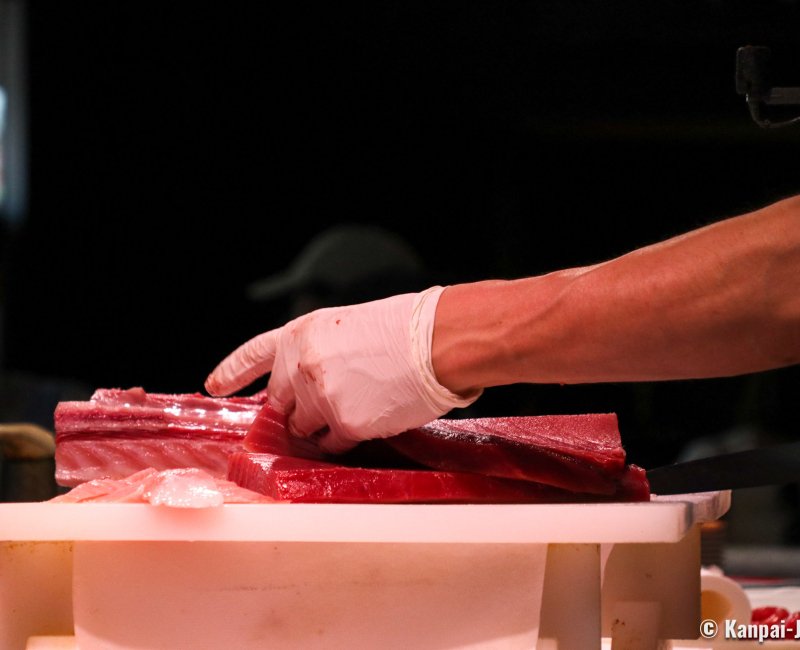 Market specialized in Wakayama maguro tuna
Fresh and cut to the order, the fish flesh is soft and melts in the mouth. We recommend tasting the famous Wakayama maguro tuna or the particularly delicious salmon. Many shops offer free tasting and it is nice trying marinated seafood assortments or seasoned fish ready to be cooked.
Kuroshio is a lively market, highlighted by the sellers' performances. Three times a day (at 11 a.m., 12:30 p.m. and 3 p.m.), it is possible to watch a fishmonger proceed to cut a large red tuna and admire their mastery of a gesture that refines the flesh and is truly mouthwatering.
At the back of the covered space, a food souvenir shop displays a large array of local food, especially the plums of Wakayama, renowned throughout Japan and that are eaten in many ways : dehydrated, marinated, in jam or in sweets.
Kuroshio Market gives a true immersion in the popular and traditional Japanese gastronomy. It is frequented by locals, especially a lot of elderly who come for grocery shopping in the morning and sometimes stay for lunch.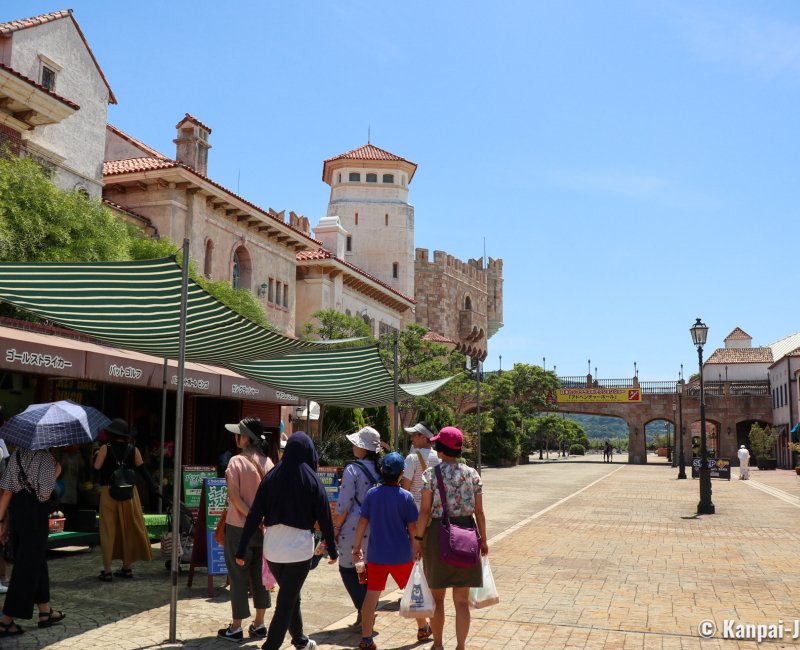 Seaside entertainment in Marina City
The market is located on an artificial island and resort named Wakayama Marina City. Therefore, to complement the visit of Kuroshio, you can:
Continue to the fruits and vegetable market Kinokuni;
Go on a digestive walk at Porto Europa, a small park themed on Europe. Despite its quaint look and stereotyped decors from a Westerner point of view, the relaxed atmosphere is contagious and the few thrilling rides and performances of jugglers and dancers on the central little plaza are enjoyable ; and lastly,
Relax in the onsen 

♨️

hot baths of the Kishu Kuroshio Spa with a view on the marina and Wakaura Bay.