Yoshinoyama
The Amazing 30,000 Sakura Mountain
Add to my favorite places
Mount Yoshino is a Japanese mountain on which was built the eponymous little town, located in Nara prefecture in the Kansai area. Very popular in spring thanks to its thirty thousand blooming cherry trees, its climbing is punctuated with temples, shrines, restaurants, tea houses and other places to picnic. Yoshinoyama is a Sacred Site and Pilgrimage Route in the Kii Mountain Range and listed in the UNESCO World Heritage.
There are of course a whole lot of cherry blossoms spots across Japan. Those generally visited by foreigners remain largely urban and allow to enjoy a relatively codified vision: friends or colleagues enjoying beer 🍺 on blue tarps in parks under the sakura 🌸. But Ohanami means above all "contemplation of cherry blossoms" and this concept sometimes seems almost forgotten by these festive gatherings.
The Japanese have other spots that Western dedicated tour guides list much less often. Among them, Kii Mountains' Yoshino is probably the most famous and, with its thirty thousand sakura, some like to say that this is the best place in Japan to contemplate them. It won't surprise anyone, then, that the visit is extremely crowded with Japanese people and that, at the same time, it also welcomes very few outsiders, even Asians. In March / April, the crowd is very dense, much more than during the momiji 🍁 season in fall.
Yoshino-yama is particularly accessible from Kyoto or Osaka (Abenobashi station, in the Tennoji neighborhood) via the Kintetsu railway company. During bloom season, it's strongly suggested to reserve a seat as the trains 🚅 which go there, especially express ones, are overflowed in the morning. Moreover, Kintetsu operates with former style: only five cars 🚙 including a smoking-allowed one.
Thousands of cherry trees in sight
Once at Yoshino station, it's possible to get on the ropeway to save the first part of the hike. This phrasing was not chosen randomly because, if the first few hundred meters are pedestrian routes filled with countless shops and restaurants, the end of the ride will certainly not give any rest with its endless and much more uneven coils.
Involved a tricky mapping that distills signposts too rarely, sometimes almost hidden, and seems to take pleasure not to use the same terminology of places on the map given at the station. If you don't speak Japanese, it is recommended to print your own map before you go, otherwise you are in for a long ride and will probably miss the most interesting spots in lack of time or courage.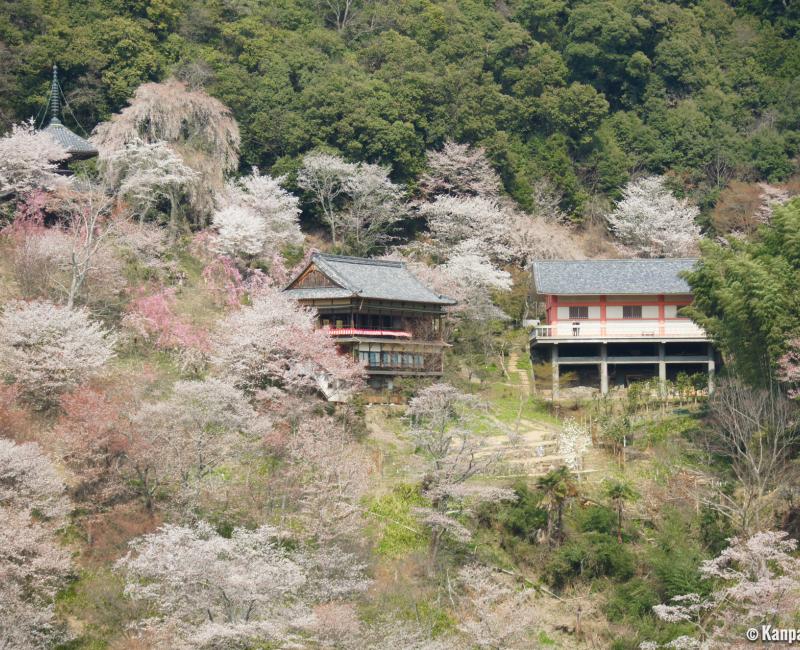 Because Mount Yoshino is divided into three levels on several sides (called Shimo, Naka and Kami-senbon) up to its "inside" (Oku-senbon). It is therefore theoretically impossible to enjoy all levels at full bloom at the same time. The resulting advantage is that the visiting period is relatively extended, with a bloom that lasts several weeks, usually in April. The hike is filled with shrines and incredible views. We particularly recommend Yoshimizu, quite low, and Hanayagura much higher. In the end, you can catch a bus to go back down to the station.
If you are planning a trip to Japan during the sakura period, Yoshino is an absolute choice in your planning. Part of the UNESCO World Heritage, it proves to be a perfect visit on a single day. If you prepare your visit and wish to go a little further than the walk between stores, the mountain will offer extremely rewarding landscapes.