Kongobu-ji
The Central Temple in Koya-san
Add to my favorite places
Kongobu-ji is a Buddhist temple located on Mount Koya, in Wakayama prefecture in Japan. It is the main religious complex of the Shingon sect founded by monk Kukai and one of the major sites of Koya-san pilgrimage in Kii mountain range.
Kongobu-ji, thanks to its location and its history, can be considered one the main temples, if not the most famous, in Koya-san. The place is located next to the Mount's tourism information office, in the most frequented area, and was listed by the Unesco as a World heritage properties.
A temple under Kobo Daishi's influence
Kongobu-ji was first founded at the end of the 16th century by one of Japan's unifiers, Toyotomi Hideyoshi. Its initial name was Seigan-ji, until 1869, a few years after its reconstruction and its fusion with another neighboring temple. It then became Kongobu-ji, the main domain of Shingon Buddhism, a prominent current promoted by the famous monk Kobo Daishi (or Kukai, 774 – 835), the main personality attached to Mount Koya's reputation.
The 19th century temples merger added to Kongobu-ji an artistic variety that superbly complements the visit.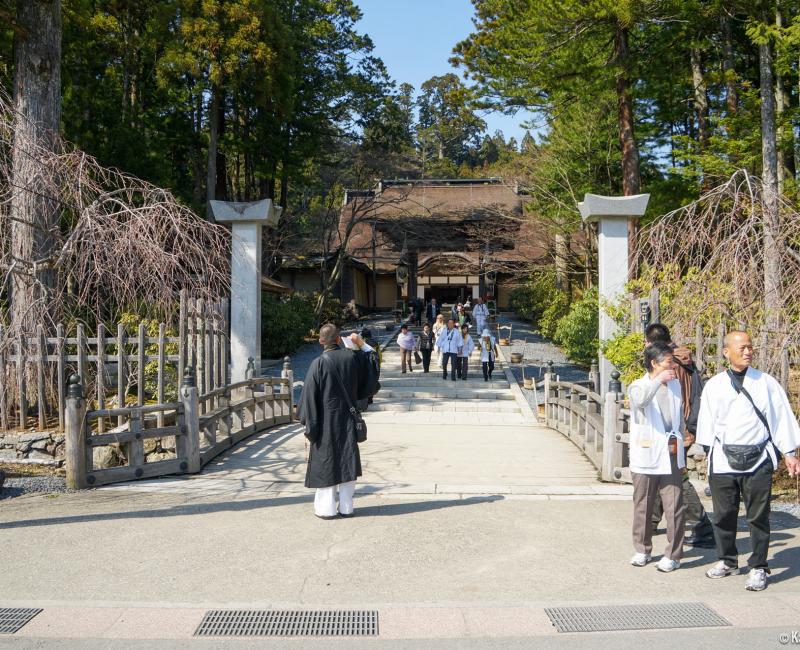 Paintings of traditional styles and Zen garden
Several pavilions are opened to the public and display wonderful paintings. We especially recommend:
Ohiroma, a wide tatami room adorned with fusuma sliding doors painted in the 17th century in the style of Kano school,
Betsuden, with 20th century paintings depicting various scenes of Kukai's life.
A tea offered during the visit adds to the pleasure of contemplation. Many buildings are not open to the public as they are used by the monks for their meditation practice and miscellaneous celebrations.
Pilgrims and visitors are charmed by the modern Zen garden named Banryutei, built in 1984. It is the largest karensansui garden in Japan and spans on 2,340m², with a hundred and forty granite stones imported from Shikoku Island, where Kukai was born, artfully arranged with white gravel originating from Kyoto.
Kongobu-ji's grounds also shelter most of the important ceremonies and memorial services happening throughout the year in Koya-san.