Okuno-in
Japan's Largest Cemetery in Koya-san
Add to my favorite places
Okuno-in is a sacred pilgrimage site in Japan, located on Mount Koya, in Kansai area. The place is often considered the attractive part of Koya-san, thanks to its immense cemetery. Its apex lies in the mausoleum of monk Kukai, the founder of Shingon Buddhism.
Gobyo is the Japanese name for the mausoleum of Kobo Daishi (monk Kukai's posthumous name), who lived in the 9th century and was one of the founders of Buddhism in Japan. From Gobyo Bridge, pictures, food and drinks are forbidden, which helps explain the one-of-a-kind serenity of the place. The graveyard's atmosphere, however, is not sinister: its majestic pavilion frequently resonates with beautiful sutra chanting. It is a wonderful first step on Shikoku's 88 temples pilgrimage.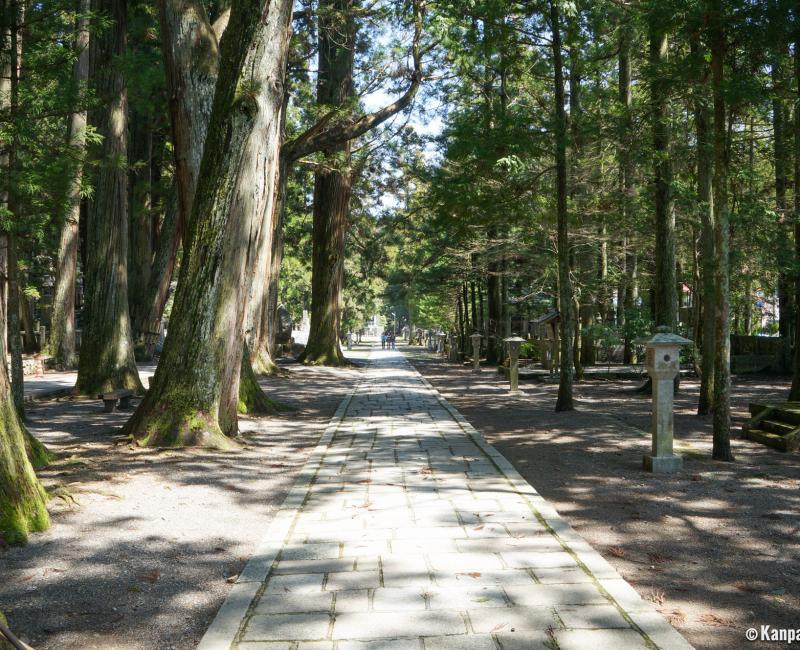 Gobyo Mausoleum area is preceded by an endlessly stretching forest of hundred-year-old cypress trees. The cemetery is said to shelter about 200,000 tombs of worshippers who wished to rest near Kobo Daishi, sometimes by entire family groups. The two-kilometer long walk is solemn and rhythmed by several bridges symbolizing the progression toward the mausoleum under the surveillance of the tall trees in a never-ending graveyard.
There is a counterpoint to the place's mysticism however, and that is the touristic buses. On the side of the large, asphalted road, they unload crowds of noisy tourists who just came to Okuno-in in the process of checking their bullet list. Despite being one of the most sacred places in Japan, a surprisingly opportunistic aspect is unveiled in Okuno-in, that unfortunately characterizes most of Mount Koya's visits as well.
We thus recommend to carefully select your visit path: preferably chose Ichinohashi walk rather than Okunoin-mae, the convenient but disenchanting bus stop.