Heian Jingu
Kyoto's Weeping Cherry Trees Shrine
Add to my favorite places
Heian-jingu is a Shinto shrine located in the north-east of Kyoto. The sacred complex was built in 1895 and is a tribute to the city that used to be Japan's imperial capital in Heian period, during Japanese Antiquity. In spring, a walk under the deep pink-hued weeping cherry trees is worth the trip.
Tourists in Kyoto may not know Heian-jingu by its name, but many have at least walked past its most famous landmark: a huge 25-meters high vermilion torii ⛩️ gate located along Okazaki Canal, a few steps away from the main entrance. Located north-east of the city, it's often a stopover before or after visiting the Philosopher's path, only 20 minutes up north.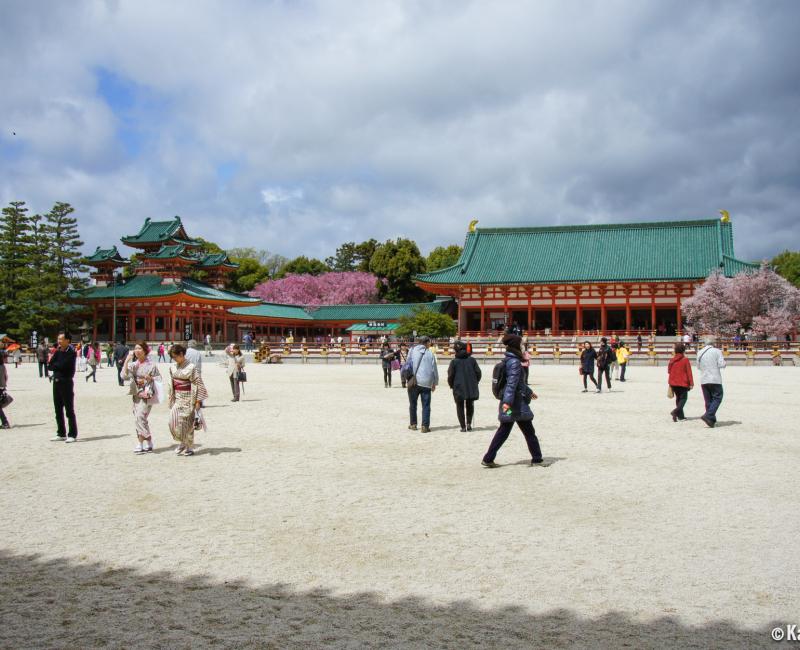 A homage to the former emperors of Kyoto
Amazingly built quite late in history, in 1895, Heian-jingu proudly holds both the former name of Kyoto and the one of the Japanese imperial court at the time. Celebrating the 1100th anniversary of its creation, it partially reproduces the Imperial Palace. As a tribute, it also welcomes the arrival of Jidai-matsuri historical procession, every year on October 22.
Japanese gardens as a must-see
Heian-jingu is unique in that it opens on a vast esplanade strewn with pebbles, featuring its very stretched main building. One gets the feeling that a large number of visitors stop to this place, whereas its real jewel is behind, between its sublime interior gardens and ponds.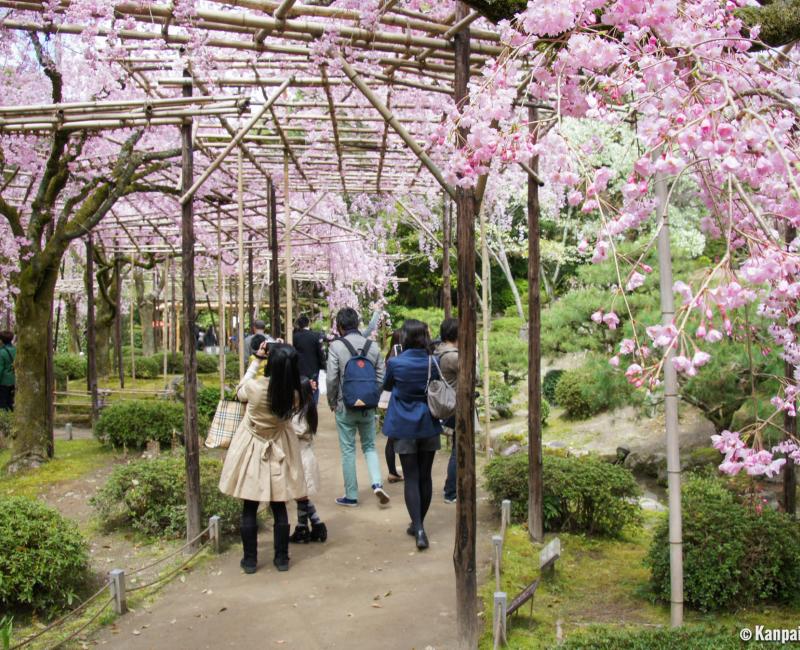 The visit reveals its true potential during late sakura 🌸 season, when weeping cherry blossoms (called shidarezakura) drop their branches adorned with beautiful pink colors. Once again, one of the treasures of the ancient capital is offered to the view.
For the anecdote, Heian-jingu is the shrine that Scarlett Johansson's character visits in the movie Lost in Translation, the one where she hops from stone to stone to cross the pond.