Okazaki Canal
Cherry blossoms hanging over water in Kyoto
Add to my favorite places
Okazaki Canal is a watercourse connecting Lake Biwa canal with Kamo River in Kyoto, in Japan. Its stream is bordered by blooming cherry trees in early spring, offering very pleasant walks or cruises.
The walk along Okazaki Canal is a touristic hotspot in the east of Kyoto. The Canal connects Kamo River and Lake Biwa through the famous Keage Incline and forms an artificial border between the area surrounding Mount Daimonji (in the north) and Higashiyama (in the south) and their respective attractions.
Seasoned walkers, on a very well-planned day, can even try to hike on a "vertical" course from north to south between those two interesting areas, with a stop in the middle, around Okazaki. Most of visitors, however, will chose to visit Okazaki Canal and Heian-jingu shrine, as the latter's huge torii ⛩️ proudly towers in the middle of Okazaki Park.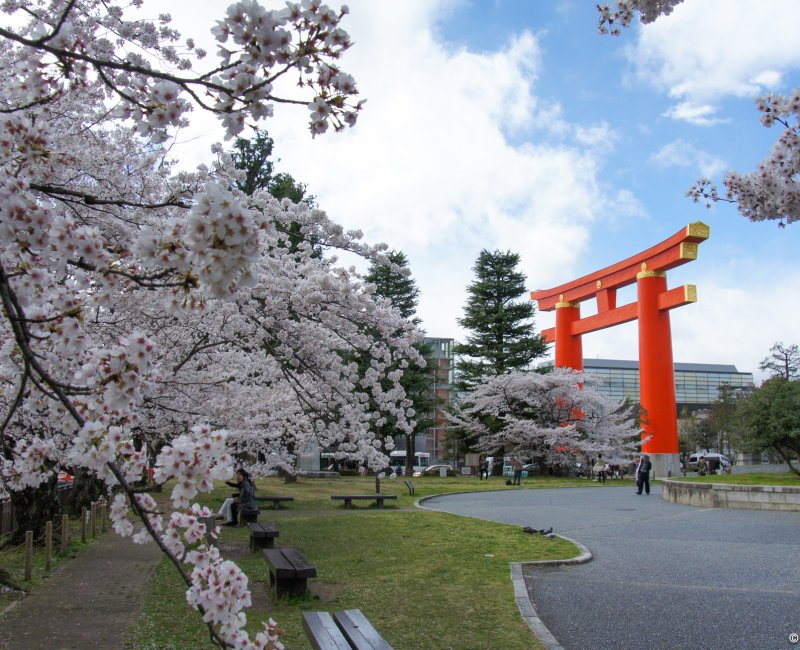 However, the main interest of the Canal, as the pictures show, is its wonderful bordering of perfectly aligned sakura 🌸 cherry trees, on the river embankment, on its southern side. Tourists can enjoy three kilometers cruises on the canal below the plantation and view the sakura trees from the water at the beginning of spring: from the blooming during Ohanami period, to the vivid green of the cherry tree leaves afterwards.
The view is enjoyable from the shores as well, all the more at the end of March and beginning of April, when cherry trees are at their best and the city sets up a light-up to illuminate the wonderful flowers at nightfall.