Kimono Forest
The Colorful Fabric Bamboo Grove in Kyoto
Add to my favorite places
The Kimono Forest is an artificial landscape made of about six hundred poles cladded in Japanese kimono fabric and set along a paved road from train station terminus Randen in Arashiyama, in the north-western suburb of Kyoto. The visit is particularly enjoyable at nightfall, when the LED lights embedded in the tubes enlighten the colorful patterns of kimono fabric.
The Kimono 👘 Forest is a modern artwork due to Japanese designer Yasumichi Morita (b. 1967), who inaugurated it in July 2013 after the renovation of Randen station. Arashiyama is a must-see area in Kyoto, and is famous for Togetsukyo Bridge, Tenryu-ji temple, and the notorious bamboo grove. A reflection of the latter, the Kimono Forest is an artificial grove, made of Plexiglas and fabric, but is as much beautiful as the natural one and welcomes visitors when they get off the train 🚅.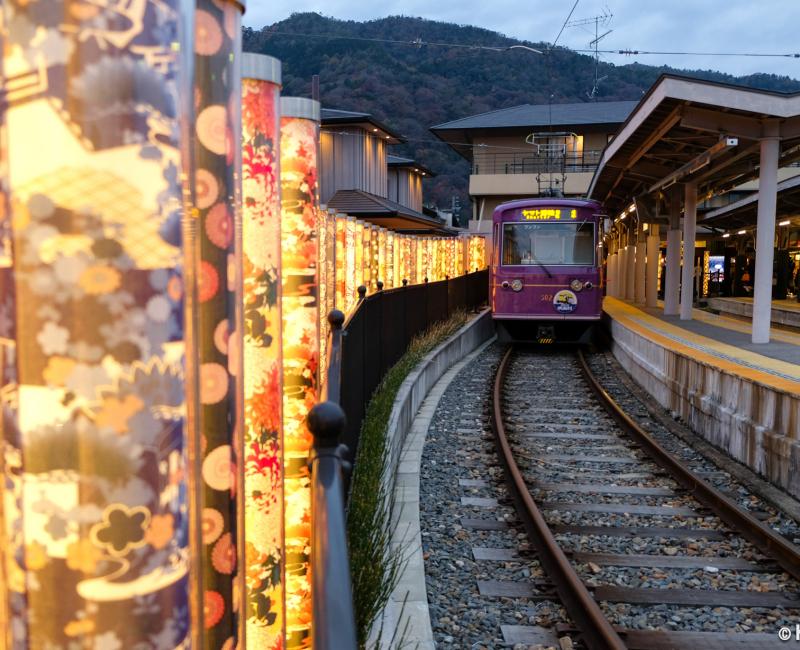 An enchanting forest
As soon as the little train, of a delightful1950s retro look, enters Randen Arashiyama terminus station, lines of colorful poles appear along the railway. Passersby are irremediably attracted by this bewitching grove that seems to emerge from a fairytale. According to the legend a fountain that grants wishes is hidden deep in this forest.
The paved path starts at one of the station's track, on a side. It unfolds on about fifteen meters. The colors of the wonderful poles remind of spring 🌸 flowers and warm up tourists visiting in winter. The Kimono Forest is the embodiment of the idealized image of Japan with a design of a modern esthetics, combined with traditional patterns.
At the end of the path, a small area is dedicated to the pond of Dragon: Atagoike. A black sphere engraved with a golden dragon, a reference to the neighboring Tenryu-ji temple, overhangs the waters. An English and Japanese language sign explains that when immersing one's hands in the fountain's water, one's heart will be filled with peace and happiness.
Do not believe your eyes if they make you see the poles gently moving around at dusk. It is only the tourists, wearing kimono or yukata of colors matching the forest's, and taking selfies.
We recommend all visitors, especially JR Pass holders who go to Arashiyama via Saga-Arashiyama JR station, to make the detour by Randen terminus. The short visit of the station is enjoyable, as well as its foot bath, the various souvenir shops, and the food stalls in the neighborhood.