Dino Park
Dinosaurs' Forest in Yanbaru
Add to my favorite places
Dino Park is a dinosaur-themed park located in Nago in the center of Okinawa's main island in Japan. The lush vegetation in the north of Okinawa Honto is home to 80 life-sized great lizards models craftily staged along a walking path in Yanbaru subtropical forest.
In the north of Okinawa Honto, at the entrance of the Motobu Peninsula, Nago City is home to several small local themed parks, including the popular Nago Pineapple Park dedicated to the fruit and the more recent Dino Park, targeting visitors of all ages fascinated by the world of the dinosaurs.
Okinawa archipelago's lush subtropical vegetation is the ideal setting for a travel several dozen million years back in time, to the Jurassic period when dinosaurs roamed the Earth. The huge Flying Spider-monkey 🐒 Tree Ferns and the beautifully colored tropical plants, such as bromeliads and crotons, recreate the feeling of being in the heart of a wild jungle. It indeed used to be a botanical garden called Anettai no Mori, that has now become a themed park for families and tourists vacationing on the island.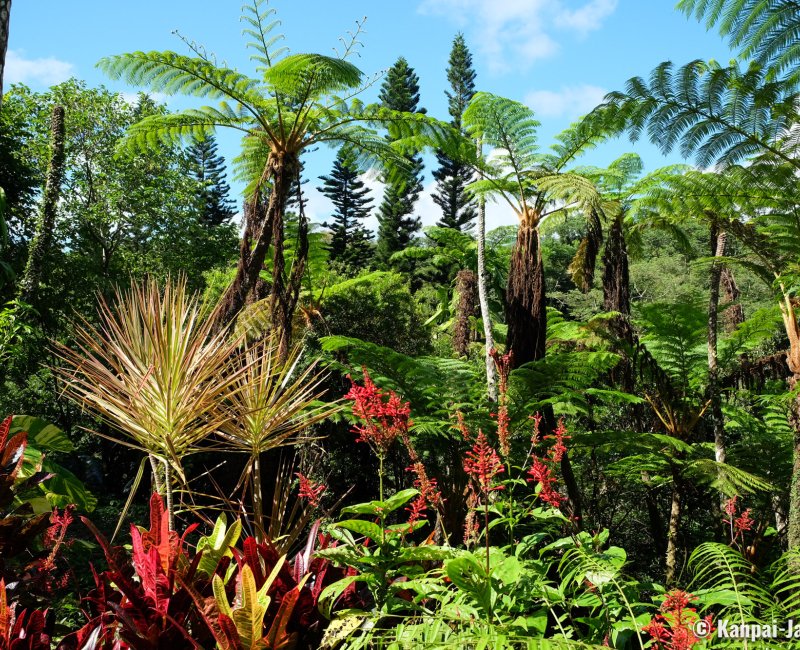 A beautiful excursion filled with surprises
Dino Park offers a pleasant and easy outing in the heart of Yanbaru subtropical forest with 80 life-sized dinosaurs models scattered in the forest. Some of them move, shriek or grunt, which makes them even more lifelike. Many lizard eggs and babies are also replicated in a game to find all the species hidden in the leaves, especially the popular tyrannosaur, Brachiosaurus or stegosaurus. They are shown in various attitudes: standing, laying down, with a ferocious look, dipping in the water, near a waterfall, etc.
It is only a 40 minutes' walk along a well-marked path and can be done with young children. People afraid of snakes may have to prepare themselves to an encounter with a giant mechanical snake going out from a wood cabin.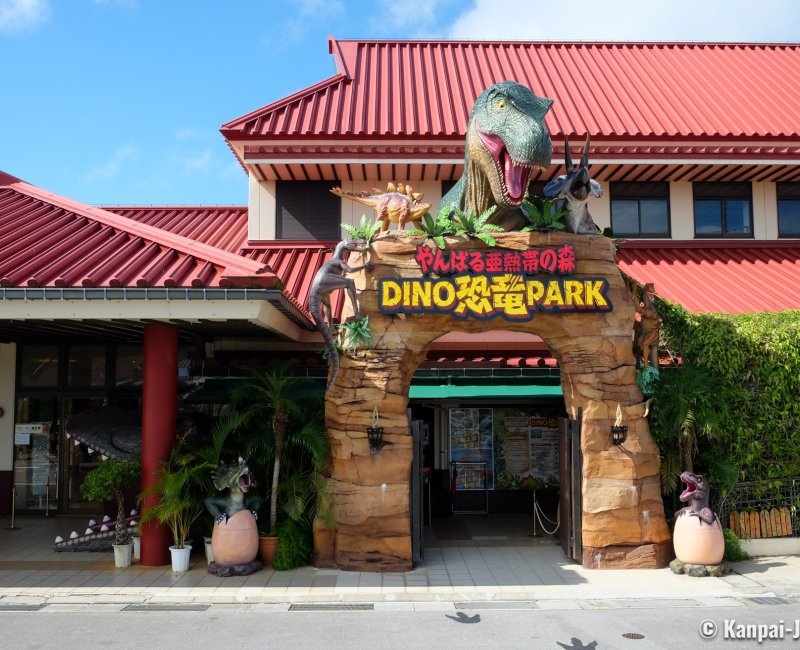 Something soon becomes clear as you are exploring the premises: all the dinosaurs are looking for the same delicacies, the famous purple sweet potato 🍠 cream tarts (beni imo), a specialty of Okinawa. Some of them are already feasting on these treats and other are rummaging the buildings to find their share. It is because the park is associated to the local brand Okashi Goten that has a dessert and pastries shop in the park.
Back at the entrance of the park, a small playground allows to take pictures riding a dinosaur or sliding. We recommend visiting the Dino Park with children on a good weather day, as rain ☔️ can make the paths very slippery and lessen the attractiveness of the place.