Street Go-Karting Tour
Kart experience through the streets of Osaka
Add to my favorite places
Street Go-Karting Tour (formerly MariCAR) is an activity located in northwestern Osaka. The main goal, driving a kart in Osaka's streets disguised as a superhero, anime or video game character, seduces many foreigners and Japanese people looking for surprising hobbies.
Big cities in the world never fail to inspire video game designers, and vice versa. Big avenues, typical streets and smaller roads create an ideal frame to live in real-life racing video games, especially kart circuits. Riding this tiny one-driver go-kart, in which the driver can feel the asphalt, happens to be an excellent way to (re)discover urban vertical architecture.
The Street Kart company (formerly better known as MariCAR) offers go-kart tours in the city centers of Tokyo, Osaka, Kyoto and Naha on Okinawa.
Each participant dresses as one of the popular characters from video game, comic or anime. Official licenses were hard to obtain from other small companies. There, they only speak about "Real Life SuperHero Go-Karting." But do not be fooled. The costumes are definitely those of Doreamon, Chopper from One Piece, Minions, Superman, Spiderman, Batman–and even Dingo and Tigger from Disney.
The Nintendo vs Mari Mobility Development legal dispute
At the end of September 2018, Tokyo District Court fined MariCAR 10,000,000¥ (~US$66,125) and prohibited them from using Super Mario-style costumes. In January 2019, the company glued big stickers on each of the karts saying "not related to Nintendo." At the end of May 2019, MariCAR is ordered to pay a second fine of 50,000,000¥ (~US$330,627) to Nintendo for intellectual property damages. The company is also asked to change its name: it renames itself Mari Mobility Development and its kart rental service is now marketed under the name Street Kart. The company no longer provide rental of costumes of Mario Series.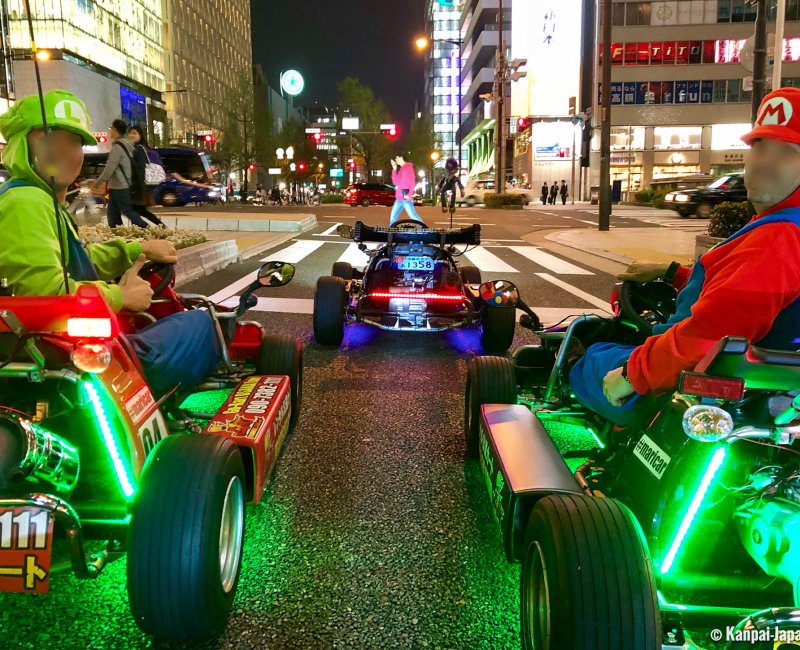 Go-kart tour of sightseeing spots in Osaka
We tested karts in Osaka at sunset (7 p.m.), the best time, based on our experience, when stores' neon and lights fit perfectly with the festival aspect of this activity. The global feeling is pretty good. Adjectives such as "cool" and "neat" sum up our impression. We totally recommend this surprising activity.
Go to the northwest part of the city, near Nodahanshin Station, to find the company's store. This is also a departure and arrival spot. The Japanese staff, warm and professional, speak some "sort of" English phrases, enough to be understood. Note that their website, detailing precisely the whole activity, is translated into several languages. Before starting the adventure, which lasts 2 hours, each participant chooses his or her costume and acknowledges rules and code of conduct :
Follow the karts' order established by the organizer (this order changes during driving so participants can enjoy every position, from first to last);
Drive in only one row and stop (at road signs, for example) in two rows;
Don't pass in front of others;
Respect the Japanese driving code (zero alcohol), and drive on the left side!
The itinerary attracts pilots from the main touristy districts of Osaka: Umeda in the North, the castle 🏯 on the east and Namba in the south. Each point of view gives an occasion for souvenir photos, where each participant can play the character of his or her costume. This activity is totally worth it for kart lovers still child-like in their minds. It is also a good idea for an evening with friends.
Regarding thrills, the kart can reach 45 or even 60 km/h depending on the motor's power; without a seat belt or mandatory helmet, the velocity is very lively. We highly recommend taking the supplementary insurance Street Kart offers. It is important to note that any accident, even a small one, requires the Japanese police to come and therefore may become very expensive.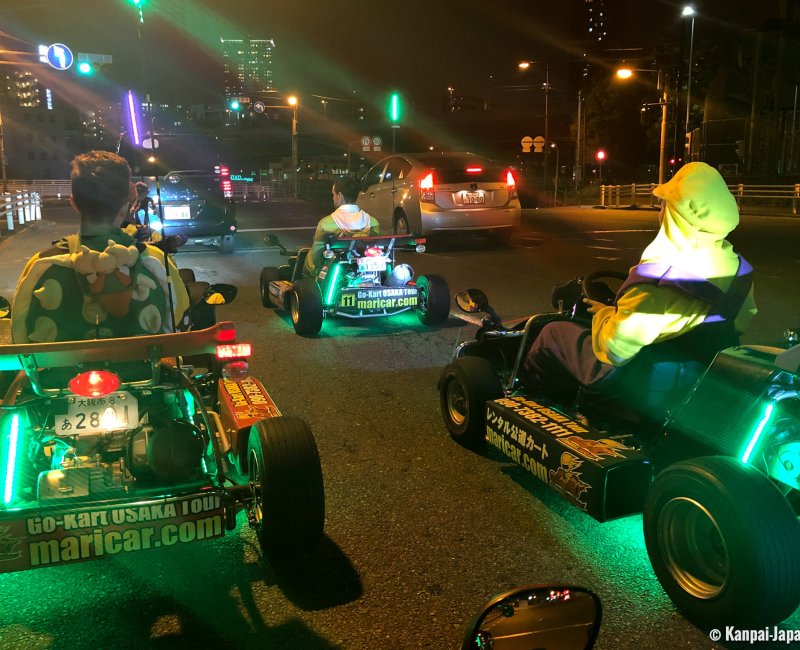 Driving a kart in Japan
Just as for cars 🚙, the driver must be an adult (over 18 years old) and have a driver's license valid in Japan. This a very crucial criterion for foreigners, as Japan requires a Japanese driver's license, an international driving permit (IDP) under the 1949 Geneva Convention in the proper format or a foreign driver's license translated by an official organization, such as the Japan Automobile Federation, depending on its native country. Street Kart will in no way accept participants who only have an international driver's license which is not under the 1949 Geneva Convention, as they are not accepted in Japan. All papers and licenses must be checked before the departure time.
Tours and hours can be reserved quickly online via Facebook, Line or this file. When we tried it, we booked only two days in advance without any problems. However, for Tokyo excursions and in touristy peak times, it would be wise to book as soon as you can, just as with any popular attractions in Japan.
People who love kart and nothing else can book several diverse tours in several cities, day or night, with a different cosplay for each ride! Street Kart has the advantages of presenting a broad range of services, with some additional options you must pay for, such as filming the tour.