Umeda Sky Building
Osaka's Twin Towers and Their Floating Observatory
Add to my favorite places
Umeda Sky Building is a high-rise complex located in Osaka's northern district in Kansai, Japan. Two towers constitute the building and are connected by an open-air observation platform, giving a 360° view on the city.
When looking for the must-sees of Osaka, make sure to visit Shin-Umeda district in the north of the city, and especially its most interesting feature: Umeda Sky Building which was designed by architect Hiroshi Hara and achieved in March 1993.
This huge construction, with a characteristic appearance, displays two 40-story twin towers culminating at 173 meters high and connected by a beautiful circular observatory at their upper floor. It was this feature that earned Umeda Sky Building its place in the world's 20 best buildings ranking by the famous British Times Magazine.
First, have a break in the Floating Garden Observatory from where you can admire the city behind huge windows. It is also possible to enjoy a snack in a very cozy lounge, particularly suitable for and loved by young couples. The place is quite busy on the daytime, and especially on the weekends and holidays.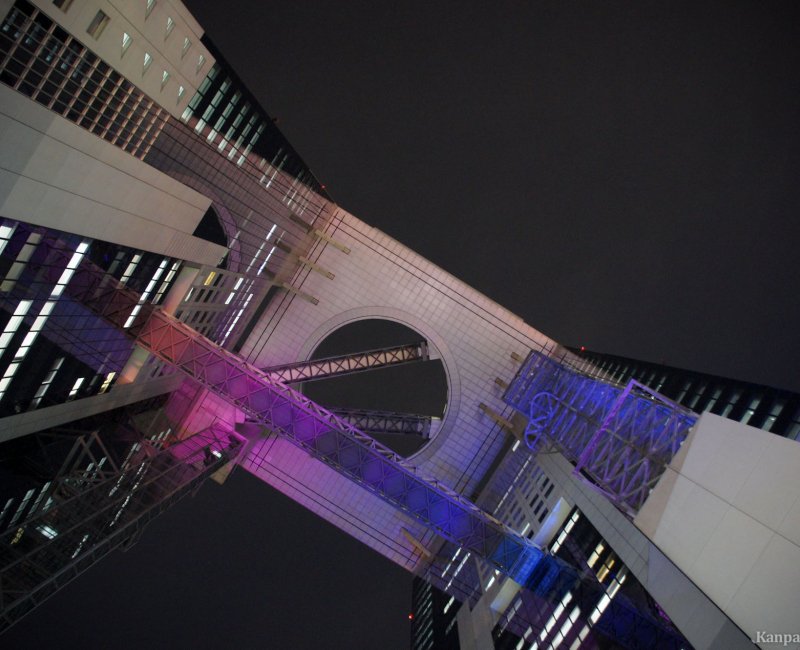 Going up some stairs, you find yourself out on the stunning Lumi Sky Walk which describes a phosphorescent milky way to the ground. The 360-degree aerial views of Osaka are absolutely wonderful, especially at night, in a place that is without a doubt one of the best observation desks of Kansai's majestic city, and a lot quieter.
For all theses reasons, Umeda Sky Building is very popular with couples for wedding proposals at its summit!
For its 25th anniversary, the observatory was refurbished and reopened on 2018, June 27. Its attendance peak was reached in 2017 with 1,5 million visitors, of which 75% were foreigners.