Nakazaki-cho
The Hipster District in Osaka
Add to my favorite places
Nakazaki-cho is a neighborhood located near Umeda station in the north of Osaka. Atmospheric and lovely small cafes, organic grocery shops, vintage fashion stores as well as young creators' galleries flourish in a handful of trendy streets. Yet undiscovered by tourists, this human-sized district is worth the detour.
Nakazaki-cho is directly reachable from Osaka Station by a walk along the JR Loop Line for about twenty minutes towards north-east. Umeda's skyscrapers gradually disappear to leave way to a more quiet and lower city landscape. Spared by World War II bombings, Nakazaki's neighborhood still displays the traces of the early 20th century with old wooden buildings, traditional teahouses, and lovely side streets.
In the early 2000s, Osaka-born artist and contemporary dancer Jun Amanto gave a second life to this maze of streets forsaken by urbanization in which he rediscovered a past Japan. He first renovated an old house into a café, then decided to expand his project to the neighboring traditional houses with the help of other fellow artists. Nakazaki-cho thus gained attractivity and even became the nest of the local hipster and artistic movement.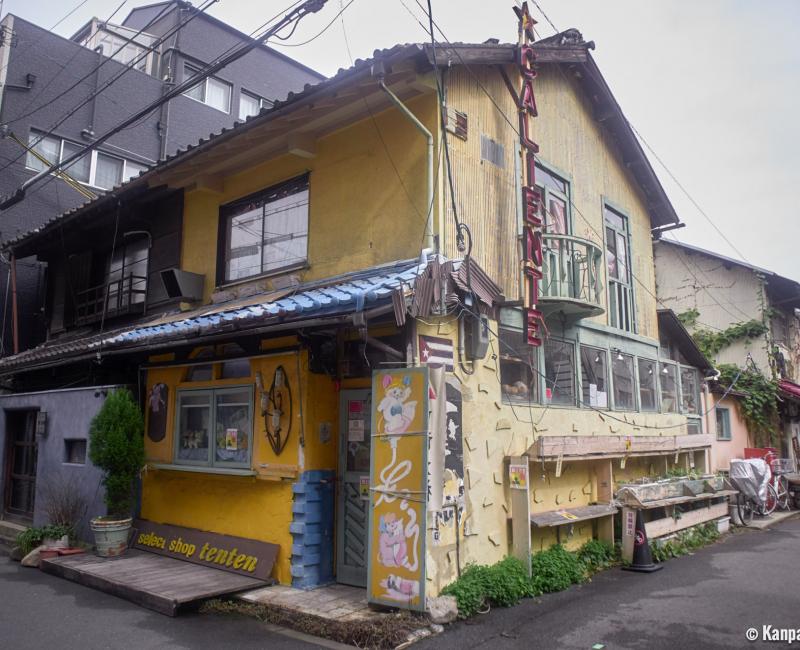 An open-air mine of alternative shops and bohemian cafes
Several brand shops made the reputation of the area, such as La Granda Familio, a grocery shop selling organic, home-made products, such as delicious granolas, to enjoy on site in a bowl. Nakazaki-cho is also a goldmine of small cafe-restaurants, of which the most famous are: 89Cafe, Amanto, Green West, and Taiyou no tou, the latter displaying two daily specials (one Japanese and the other inspired from European dishes, such as tasty pastas or pizza). The atmosphere is friendly and laid-back, and the slightly "kitsch" decor creates a "at home" feeling.
Those who love kawaii animals can take a break at Hukulou, a cat 🐈 cafe, that also hosts owls and other small and "instagrammable" animals such as hedgehogs and ferrets. A photo shooting is by the way staged once a day at 3 p.m. with two of the cafe's stars, a cat and a little owl 🦉. It is hard to tell however, if the two models enjoy the moment as much as the clients who are swooning over them.
Designers' workshops pop up along the streets, such as Select shop Tenten, one of the cutest and original shops of the area. The inside opens on a pink, kawaii and slightly eccentric universe! Care Bears plushies, good old Popples transformed into bags, hair clips and various fantasy items inspired from Lolita fashion (which appeared in the 1980s in Japan) and vintage mangas are all over the place. The two employees are very proud to display these creations made by young artists and love to show the various press articles published about their boutique. On the day of our visit, the owner had set up a pop-up store for night animals-themed designers' jewels in another store of the district that is always busy with young Japanese sporting a very "Harajuku-style" look.
A little bit further, Sunny day Tailor, a tailor shop creating custom-made shirts, blouses, and vests with quality fabrics for men and women, represents the alternative fashion. Other thrift stores and must-see boutiques with original trends such as Funky and soul, Clarisse, Lolotte Candle and Green Pepe provide customers with an unusual shopping session.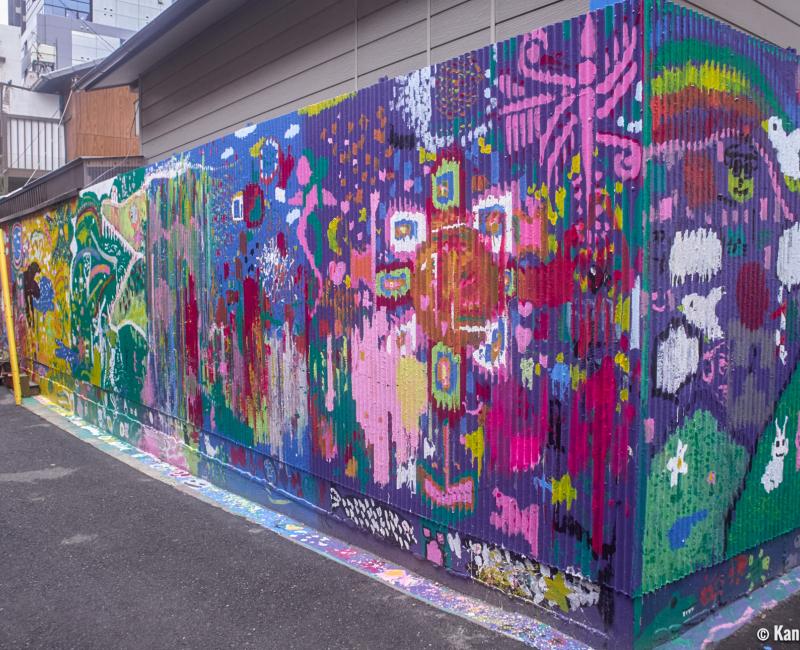 A creative but down to earth window
Nakazaki-cho is also famous for a multicolored metal sheet wall popular among young brands as a background to shoot their newest items. Several galleries also exhibit temporary collections of modern artworks that can be purchased on the spot if you take a fancy to it.
Nakazaki-cho is imbued with the old-fashioned charm of a Japan of the past. But behind the quaint appearance, the streets are thriving with the creative and entrepreneurial mind of the artists who have been settling there over the last years. With a very down to earth approach, this new generation skillfully associates art and the Japanese society's capitalism. Trying to develop a more responsible approach, they offer an alternative, more international-oriented type of consumption. This is clearly visible in the originality of the store windows whose decorations are thoroughly thought. The community is moreover very active online, and most of the shops, even the smallest ones, frequently communicate through their websites or social networks.