Hozenji San-pei
A Famous Okonomiyaki Restaurant in Osaka
Add to my favorite places
Hozenji San-pei is a small okonomiyaki restaurant in Hozenji Yokocho alley, in the heart of Namba district in the south of Osaka. The most iconic and delicious dish of the city, and broadly of the Kansai area, is served here in a plebeian eatery atmosphere.
Tasting the okonomiyaki (お好み焼き) is a must-do when starting your food journey in Osaka. This typical, heartful dish originating from Kansai area was popularized in Post-War Japan to alleviate rice shortage.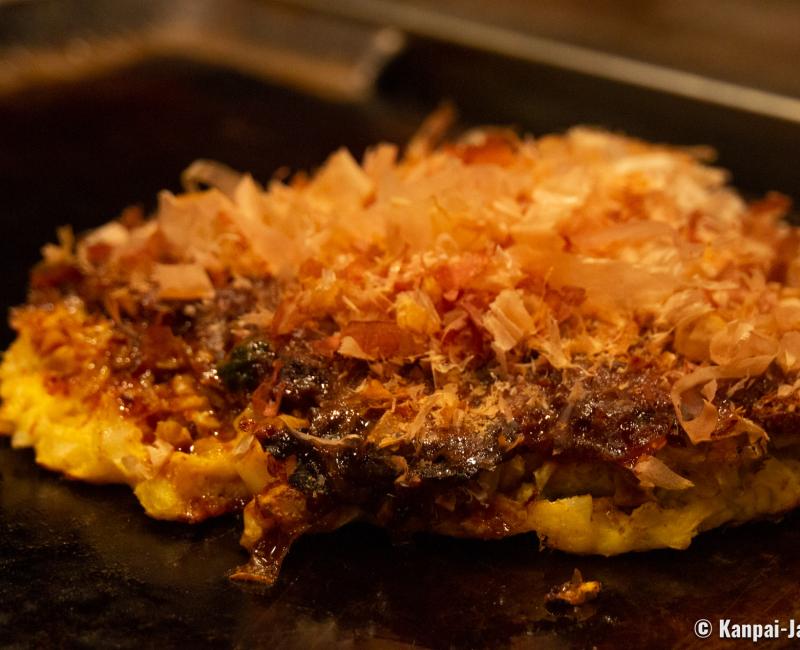 Osaka's traditional recipe
Okonomiyaki is a kind of omelet or Japanese style crepe available in countless variations throughout the archipelago. Osaka's traditional recipe consists of a batter base to which are mainly added vegetables, meat, and seafood. The mix is cooked on a hot plate, drizzled with a thick sauce similar to the Worcestershire sauce, and sprinkled with katsuobushi bonito flakes that seem to dance into the heat.
Prices vary according to the filling, to choose from a large selection, especially:
Vegetables: green onions, mushrooms, Chinese cabbage, kimchi cabbage, shiso leaves or potatoes.
Meat or fish: minced pork, bacon, shrimps, or squid.
Other ingredients: konjak and cheese.
It is therefore easy to create a dish that suits your taste or your eating habits, such as a vegetarian or a pork-free okonomiyaki.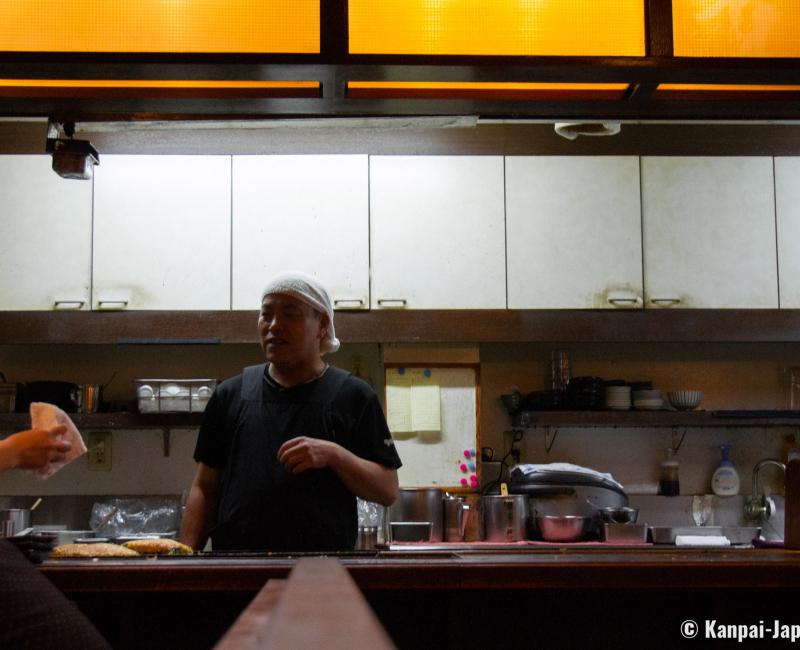 A typical small and convivial eatery in the city center
Located in the heart of Dotonbori's yokocho backstreet, the restaurant Hozenji San-pei is a good place to eat a soft and savory okonomiyaki in Osaka. The old-fashioned and authentic atmosphere of the area is a perfect setting for the Japanese omelet which is an affordable and popular dish.
At nightfall, lanterns 🏮 show the way to the restaurant's entrance, in front of which a line is already forming. Hozenji San-pei's reputation is already established, among the locals as well as with acquainted tourists, and one must often wait a little before having a seat. The restaurant room is by the way rather small: hardly twenty persons can eat at the same time, seating around only 4 tables and a few seats at the counter.
Each table is fitted with a hot plate at its center to enjoy an always piping hot dish. The chefs standing behind the counter prepare the ingredients and cook the orders. To avoid any oil splattering, customers can put their belongings in a plastic bag to place under their seat. However, clothes will retain the cooking smells and it is recommended not to have an important appointment after a visit in Hozenji San-pei!
In addition to the okonomiyaki, the restaurant also serves yakisoba stir-fired noodles and other teppanyaki dishes. We recommend Hozenji San-pei for a quick dinner with friends, and a good cold beer 🍺 before continuing the night in Namba district.