Shitenno-ji
One of the Oldest Temples in Japan
Add to my favorite places
Shitenno-ji is one of the oldest Japanese Buddhist temples and is located in the south-east of Osaka. It was the first to be commissioned by an emperor at a times where Buddhism was still new in Japan. Despite suffering destruction by several fires throughout the ages, its current reconstruction reproduces its appearance when it was first built in the 6th century.
Shitenno-ji temple was built in 593, at the initiative of prince Shotoku Taishi (574 – 622), an eminent statesman and intellectual of the Asuka period and promoter of Buddhism in Japan. The place worships the Four Heavenly Kings that Shotoku Taishi prayed to win a battle. The Shi-tenno are considered as the protectors of the 4 cardinal points and guardians of the Buddhist law.
The Four Heavenly Kings' temple in the heart of the city
The religious grounds is home to several pavilions, those at the center being specifically dedicated to the Four Heavenly Kings. It also shelters a cemetery, and the traditional stroll garden Gokuraku Jodo no Niwa ("Garden of the Pure Land Paradise") embellished by a few sakura 🌸 trees. The most remarkable buildings are a beautiful 5-story pagoda into which it is possible to enter, four great gates, and in the west a large stone torii ⛩️ gate dating to the 13th century and designated National Treasure.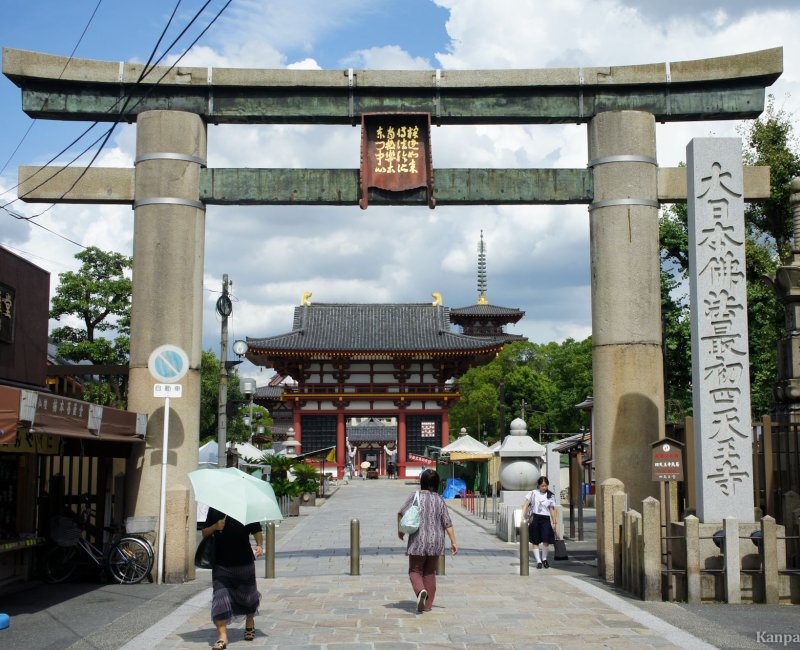 Kannon and Dainichi Nyorai are also worshiped at the temple, as well as the Tokugawa's funerary tablets. While the buildings were completely reconstructed several times, as often in Japan, it is still a pleasant sight to see.
Shitenno-ji temple offers a particularly charming stroll, without crowds of tourists and the locals enjoy relaxing in this quiet place. Most of the temple's grounds are free to access, except on the 21th of each month, when a large flea market takes place in its large alleys.