Awa-odori
Tokushima's Vigorous Dance Festival
Add to my favorite places
Awa-odori is a traditional Japanese dance festival that occurs in Tokushima, a city on the east coast of Shikoku Island. This matsuri, or traditional festival, happens each year between August 12 and 15 during O-bon (the Japanese ancestor celebration) and is considered by many Japanese people to be the archipelago's best dance festival.
The festival, which is so beloved that the prefecture's airport was named after it, attracts about 1,5 million tourists every year, about 5–6 times the city's population. It is nicknamed "the fools' dance" because of its refrain: "The dancing fool and the watching fool are both fools, so why not dance?"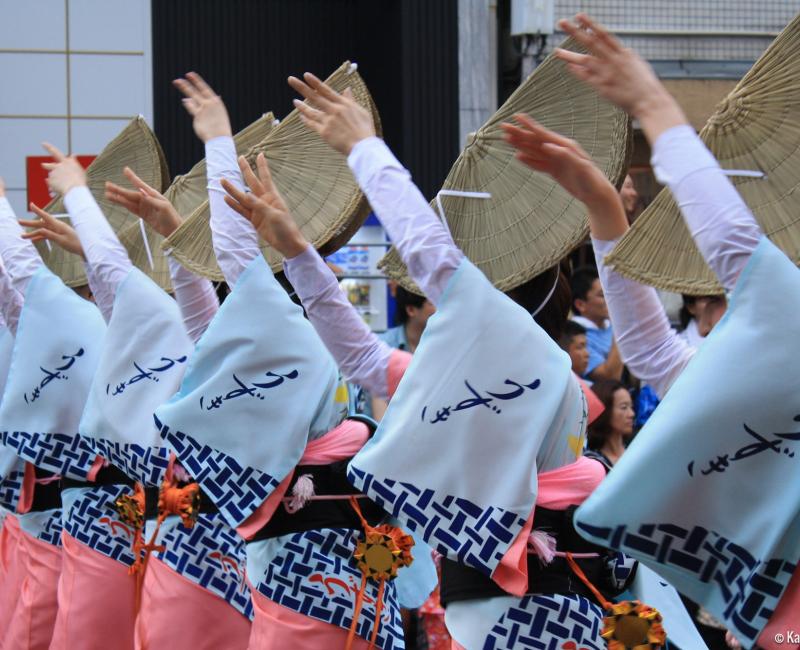 A Buddhist dance born on Shikoku Island
The term "Awa-odori" entered use only in the 20th century, but this celebration dates back to the 16th century, when Tokushima Prefecture was called Awa. Its choreography is derived from dances for Buddhist prayers dating from the Kamakura period, as well as kumi-odori, a harvest celebration. This festival was then created while people were dancing during the "death festival," a Japanese Buddhist celebration during which ancestors' souls return to visit the living for a few days.
This matsuri became its own celebration in 1586 when the local daimyo (lord) Iemasa Hachisuka celebrated the completion of Tokushima Castle with a great deal of alcohol. Sake was distributed to citizens, who began to dance with their musical instruments. During this era, samurai were not allowed to participate in festivities, even if they were authorized to dance in their own homes. Officially permitted only during this 3-day period, dances could not take place in temples, and participants could not wear weapons or masks.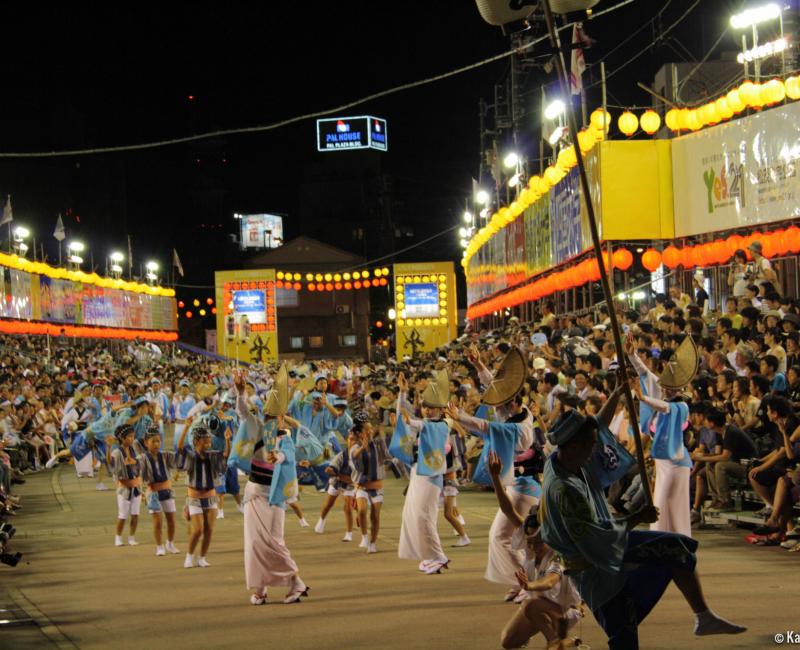 A nightly matsuri in the heart of Japanese summer
Today's Awa-odori Festival starts during the day with a few small performances, but the main event occurs from 6 p.m. to 10:30 p.m., with a lively parade through Tokushima's downtown streets. Troupes of about ten dancers, called Ren and wearing yukata or happi (kimono with shorts), begin their procession to the sound of traditional Japanese instruments: drums, flutes and shamisen. Downtown Tokushima is therefore closed to traffic and becomes a huge dancing scene where professional groups perform.
An area is arranged for seating, but we do not recommend buying tickets. Instead, walk in the streets and meet the population and the Ren groups who dance as they move forward. It is interesting to watch each team rehearse their own original version of the Awa-odori dance, from the traditional choreography to more contemporary ones. At the end of the itinerary, the groups encourage onloockers to dance as well! Lastly, yatai food stalls contribute to end the evening beautifully, in a convivial and joyful ambiance.
Note however that most accommodations in the area are booked a very long time in advance! Hotels are not numerous so it is almost impossible to stay in the city. We recommend trying the love hotels or renting a room at the inhabitants. One night only is not enough to see all the dancers' groups. Allow two to three days to enjoy the festival to the fullest.
Since 1983, this festival has lost ¥436 million (approximately ~2.9 million dollars). The local tourism association has started bankruptcy proceedings, but this should not affect the course of the festival. In 2023, the festival committee set up about 20 Premium seats per performance, called "Awaodori hospitality seat", including local specialties meals and English explanations on the dances for a ¥200,000 (~US$1,337) ticket.
Visitors eager to experience the festival can also visit its dedicated museum to discover the dance's history, customs and peculiar atmosphere. Moreover, for people who cannot travel to Shikoku, a twin festival begun in 1957 occurs on the last weekend of August in Koenji, in the western suburbs of Tokyo (Suginami ward) and is named Koenji Awa-Odori.