Mount Tsurugi
The Sword Mountain in Shikoku
Add to my favorite places
Mount Tsurugi is the second highest mountain on Shikoku island, at 1,955 meters above sea level, located in the heart of Tokushima prefecture in Japan. Tsurugi-san is a sacred mountain and a pilgrimage site for the practice of Shugendo. The easy hike to its top offer a wonderful natural 360° panorama.
It is a well-known fact that Japan loves listing things: there are specific lists for castles 🏯, and for mountains as well. Tsurugi-san, standing in the eastern part of Iya Valley, was thus included in the 100 Famous Japanese Mountains list established in the early 1960s.
Of a rich cultural background, Mount Tsurugi's site is considered the place of origin of Shugendo, an ancient spiritual practice prominent in Japan. This religious movement, derived from Shinto, is said to have appeared during Heian period, in the 7th century. It aims to the comprehension and the spiritual development via study and the search for osmosis between humankind and nature. The ascetic practice, mainly in Japanese mountains, is similar to those of Taoism and esoteric Buddhism.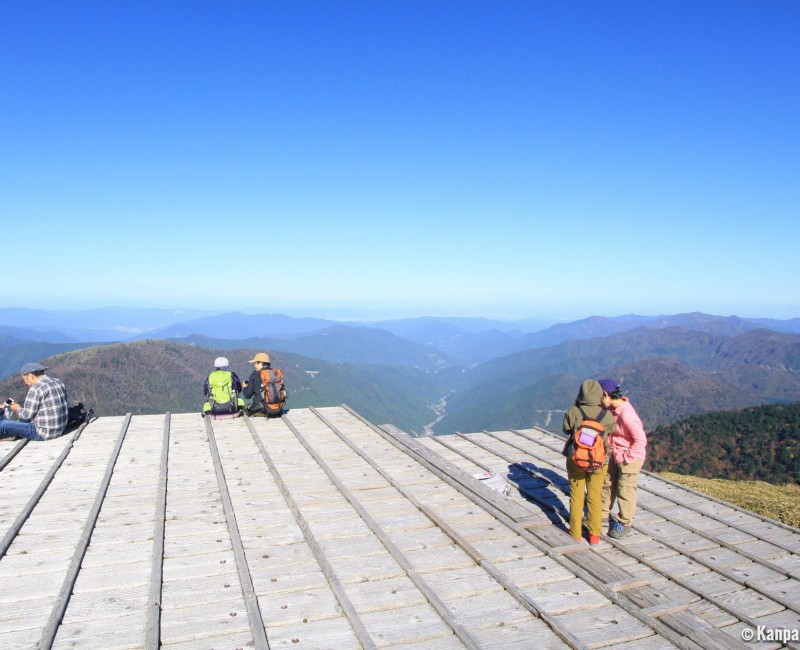 An easy hike to a wonderful view
However, Mount Tsurugi is more famous among tourists for its possibilities of outdoor sports and hiking. The ascension of the mountain might be too easy for trekking amateurs, but is fitting for dramatic sceneries lovers, looking for fresh air at medium altitude.
A convenient chairlift lifts visitors near the top of the mountain, with few efforts. Then, a quite narrow but well-marked path leads to the summit after half an hour' walk along the top of the mountain. There, hikers will find a Shinto shrine, small houses, but mainly beautiful panoramic views. When the weather is clear, the observation platform allows a view on Kii peninsula and Okayama prefecture, on the other side of Seto inland sea, while enjoying a snack in this suspended moment.
Hiking Mount Tsurugi is best in autumn 🍁, when the alpine vegetation turns red, and is pleasant by dry and warm weather. As a matter of fact, summer visitors are advised to bring warm clothing to wear at the summit. For more adventurous visitors, several paths start at the foot of the mountain, and some of them are to be avoided on rainy ☔️ weather and require good physical condition as well as sufficient climbing equipment.