Kakashi no Sato
Nagoro: The Desolate Doll Village
Add to my favorite places
Kakashi no Sato, also called the Doll Village, is located deep in Iya Valley, at 800 meters above sea level, in Miyoshi district on Shikoku Island. This little Japanese village, officially named Nagoro, has ten times more scarecrows than human inhabitants. In 2018, about 270 dolls were displayed.
This village's characteristic lies in the numerous dolls scattered here and there, outdoor or indoor, mimicking everyday life activities: working in the fields, waiting at a bus stop, at a café, or chatting in front of a house, etc.
The first dolls appeared in 2003, when Ayano Tsukimi (b. in the early 1950s) retired and came back in her native village after working almost all her life in Osaka. She was surprised to find how lifeless was her village and decided to create scarecrows modelled from people in the village. About 350 dolls have been crafted over 12 years. Each dolls displays its own personality, its name and its story, all of which being carefully recorded in a logbook that any of the rare visitors can read.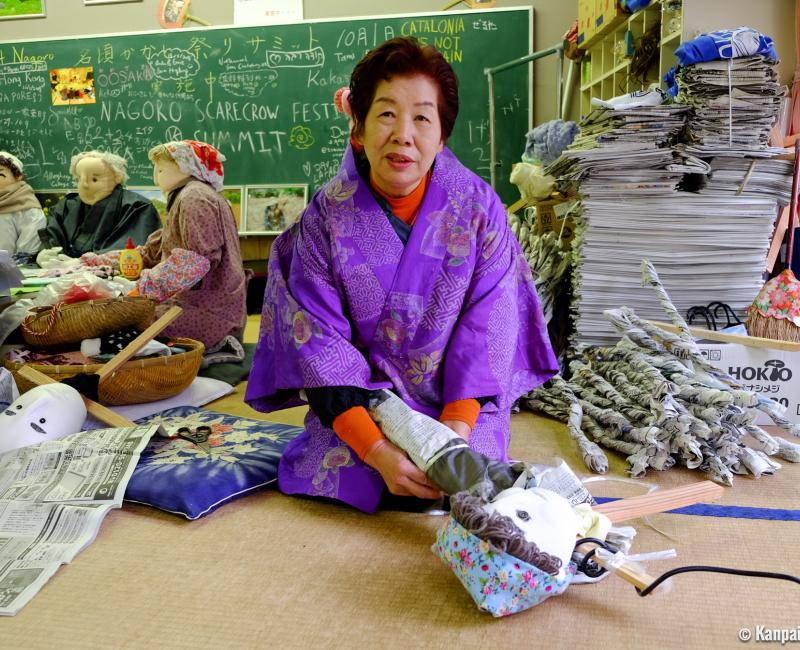 How to craft a doll
Nagoro's scarecrow crafting begins with the creation of a face expressing a feeling. Then the body is made from a core composed of 80 sheets of newspaper. When the doll is completed, it is donned with clothes, shoes and accessories that belonged to the inhabitants or that came from one of the country's thrift shops. It takes about three days of work to create a new scarecrow. After they are set in the village, they last about two years. Those that are displayed outdoor are covered with a waterproof jacket to better resist weathering.
These dolls may be considered weird, but their village images the important problem of depopulation in Japan. According to the Home Ministry of Japan, as of April 2013, more than 10,000 villages in Japan where inhabited by at least 50% of 65 year and older persons. We spent more than one hour in Kakashi no Sato, and only saw one car 🚙 passing by, and we met nobody… Madame Tsukimi's idea has spread in the rest of the country and other villages in a similar situation have since began to craft their own scarecrows.
In any case, we recommend visiting Kakashi no Sato. Those looking for a spooky atmosphere and a horror movie setting can go in the village during the night. Thrills and chills are guaranteed!

This article was written after a tour sponsored and organized by
Tokushima
Prefecture's Tourist Association. Kanpai has been invited and guided but keeps a total freedom of editorial content.