Oboke and Koboke
The Gorges Near Iya Valley
Add to my favorite places
Oboke and Koboke are two consecutive gorges upstream Yoshino River, near the entrance of Iya Valley in the west of Tokushima prefecture on Shikoku Island. Cruises on the river are available throughout the year to admire its turquoise clear water.
Yoshino River is the third longest river in Japan, spanning on 194 kilometers from Ichizuchi mountain range in Ehime prefecture, crossing Kochi Prefecture and flowing in Tokushima Bay. Its average depth is 4 meters, but during typhoons 🌀 it quickly rises to 10 meters. The gorges are divided into two parts, Koboke and Oboke:
boke means "dangerous step",
ko and o respectively mean "small" and "big".
It used to be indeed very dangerous to cross the valley due to its steep topography and shape.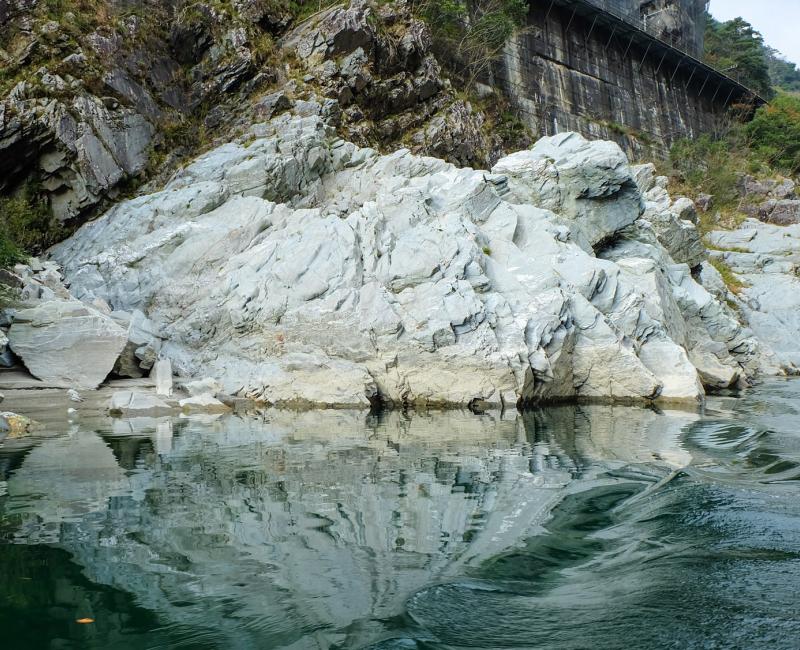 Oboke Koboke Gorges are mainly renowned for the turquoise color of their water and their great rock formations. These rocks formed when the valley was still below the sea, 100 to 200 million years ago. They particular shape is due to the tectonic plates activity and were later eroded by Yoshino River's stream. A portion of about 500 meters long of the river rocky banks were designated a National Natural Treasure on March 18, 2014, and a Special Place of Scenic Beauty in autumn 🍁 2015.
The Dosan JR Line and Road 32 offer beautiful vistas on the gorges, but to fully enjoy their charms, we highly recommend boarding one of the sightseeing boats for a 30 minutes cruise. Do not forget to take off your shoes when boarding ! From the river, you will discover animal-shaped rocks such as the komori (bat) or the shishi (lion).
Thrills and excitement amateurs can take part to rafting and canoe excursions in summer, a service provided by a company run by an Australian. Yoshino River is indeed considered one of Japan's best rafting spots.
This article was written after a tour sponsored and organized by
Tokushima
Prefecture Tourism Association. Kanpai has been invited and guided but keeps a total freedom of editorial content.