Iya Valley
Shikoku's Hideout
Add to my favorite places
Iya Valley, part of Miyoshi City, is located in the western part of Shikoku Island's Tokushima prefecture. Every year, an increasing number of tourists dive into the mountainous forests, searching for a glimpse of undisturbed nature, especially the last suspended vine bridges above rapid streams.
In Iya, visitors can discover another side of Japan: a magical, rural place far from Tokyo and the country's other big cities. At night, tanuki and boars frequently cross local roads.
Western Iya (Nishi-Iya) is quite easy to reach, and although the Eastern Iya (Higashi-Iya or Oku-Iya) is a little further, it is still worth the detour.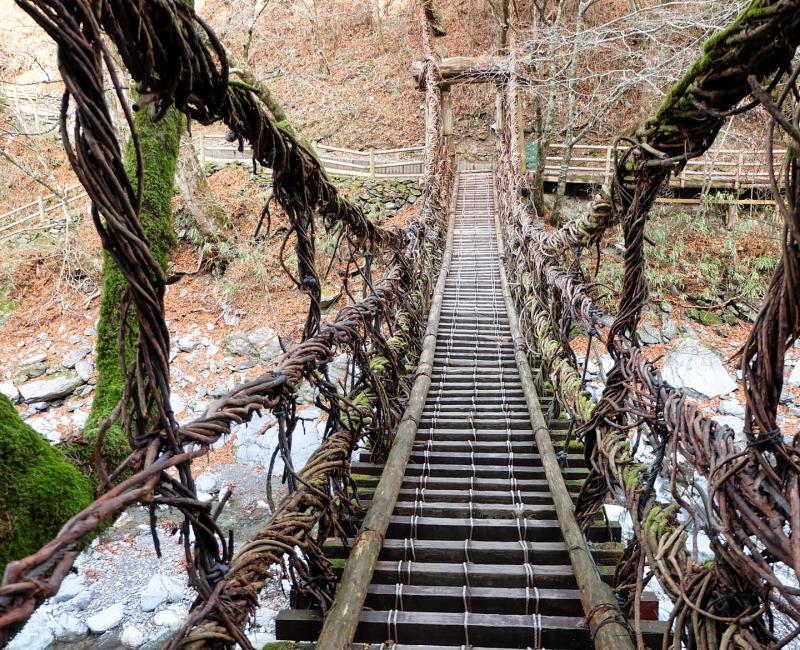 Kazurabashi Bridges
There were initially 13 bridges throughout Iya Valley, but only 3 remain today. They are suspended from cedar trees by steel cables covered with vine. They used to be only made by mountain vines (kazurabashi) but have been reinforced due to increased tourist traffic.
The most famous and easy-to-access bridge is Iya-Kazurabashi. It is 45 meters long and is suspended 14 meters above the river. Crossing the bridge is not advisable for people with a fear of heights, as our pictures below will show. Moreover, Husband Bridge (Ottonohashi) and Wife Bridge (Tsumanohashi), located in Oku-Iya (Niju-Kazurabashi), are 44 and 22 meters long, respectively.
A little farther out, visitors will also find Wild Monkey 🐒 Bridge, a suspended cart formerly used to transport supplies. This bridge offers a perfect crossing opportunity for couples!
Nearby in Oku-Iya and Nishi-Iya, rivers and waterfalls refresh visitors during the summer.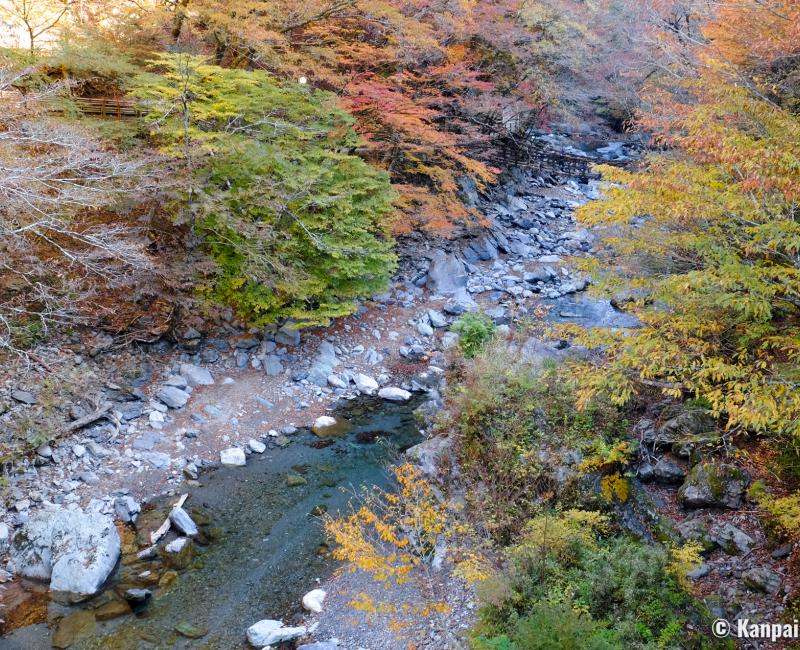 Ochiai Village
Ochiai is a part of Iya Valley and features traditional houses, fields and numerous historical paths. The remote village is built directly on the mountainside on 8 levels. It is possible to sleep there to enjoy a fantastic view in the morning. The atmosphere is quite exceptional.
Therefore, many travelers like to come in Ochiai to spend the night in one of these traditional houses. In winter, they also like to taste a delicious boar meat hot pot (botan nabe) to warm up after a day of excursions in the prefecture.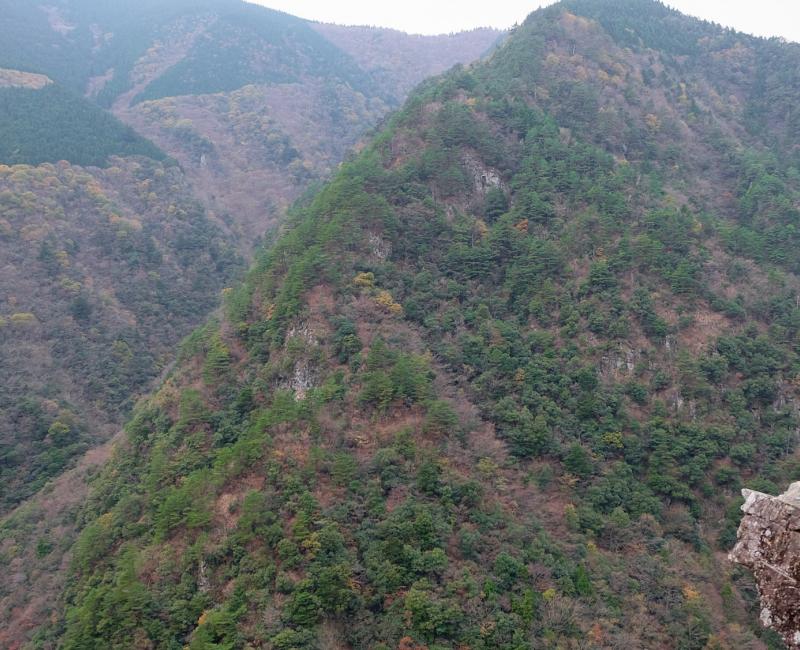 Manikin Peeing Boy Statue
Who does not know Brussels' Manneken-Pis? Iya Valley also has its own. In terms of location and landscape, Iya's is superior, as it is perched atop a 200-meter cliff above the river!
This
visit
article has been written after a tour organized and sponsored by the Tourist Information Center of Tokushima Prefecture. Kanpai has been invited and guided but keeps a total freedom of editorial content.