Ikebukuro Dagashi Bar
Childhood treats in an all-you-can-eat bar
Add to my favorite places
Dagashi bars are little pubs, similar to izakaya bars, located in Tokyo. The one we visited is in the northwestern district of Ikebukuro. The original concept of the Dagashi Bar is to serve a large range of Japanese sweets and snacks in an all-you-can-eat formula, in a retro atmosphere and decoration reminiscent of the 1960s and 1970s.
🚧 Definitely Closed
Ikebukuro's Dagashi Bar has definitely closed in the beginning of 2022. Shibuya and Shinjuku's Dagashi Bar are still open.
There are five Dagashi Bars in Tokyo, four are accessible from the JR Yamanote Line: Ikebukuro, Shinjuku, Shibuya and Ebisu, and Ota, the southern suburb where this concept of a bar and sweet shop originates. A sixth bar has opened near Kawasaki Station in Kanagawa prefecture.
Hidden in the narrow streets around the huge JR Ikebukuro Station, Ikebukuro Dagashi Bar displays a self-service counter with numerous snacks and dagashi, typical cheap Japanese sweets. For example, it is possible to taste takoyaki (octopus) chips, sweet and salted rice crackers (sembei), dried octopus, kompeito rock candies, tiny fruity ame dama drops, and many more. The "so kawaii" colorful wrappings act as an appetizer for the eyes and arouse the need to indulge in a treat.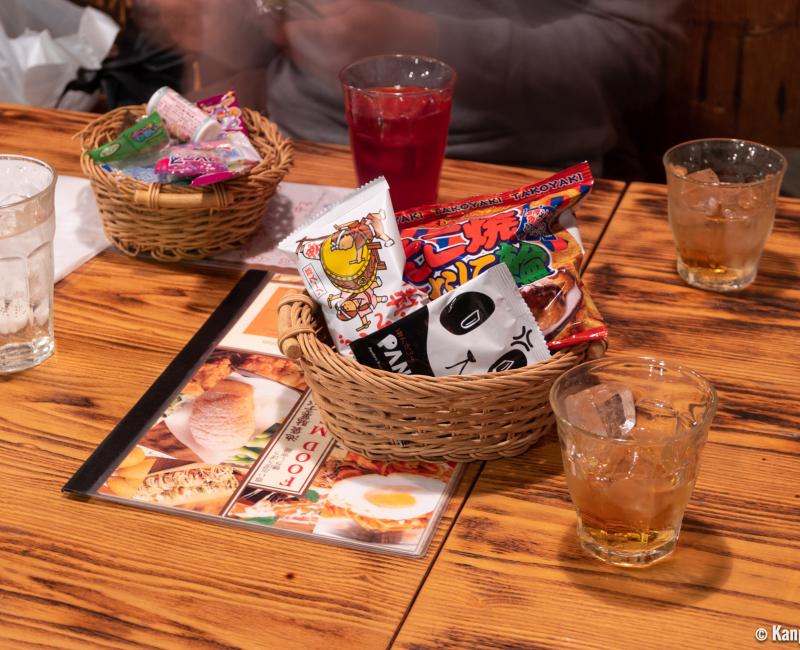 Once comfortably seated at the table, visitors can begin to discover unusual snacks, some of which are not common in current supermarkets. The usual guest begins slowly, with the dagashi they used to eat as a child, but more daring guests taste very strange flavor and texture, some of which are almost impossible to describe. It is an opportunity to share a good time with friends or introduce children to new candies.
The bar also serves dinner and offers a choice of salted dishes to share, such as traditional edamame beans, fried chicken karaage, and stir-fried yakisoba noodles. There is also a fanciful choice of surprising and regressive dishes like the pizza topped with crackers, a potato salad eaten with chips sticks, and octopus balls served with octopus chips.
A warm and friendly atmosphere makes this izakaya the perfect place for everyone. During our visit, a group of salarymen in their fifties came straight from the office to enjoy a glass of milk with candies, just the way they did during their childhoods. The place is thoroughly decorated with old commercial signs and movie posters from the 1960–1970s, which remind the Japanese people of the Golden Age of the Showa Era. It is easy to be charmed by the unusual old-fashioned atmosphere. Moreover, the prices are quite fair and allow for snacking and drinking on a budget, even in the very center of Tokyo.
This article has been written after a tour organized ans sponsored by
Tokyo Metropolitain Government
. Kanpai has been invited and guided but keeps a total freedom of editorial content.