Sugamo
The Elderly's Neighborhood in Tokyo
Add to my favorite places
Sugamo is a neighborhood in Toshima ward, in the north of Tokyo. Its iconic shopping street named Jizo-dori used to be part of the Nakasendo, one of the 5 main roads of Edo that connected the city to Kyoto. The area now attracts elderly patrons who find many traditional Japanese shops and Kogan-ji temple.
Sugamo is nicknamed "Granny's Harajuku" and is frequented by a lot of the capital's elderly citizens. Once the radio devices Mecca just after WWII, this typical Japanese neighborhood does indeed seem to be frozen in time, and the same can be said for its rather aged population. Amateurs of retro Tokyo will enjoy this destination that is still rather unknown from foreign tourists despite its location on the Yamanote line.
Accessible from Sugamo and Koshinzuka stations, the main shopping street is now known as Jizo-dori (地蔵通り). It is located on the former Nakasendo road, that allowed traveling to Kyoto during the Edo period (1603 – 1868). The ubiquitous local mascot is a white duck named Sugamon.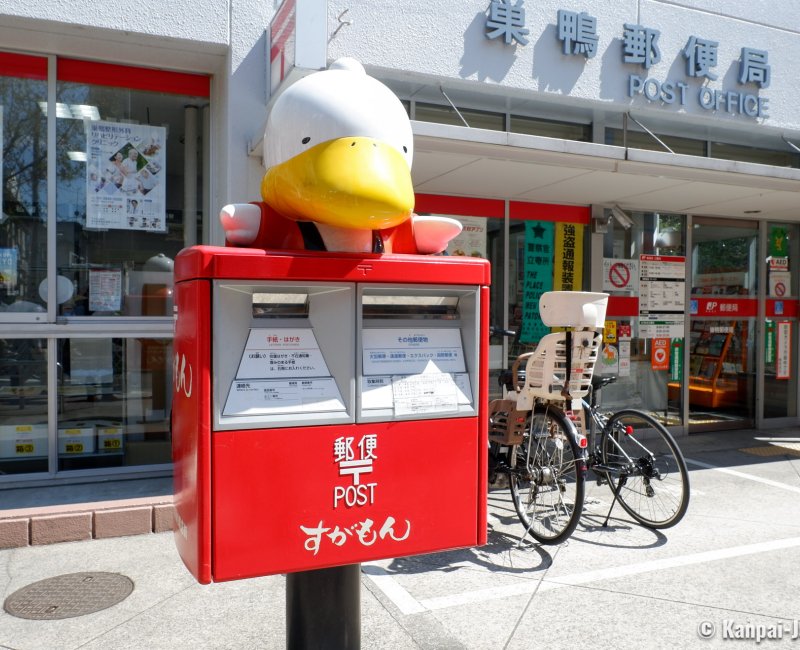 Jizo-dori, retro fashion and Japanese delicacies
Jizo-dori shopping street is easy to find from the station's exit with its name written in kanji characters on the archway signaling its entrance. It is home to a large variety of small shops, many of which are specialized in goods for the comfort and care for the elderly. Therefore, medical practices, drugstores and opticians mingle with stores selling equipment to facilitate the older ones' daily life, such as trolley shopping carts, walking frames or sticks. You will find here everything necessary for "silver" customers, in other words gray-haired clients.
Additionally, fashion shops have entire aisles dedicated to red underwear, for example panties, shorts, socks and t-shirts. According to the local tradition, wearing a red cloth near one's navel is said to lengthen the life span. As a souvenir, you can bring back lucky red handkerchiefs to your elderly relatives.
Grocery shops are also interesting to explore in Jizo-dori. Amateurs of typical Japanese cuisine will be delighted to find several good addresses for sweets, such as:
Mizuno (元祖塩大福 みずの), renowned for their excellent Shio Daifuku, a slightly salted confectionery made from glutinous rice, anko sweet red bean paste and sprinkled with kinako grilled soy bean powder, and,
Goma Fukudo (ごま福堂), specialized in sesame-based products, especially original black sesame ice creams.
Moreover, we recommend the restaurant Tokiwa Shokudo (巣鴨ときわ食堂 本店), one of the most popular of the area. It serves a delicious traditional cuisine, simple and affordable.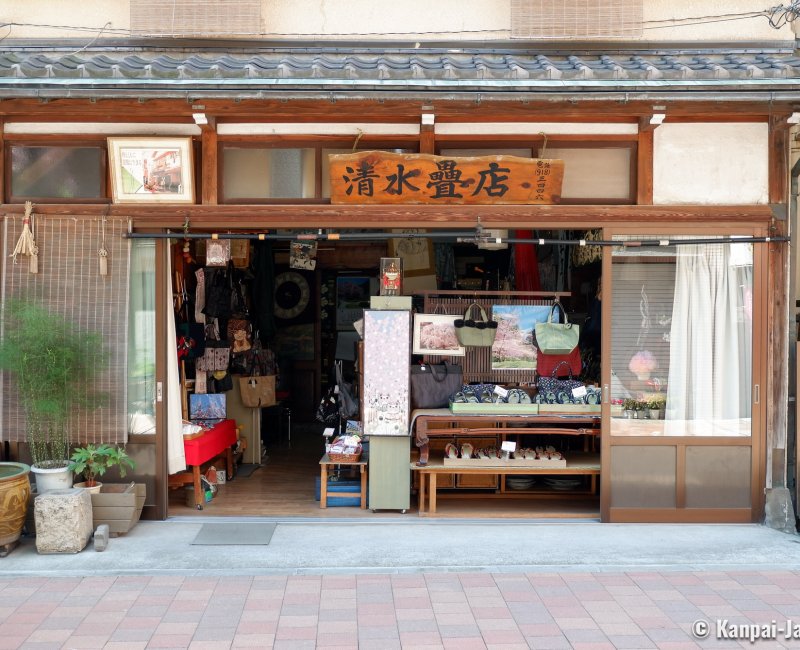 Kogan-ji, the temple for staying in good health
Kogan-ji temple is affiliated to the Soto branch of Japanese Zen Buddhism and is Sugamo's iconic temple. Founded in 1596, the spiritual grounds were move to their current days' location in 1891. They were destroyed by World War II bombings and the last reconstruction dates to 1957.
The 2 main Buddhist deities worshiped here are prayed for a better health:
Arai Kannon, whose statue stands in the open air in the temple's courtyard. Worshipers pour water on the statue of Kannon then use a cloth to wipe the part of the body they want to heal; and,
Togenuki Jizo, a bosatsu said to have saved a woman from choking to death. She ate a piece of paper drawn with a Jizo picture, which helped her remove a thorn from her throat.
Nowadays, it is naturally possible to purchase these small sacred pieces of paper named Osugata displaying various picturing of Jizo. Believers gather them in a osugata-cho notebook that becomes a kind of talisman. On a side note, each month on the 4th, 14th and 24th, the neighborhood's shops organize a sellout in the temple's grounds.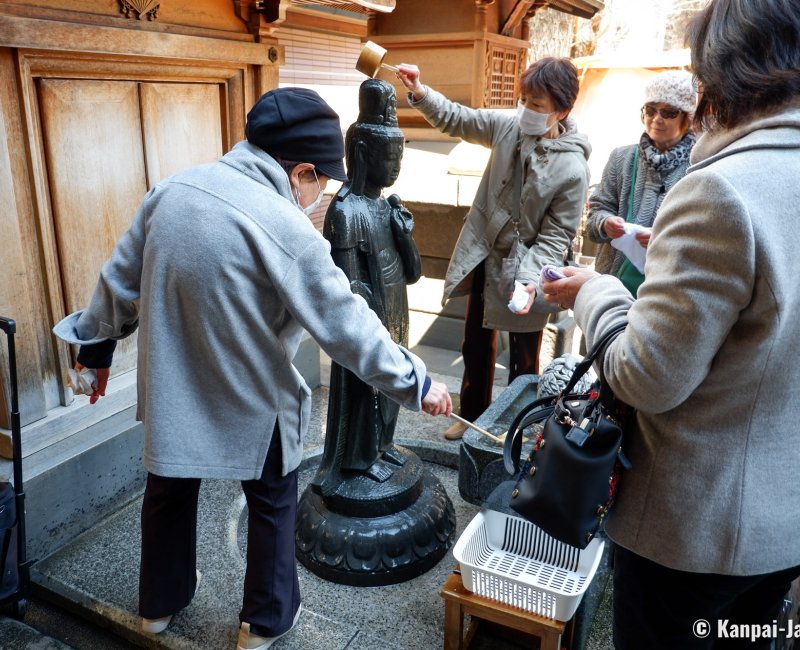 Visiting Sugamo is rather short as all the things to see are gathered on the Jizo-dori avenue, which is only 800 meters long. In addition, we recommend the visit of the beautiful Rikugi-en garden about 1,5 kilometers away. Or you can also take the Toden Arakawa and continue the exploration following the last tramway line operating in the north-east of the capital.