Omokage-bashi
The Cherry Tree Bridge Over the Kanda River
Add to my favorite places
Omokage-bashi is a small Japanese bridge crossing the Kanda River in Toshima ward, in the north-west of Tokyo. An ideal getaway in the sakura blooming season of early spring, the path starting from the bridge and hugging the riverside offers an authentic insight on contemporary Japan, away from tourist crowds.
Many legends surround Omokage-bashi, whose name means "the bridge of the shade / reflection". The most emotional is the one of Otohime, the daughter of a Sengoku era warrior. She was struck by a succession of misfortunes, the latest one being his husband murdered by one of his friends who coveted her. She eventually avenged her late husband, and while she observed her reflection in the river, still thinking about him, Otohime threw herself in the water to end her life. The place's inhabitants named the bridge "omokage" in consideration for her ghost.
Another story tells that the bridge received its current name due to its perfect reflection in the water that inspired etching artist Hiroshige.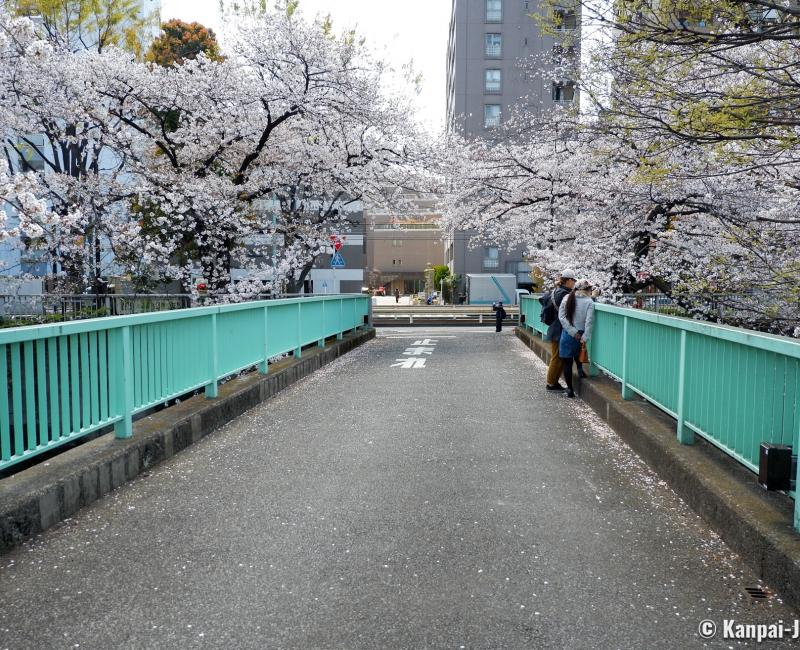 Picturesque scenery of modern Japan
Nowadays, there are no traces left of any ghost or ancient vestiges. The place is much more cheerful, especially during the cherry trees' full bloom. The station "Omokagebashi" on the Toden Arakawa tramway line serves one of the most scenic landscapes of Tokyo.
The outdoor small station platform is surrounded by cherry trees creating a marvelous sight of modern Japan's idealized image during the flowering period. Just in front of it, the famous bridge crosses the Kanda river and gives a beautiful viewpoint on the stream inhabited by several bird species and on its banks enlivened by the most pristine white petals. Many Japanese come here to take pictures of the thousands of flowers and admire the advent of spring.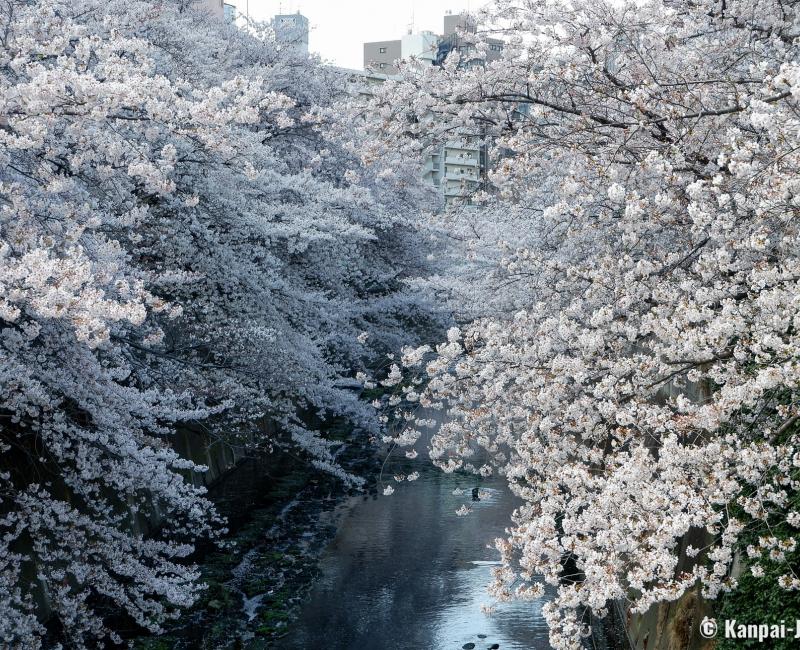 Authentic stroll on the riverside under the shade of the sakura
A profusion of cherry trees lines the Kanda River on its two banks. The stroll, very quiet, goes on pedestrian walkways unfolding under the trees, between the river and the houses built on its side. It is a perfect place to contemplate the sakura 🌸, much less crowded than the ultra-famous and overly populous spots of the capital.
Each year, the municipality stages night illuminations during the cherry trees' blooming, offering to enjoy the beginning of spring in an exceptional atmosphere in the evening. On the daytime, the paper lanterns 🏮 hanged all along the path, while not turned on, still contribute to the specificity of the landscape one never tires of admiring.
For a whole Sakura-themed walk, go little bit more toward east to discover:
The very beautiful Japanese garden of Higo-Hosokawa Gardens (Shin-Edogawa Garden), an ancient residence of the Hosokawa clan; and,
The garden of the Hotel Chinzan-so, dating to the Meiji Era and sheltering a lovely three-story pagoda.